Politics
Leonard Leo: Unassuming figure with big voice on high court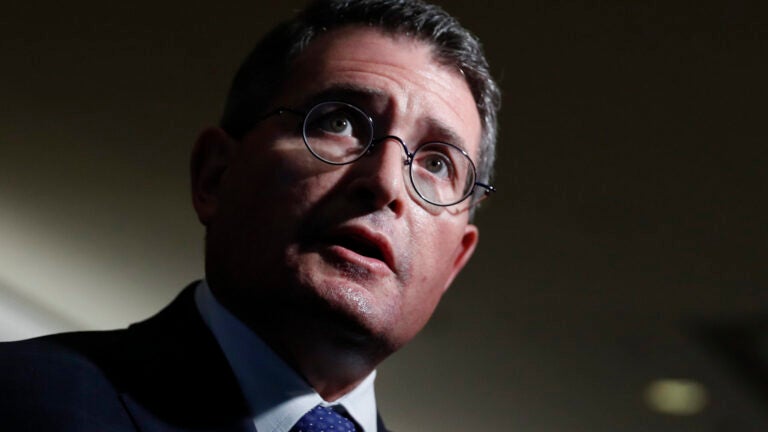 WASHINGTON (AP) — Leonard Leo had barely finished briefing Senate Republicans about the just-concluded Supreme Court term when he heard the news that Justice Anthony Kennedy was retiring as he drove back to his office. The longtime executive vice president of the conservative Federalist Society may have been caught off guard, but he was hardly unprepared.
A career of promoting conservative legal thinking has made Leo one of the nation's most influential voices as he guides President Donald Trump's efforts to reshape the federal judiciary. As the president prepares to pick a new justice for the high court, he is choosing from a list largely curated by Leo. The president also is leaning on a network of validators that Leo has nurtured to promote the selection, and is set to rely on the longtime operative's political muscle to help get his pick confirmed.
Within minutes of Kennedy's retirement announcement, the outside adviser to Trump began putting into action a carefully considered plan to ensure a strong conservative voice will replace Kennedy, a pick of Ronald Reagan's who had come to be the court's swing vote and often voted with its liberal wing. Hours later, Leo was on the phone with the president, reviewing once more the 25 names on Trump's list and the smaller grouping of six or seven who make up the president's top contenders.
Trump, Leo, and now-White House counsel Don McGahn had first collaborated on a list of names for the Supreme Court more than two years earlier, in the throes of the GOP primary. Trump had hoped that releasing a Leo-approved list of nominees would reassure skeptical conservative voters who were slow to embrace his candidacy.
As Senate Republicans blocked President Barack Obama's choice for the court, Merrick Garland, conservative outside groups brought Republican voters to the polls by framing the stakes of the campaign as an opportunity to remake not just the Supreme Court, but the entire judicial branch.
With Trump's victory that November, Leo and McGahn went to work, briefing Trump in New York shortly after Election Day on the seats he could fill across the federal bench and convincing him that remaking the judiciary could form a key pillar of his legacy. In doing so, Leo relied on what friends describe as his encyclopedic understanding of the judges who make up the federal courts.
"He has contact with literally dozens, maybe even hundreds, of people throughout the country who are very knowledgeable about the federal judiciary," said Edwin Meese, a Republican attorney general in the Reagan administration and board member of the Federalist Society, who has long been affiliated with the influential Heritage Foundation. "That gives him a resource that very few people have."
Trump's record pace of confirmations to the federal bench has been aided by GOP control of the Senate and the abolition of the filibuster on court nominations, but also by the ready-made list of nominees that Leo and others brought to the table, White House officials said.
"Leonard has a somewhat unique talent in Washington in that he can actually keep confidences, and he can be a trustworthy person," said Josh Blackman, a South Texas College of Law professor and a Federalist Society member since law school. "And I think the Trump administration has seen that, and found in him someone who can provide honest advice about the selection of judges."
He said Leo was especially skilled at balancing the interests of different constituencies — among them, national security conservatives, economic conservatives and social conservatives — who each have a voice in the discussion but don't necessarily share the same agendas.
Administration officials chafe against some characterizations of Leo as the hidden hand behind Trump's judicial picks. He does not work for the White House, they note, and the heavy-duty vetting is handled by a small group of attorneys inside the White House counsel's office under McGahn.
"Trump's going to do what he's going to do," Blackman said. "If you think Leonard Leo can tell Donald Trump what to do, I have a bridge to sell you in lower Manhattan."
Yet White House officials do acknowledge his status as an "intellectual leader" of the movement subscribed to by McGahn and many of Trump's potential judicial picks.
To the White House, Leo is the most active and engaged outside supporter. According to a person briefed on the process, Leo is coordinating a coalition of supporting organizations, ranging from the National Rifle Association to anti-abortion groups, to support Trump's eventual nominee.
Leo, who friends say is a fine food and wine connoisseur and active in the Catholic Church, took leave from his formal position as executive vice president of the Federalist Society to work on the vacancy.
Scott Keller, the Texas solicitor general who has long been active in the Federalist Society, said Leo is known almost universally in conservative legal circles.
"He isn't exactly a political person," Keller said. "He's been a principled advocate for textualism and originalism now for decades."
Or, as Meese described Leo: "He is not looking for conservative judges because the phrase 'conservative' connotes a political orientation. And what he is looking for are constitutional judges — judges that will be faithful to the Constitution."