Politics
Why Canadians are upset about Border Patrol run-ins in the disputed waters off Maine
"Typical American bullies."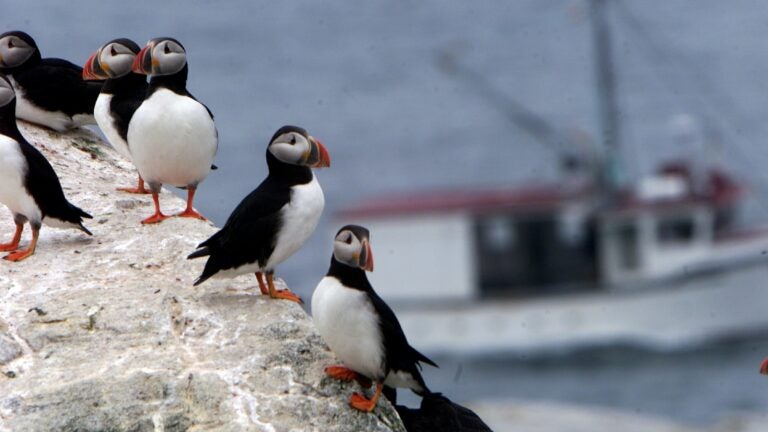 Border Patrol agents in northern New England apparently aren't just ramping up their immigration enforcement on land. They're also doing so on the water.
Canada is investigating at least two incidents in which two Canadian fishing vessels were reportedly stopped and questioned by U.S. Border Patrol agents in disputed waters off Maine, a spokesman for the country's foreign affairs department confirmed Thursday.
The CBC reported Wednesday that the encounters occurred on June 24 and 25 in a so-called "grey zone" around Machias Seal Island and North Rock between the Gulf of Maine and the Bay of Fundy. The U.S. Customs and Border Protection says the agents were just conducting "regular" patrol operations. However, Canadian officials are not happy.
"They're being harassed," Rick Doucet, New Brunswick's fisheries minister, told the Toronto-based National Post. "Canadian fishermen are being harassed by U.S. border patrol. As far as I'm concerned, it needs to stop immediately."
Doucet said Wednesday that the "heavily armed" Border Patrol agents were looking for undocumented immigrants, but that the fishermen were just "doing their job."
"Absolutely overkill," he said of the "disturbing" stops.
Laurence Cook, the chair of the Grand Manan Fisherman's Association, wrote on Facebook at the time that the Border Patrol agents said they were "looking for illegal immigrants."
"Typical American bullies," Cook wrote in the June 25 post, asserting that the Canadian vessels were rightly fishing in Canadian water.
The flare-up — amid recently heightened tensions between the United States and Canadian government over trade — revolves around the last, unresolved land-border dispute between the two longtime North American allies.
Machias Seal Island, a 20-acre island home to a Canadian lighthouse, no permanent human residents, and lots of puffins, has been claimed by both countries since the 18th century. The island itself is of little value; however, the surrounding waters are home to an increasingly valuable lobster catch.
According to the local fisherman's association, both American and Canadian fleets have fished the 277-square-mile overlap "for years" — even if the relationship between individual lobstermen is said to be "strained."
Cook told the National Post in an interview Wednesday that at least 10 Canadian fishing boats have been intercepted by the U.S. Border Patrol in the disputed area in the past two weeks and that some of them have even been boarded by agents looking for undocumented immigrants.
"They're in international waters, so border patrol shouldn't be boarding Canadian vessels," he said.
Stephanie Malin, a spokeswoman for CBP, says that the Border Patrol has routinely patrolled "within the water boundaries of the United States" for decades and that such enforcement operations are soundly within the agency's jurisdiction. Additionally, Malin said that Border Patrol agents would not board any vessel without permission or probable cause.
"U.S. Border Patrol was conducting regular patrol operations to enforce immigration laws and other violations of federal law that they may encounter in the course of their duties during the operation in June," she said in a statement.
Malin noted that Houlton Sector Border Patrol, which patrols the entire state of Maine, will continue to conduct operations in the U.S. waters off the state's coast. So far, 21 Canadian vessels have been interviewed by local agents in the 2018 fiscal year, she said, with zero immigration arrests made. Border agents have also assisted in two rescues this fiscal year.
But as one would expect with a territorial dispute, neither side is ceding their claim to the area.
John Babcock, a spokesman for Global Affairs Canada, said in a statement Thursday that the stops occurred in Canadian waters. Global Affairs will be contacting the "U.S. agencies involved in the matter" to sort things out, he said.
"Canada's sovereignty over the Machias Seal Island and the surrounding waters is long standing and has a strong foundation in international law," he said. "Until the matter of the boundary is resolved, we will continue to take practical steps with the U.S. to ensure that the area is well managed."
Babcock added that the two countries "have a long history of cooperation which ensures that fishing in this area in well-managed and safe for both countries.‎"