Politics
Nancy Pelosi says Seth Moulton's calls for new leadership are 'inconsequential'
"Not to put anybody down."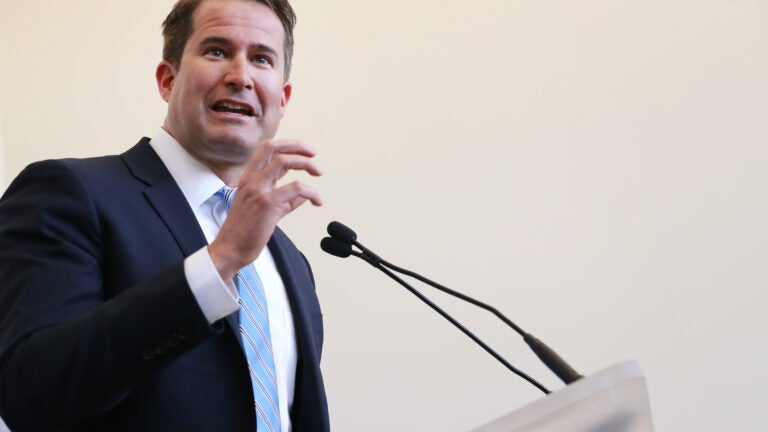 Rep. Nancy Pelosi isn't worried about the dissent in her ranks, and not in the least from the Seth Moultons of the world. Or so she says.
Moulton, a 39-year-old Massachusetts congressman, has been one of the most outspoken Democrats calling for Pelosi to be replaced as the party's leader in the House. In a recent interview with Rolling Stone's Tim Dickinson, the 78-year-old San Francisco congresswoman was asked what she makes of those calls.
"Inconsequential," she said, according to an edited transcript published Sunday. "They don't have a following in our caucus. None."
Asked if it was "frustrated ambition" on the part of Moulton and Rep. Tim Ryan — the 44-year-old Ohio Democrat who challenged Pelosi for the position of Democratic caucus leader following the 2016 election and lost in a 134-63 vote — Pelosi suggested there were other Democrats who "are more in line" to eventually lead the party.
"People who paid their dues," she told Dickinson. "Not to put anybody down. Anybody is consequential. But I have great support in my caucus. I'm not worried about that. And I'm certainly not worried about them [emphasis Dickinson's]."
The interview took place prior to Dickinson's June 25 profile of Pelosi. The day after the profile was published, Rep. Joe Crowley, the 56-year-old New York congressman once seen as Pelosi's likely replacement, lost in his primary to 28-year-old insurgent challenger Alexandria Ocasio-Cortez. Pelosi went on to similarly dismiss suggestions that Crowley's loss was indicative of any larger uprising within the Democratic Party.
Moulton has argued that it will be harder for Democrats to win back the House in the 2018 midterms with Pelosi, who would be in line to return as House Speaker, as their leader.
"It's not fair to Leader Pelosi," Moulton told The Atlantic in February. "She doesn't deserve the criticism that she's received from the Republicans. Much of it is manufactured by the right. But nonetheless, it's effective."
Democratic congressional candidates across the ideological spectrum are also increasingly hesitant to publicly support Pelosi as speaker. According to Politico, at least 20 Democratic challengers have said her 16-year tenure as the party's congressional leader should come to an end.
"This isn't about age," Moulton told the Associated Press last December. "It's about new ideas. It's about having a vision and a plan for the future."