Politics
Allowing non-citizens with legal status to vote isn't unprecedented. But would it work in Boston?
"Boston is where the fight against taxation without representation began."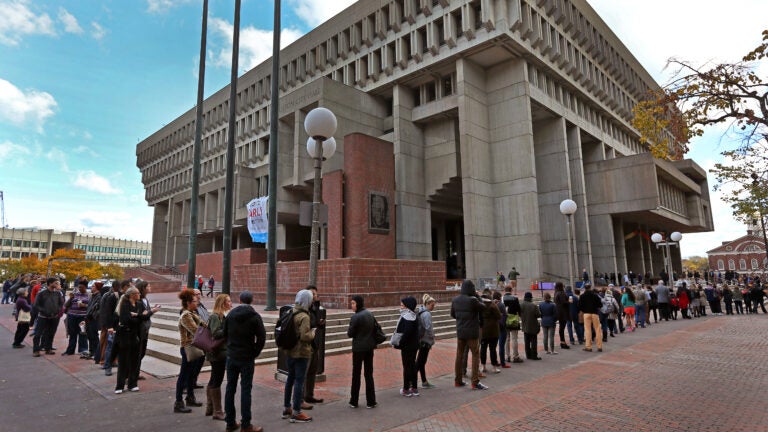 For all the unsubstantiated claims made about non-citizens voting in the United States, Boston is actually looking at making it a reality.
Proponents say the proposal shouldn't be as controversial as some of the immediate public feedback would suggest. From the country's founding up until the 1920s, 40 states and federal territories allowed non-citizens to vote. But skeptics say it would undermine the inherent value of U.S. citizenship — and could potentially even put some immigrants at risk.
"The right to vote is a privilege reserved for U.S. citizens," Boston City Councilor Ed Flynn, who opposes the idea, said during a public hearing Tuesday at City Hall. "The right to vote is a unique characteristic and privilege reserved for those individuals who have gone through the extensive citizenship application process."
To be clear, the council was only discussing providing non-citizens with legal residency the right to vote in local and citywide elections — not state or federal elections.
However, City Council President Andrea Campbell, who requested Tuesday's hearing on the subject earlier this week, said that providing certain groups — including permanent legal residents, visa holders, Temporary Protected Status recipients, and Deferred Action Childhood Arrival recipients — that right could be a proactive way to empower local immigrant communities, who feel especially threatened by the immigration policies and rhetoric of President Donald Trump.
"This is an opportunity for us to say, 'No, we stand with you, we're listening to you, and we want you to be a part of some of these conversations,'" Campbell said of Tuesday's hearing.
Karl Becker, a Dorchester resident whose wife is a permanent legal resident from Malaysia, testified that despite being deeply engaged in the community, paying taxes, owning a condo, and calling Boston home, the couple is only half-represented electorally.
"Boston is where the fight against taxation without representation began way back in 1773," Becker said. "My wife has lived in the U.S. for over 10 years, and currently is experiencing a flavor of taxation without representation."
Becker, who is a U.S. citizen, said his wife wasn't asking for the expansion of voting rights to non-citizens. But he was.
The idea is hardly unprecedented.
Every country in the European Union gives citizens of other member countries the right to vote. Fifteen of the 28 EU countries allow residents who are citizens of non-EU countries to vote, as long as they meet certain residency requirements. Eleven EU countries even allow "third-country nationals" to run for office in local elections.
According to the National Conference of State Legislatures, there are also a number of American cities that allow non-citizens to vote, in certain capacities, in local elections — including nine in Maryland, perhaps most notably Takoma Park. San Fransisco voted in 2016 to allow most voting-age non-citizen parents to vote in local school board elections beginning this November. Chicago has given local, non-citizen parents the right to vote in local school council elections since 1989.
In Massachusetts, the cities of Amherst, Brookline, Cambridge, Newton, and, Wayland have at certain points passed home-rule petitions to allow non-citizens to vote in municipal elections. However, the moves require state lawmakers to pass legislation to actually take effect.
State Rep. Byron Rushing, a Democrat who represents Boston's South End, filed a bill last month to give cities and towns the authority to allow legal permanent residents to vote in their local elections, if approved by both the municipal legislative body and adopted by voters in a referendum.
"Immigrant families constitute a large portion of working families in the Commonwealth," Caroline Sherrard, the legislative director for Rushing, testified Tuesday. "They are part of our communities, pay local property taxes, and send their children to local schools. Yet without voting rights, they have no voice in local public policy-making."
Sherrard said that her boss's bill was unlikely to pass this year with just three weeks left in the legislative session, but she said that Boston could send a message to lawmakers.
The question, still, is whether it should.
Several councilors mentioned that their offices had received a deluge of phone calls and emails since Tuesday's hearing was announced Monday. Councilor Kim Janey said she was "disheartened" by the volume of "nasty" anti-immigrant sentiment. However, some immigrant advocates also expressed concern about implementing non-citizen voting in a city as large as Boston.
Veronica Serrato, the executive director of the Boston-based immigrant naturalization initiative Project Citizenship, called the idea "laudable," but said she believes the benefits would be outweighed by individual risks of deportation.
"The administrative and logistical hurdles in implementing the act required for full participation of non-citizens, so as not to jeopardize their future eligibility to become U.S. citizens, would be immense," Serrato said.
Given that illegal voting by non-citizen residents can be cause for criminal prosecution or deportation, Serrato said that scaling such an initiative for Boston would necessitate a raft of "specific and thorough" new procedures to fully educate non-citizens so they know not to mistakenly vote in state or federal elections, or in Boston after having moved outside the city limits.
"Someone who has wrongly voted is forever barred from becoming a U.S. citizen," she said. "Since 2014, we have assisted over 4,400 immigrants to achieve citizenship in Massachusetts, and I've personally had to tell two immigrants who had in fact voted in a federal election that they were forever ineligible to become U.S. citizens."
Serrato, speaking from her experience as a lawyer, also said that while the current proposal in Massachusetts only extends to immigrants with legal status, it can be difficult to determine one's immigration status. Additionally, Takoma Park, due to its so-called sanctuary city status, does not differentiate between documented and undocumented immigrants in allowing non-citizen residents to vote in local elections, according to City Clerk Jessie Carpenter, who called into the hearing Tuesday. It's unclear how Boston, which is also a sanctuary city, would go about making and/or enforcing that distinction.
Serrato acknowledged Takoma Park — which has implemented a number of the protections she mentioned, including different voter registration applications, separate municipal elections, and a number of maintenance and oversight processes — as an "excellent example" of how non-citizen voting could be logistically implemented. And Carpenter said the city hasn't had any incidents of non-citizens voting in state or federal elections.
However, Serrato also noted that Takoma Park has a population of 18,000 and 300 voting non-citizens, while Boston has a population of 673,000 and an estimated 48,000 legal permanent residents.
"The dimensions and enormity of the task are huge," she said, adding that Boston would be the largest municipality to adopt non-citizen voting citywide (not just for school boards).
A number of local residents, like Becker, with immediate ties to the issue testified Tuesday that, despite the assuredly extensive regulations required, it's still a noble cause that city officials should consider.
During his testimony, Becker made the point that the extensive process required to obtain legal residency, much less citizenship, shows that only people who "are truly interested in becoming invested in the community" are going to go through with it.
In addition to the time, money, and paperwork, Becker said in an interview after the hearing that he and his wife even had to provide a scrapbook with four years of photos proving they knew each other for her to obtain legal residency after they were married.
"Councilor Flynn said that there was an extensive citizenship process," he said. "There was also an extensive permanent resident process, and I've been part of that. I've seen it first-hand."
Becker said that allowing non-citizens like his wife to vote could make them feel more "bought in to the community" and eliminate a degree a political inequality he feels is somewhat arbitrary.
"She already feels bought into the community, right?" he said. "She lives in Boston, she rides the T, she works, she pays a lot of taxes, we both experience all the greatness that Boston has to offer. But for some reason, when I walk out the door on the first Tuesday of November, I can go somewhere and check a box, but she can't. But why?"