Politics
Tim Kaine makes a splash in Massachusetts's 3rd District congressional race
The former Democratic vice presidential nominee is endorsing his "longtime friend."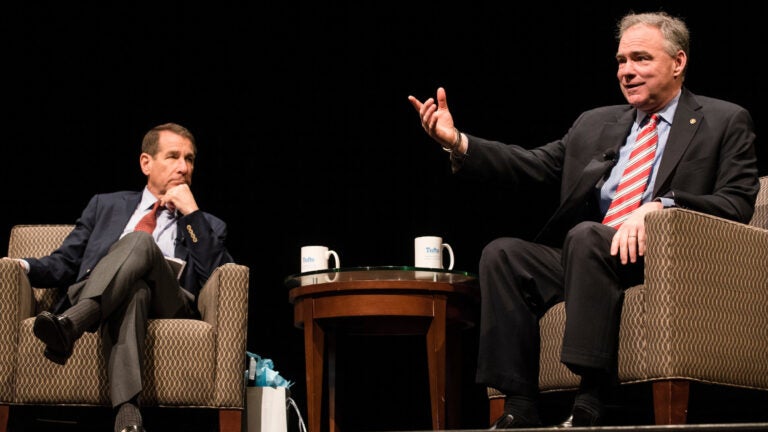 Dan Koh isn't the only 3rd District candidate with national support.
Rufus Gifford, the former U.S. ambassador to Denmark running to replace Rep. Niki Tsongas, is also getting some high-profile establishment support. Sen. Tim Kaine, the Virginia Democrat and 2016 vice presidential nominee, has endorsed his "longtime friend" for Congress.
"His stellar work for President Obama and for our nation as our Ambassador to Denmark shows that he will be an effective progressive voice in a body that badly needs improvement," Kaine said in a press release sent out by by the Gifford campaign Tuesday morning.
"Rufus worked with me at the Democratic National Committee and his energy, values, and commitment are second to none," the senator added, referring to their shared background in national electoral politics.
Before his election to the Senate in 2012, Kaine served as the governor of Virginia from 2006 to 2010 and the chair of the Democratic National Committee from 2009 to 2011. He was also an early supporter of former President Barack Obama's first White House campaign. Gifford worked on that 2008 campaign and has touted his ties to Obama in his own congressional race. He also worked as the DNC's finance director while Kaine was chair from 2009 to 2011.
"Working alongside him at the DNC, we fought to pass the Obama administration's agenda on everything from the Affordable Care Act to the stimulus plan to repealing Don't Ask, Don't Tell," Gifford said in a statement Tuesday. "A major reason why I'm now running for Congress is to defend all the progress we achieved together under President Obama, and I'm very much looking forward to continuing that work with Senator Kaine."
Ten Democrats are running in the historically crowded race to replace Tsongas, who is retiring after six terms in office.