Politics
Fox News mistakenly booked a Massachusetts state senator, and got an unexpected message
The cable network says they were deliberately duped.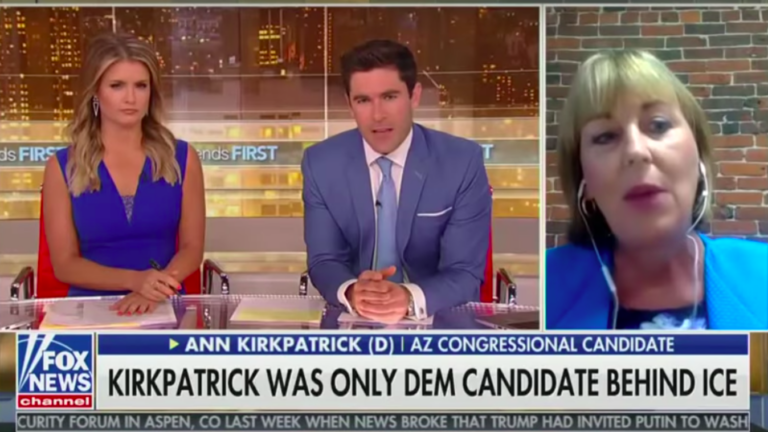 Someone in the Fox News booking department apparently needs to update their contacts list.
Fox & Friends First, the network's early morning show, thought they had booked former Rep. Ann Kirkpatrick to talk about the Arizona Democrat's support for Immigration and Customs Enforcement.
Instead, they got Massachusetts state Sen. Barbara L'Italien, who delivered an unexpected message.
"Good morning, I'm actually here to speak directly to Donald Trump," L'Italien, an Andover Democrat running to replace Rep. Niki Tsongas in the state's 3rd District, told the two Fox News hosts early Monday morning.
"I'm a mother of four, and I believe that separating kids from their parents is illegal and inhumane," she continued. "I'm actually Barbara L'Italien. I'm a state senator representing a large immigrant community and running for Congress in Massachusetts."
L'Italien, whose campaign posted video of her appearance online, went on to decry the recent separation of families at the border by President Donald Trump's administration.
"We have to stop abducting children and ripping them from their parents' arms, stop putting kids in cages, and stop making 3-year-olds defend themselves in court," she added.
The two confused hosts tried to cut in to point out that Trump's "zero tolerance" policy had been stopped (though most of the 2,551 children separated from their parents have yet to be reunited with their families), as L'Italien continued to slam the president.
"That didn't go as planned," host Rob Schmitt told the camera, shortly after they cut short the interview.
Having been cut off, L'Italien delivered her full message to Trump in a video posted on Twitter.
I've always fought for vulnerable people, and in Congress I will use every opportunity I have to make sure powerful people like @realDonaldTrump hear their voices. Here's the full statement I would've given @FoxNews if I hadn't been cut off. #ma3 #mapoli https://t.co/SAe7HoBVRV

— Barbara L'Italien (@teambarbara) July 23, 2018
"Stop hurting Latino children to score political points with your base," she said. "Please reunite these families before you cause more trauma. I refuse to believe that our only two options are open borders or traumatizing children, and shame on you for pretending that they are."
According to L'Italien's campaign, Fox News reached out to them Sunday afternoon believing that they were contacting Kirkpatrick's office "due to their own failure of due diligence."
They decided not to pass up the opportunity.
"Fox News is where you go when you want to talk to Donald Trump," Joe Katz, a spokesman for the L'Italien campaign, told Boston.com in an email, referring to the president's well-known affinity for the network.
"Barbara felt she had an obligation to her constituents to take advantage of that opportunity," Katz said. "But this would not have happened to an actual news station. Fox's lack of attention to the facts normally is a disaster for the country, it just so happened that today it was embarrassing for them."
However, Fox News says they were deliberately duped by L'Italien's campaign.
Desiree Dunne, the executive producer of Fox & Friends First, said in a statement Monday that they attempted to invite Kirkpatrick on the show through Katz, who was their press contact on file for the former Arizona congresswoman. Dunne said that Katz "accepted the invitation on Kirkpatrick's behalf."
"Katz followed with an email confirming the segment, which also included background information and a campaign logo for Ann Kirkpatrick," she said.
Katz confirmed Monday that he used to work for Kirkpatrick, but not since 2010.
"I have no idea why on Earth I am their press contact on file," he said, noting that Kirkpatrick — currently running for Congress in Arizona's 2nd District — has launched four federal campaigns since then, including her 2016 run against Sen. John McCain. Kirkpatrick also released her own statement Monday clarifying her position on ICE.
Dunne also said that L'Italien pretended to be Kirkpatrick right up until the actual segment was live.
"Despite speaking to producers prior to the interview, L'Italien did not identify herself as anything other than Kirkpatrick until she was live on air, at which point we ended the interview," she said.
In a series of tweets Monday morning after the interview aired, Schmitt also accused the Massachusetts state senator of pretending to be someone else to gain attention.
Fun morning. We expected democrat Anne Kirkpatrick (left) but got hijacked by Democrat @teambarbara w/ a publicity stunt ? pic.twitter.com/s5bZ2HOrcz

— Rob Schmitt (@SchmittNYC) July 23, 2018
Desperate for attention – @teambarbara pretended to be someone else to multiple people within Fox News and get on tv

— Rob Schmitt (@SchmittNYC) July 23, 2018
"Senator L'Italien had an opportunity to amplify the voices of her constituents, and she took it," Katz told Boston.com in response to Schmitt's tweets.
"Besides, probably the most hard news on that show in years," he added.