Politics
Katherine Clark is making a move to be one of the highest-ranking House Democrats
The Massachusetts congresswoman is the first official candidate for the party's fifth-ranking position.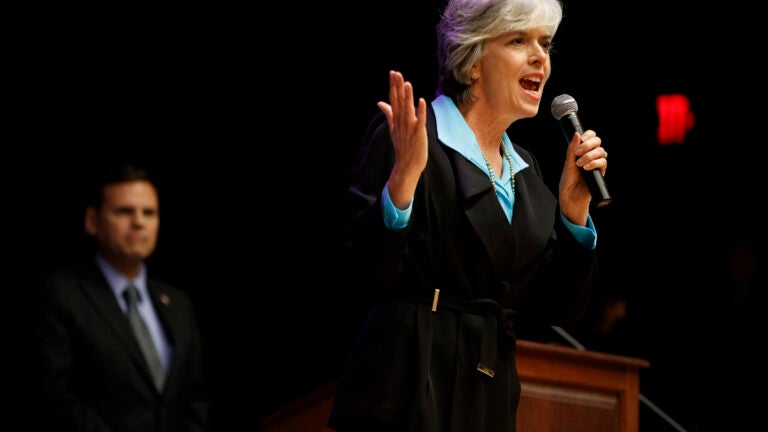 For all the talk of Reps. Joe Kennedy III and Seth Moulton as Massachusetts's young, ascendant Democratic leaders, it's Rep. Katherine Clark actually making a move to rise up the party ranks.
Clark announced Thursday morning that she's running for vice chair of the Democratic caucus, which would make the Bay State congresswoman the fifth-highest ranking member of the party's House leadership next year.
The current vice chair, California Rep. Linda Sánchez, is running for caucus chair, the fourth-ranking position, which is set to be vacated by New York Rep. Joe Crowley, who was recently upset in his primary.
In a letter to colleagues Thursday announcing her candidacy, Clark said she was committed to helping Democrats win back the majority in Congress in the upcoming November midterm elections. She said the party must "be ready to implement a bold agenda" if they do.
"Across the country, we are witnessing unprecedented energy and enthusiasm to create opportunity and security for American families and protect our democracy," Clark said. "But this engagement can't end with the election: we need accessible, inclusive leadership to help build a collaborative agenda that inspires our constituents and produces results."
The Melrose Democrat also called for fellow members of Congress to engage directly with their constituents to share ideas and said diversity is the party's "greatest asset."
"We are stronger as a caucus when every member has the chance to contribute," she said.
Clark is the first Democrat to officially announce their candidacy for Sánchez's position. However, according to Politico, Reps. David Cicilline, of Rhode Island, and Grace Meng, of New York, have also said they're looking at the position.
Sánchez, the current vice chair, has called for the top three House Democrats — Minority Leader Nancy Pelosi, Minority Whip Steny Hoyer, and Assistant Democratic Leader Jim Clyburn — to step aside for a new generation of party leaders. However, Clark has remained supportive of Pelosi, who appeared at a fundraiser with Clark this past May in Boston.
In a statement Thursday to Boston.com, Sánchez said she has "a lot of respect" for Clark, but stopped short of endorsing the Massachusetts congresswoman for her current post — or at least not yet.
"She is a thoughtful leader and a hard worker," Sánchez said of Clark. "I look forward to hearing more about her vision for the future of our caucus."
Democrats will reportedly hold their caucus election on December 5 or later.
Read Clark's full letter below:
Dear Colleague:

It is the privilege of my professional career to serve with you in our Democratic Caucus. To ensure that the American people have a Congress that stands for them, we must win a strong Democratic majority in November and be ready to implement a bold agenda. I would be honored to be part of the team to lead our caucus and to earn your support as I seek election to be Vice Chair of the Democratic Caucus for the 116th Congress.

Across the country, we are witnessing unprecedented energy and enthusiasm to create opportunity and security for American families and protect our democracy. But this engagement can't end with the election: we need accessible, inclusive leadership to help build a collaborative agenda that inspires our constituents and produces results. We can achieve this by ensuring that members have the tools to engage in direct, meaningful conversation with their constituents, and, in turn, empowering every member to share the needs and ideas of their communities to drive Democratic priorities.

Like you, I will spend the next months continuing to do everything in my power to secure a Democratic majority. My work with you, and with hundreds of our candidates in districts across the country, has solidified my belief that the diversity of our caucus is our greatest asset and that we are stronger as a caucus when every member has the chance to contribute. I want to hear your ideas about how we can best support every member of our caucus, create opportunities for members to grow and lead, and make bold progress on our shared values. I look forward to hearing your vision for our caucus, and thank you for your partnership.

With warm regards,

Katherine M. Clark