Politics
What Donald Trump has actually said about setting Tom Brady up with Ivanka
During a 2004 radio interview, Trump said Brady "really likes" and wanted to date his daughter.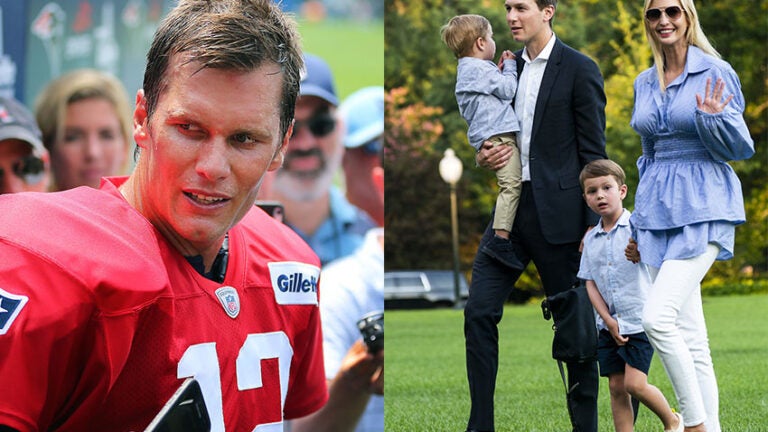 President Donald Trump has been a longtime, outspoken fan of Tom Brady. But his daughter Ivanka? Apparently not so much.
The New York Times reported on Saturday that Trump has privately joked several times that he "could have had Tom Brady" as a son-in-law.
"Instead, I got Jared Kushner," the president said, five people who heard him told the Times.
The secondhand account was picked up by outlets across the country over the weekend. But what has Trump himself said publicly about his desire to set up the Patriots quarterback with his daughter?
It turns out that more than 13 years before he became president, Trump actually spoke somewhat at length about his attempts to play matchmaker during an appearance on The Howard Stern Show.
During a conversation about Ivanka — who he called a "great beauty" with a "great body" — Trump, a frequent guest on Stern's show, told the then-49-year-old radio host that he wouldn't let him date his 22-year-old daughter.
"Howard is too much like me," the real estate developer and TV personality, who was 57 at the time, said in the Jan. 7, 2004, interview.
"I would never allow me to date my daughter," Trump continued. "We are terrible. We are disgusting people. And I wouldn't allow me to date my daughter, so I wouldn't allow him."
On the other hand, Trump enthusiastically gave a nod of approval to the idea of Brady dating his daughter. In fact, he said the then-single, 26-year-old quarterback would "like to."
"Tom Brady, the quarterback, is somebody that really likes Ivanka and he's a great guy and I got to know him at the Miss Universe contest," Trump said.
Shortly after winning his first Super Bowl, Brady had served as a judge at the 2002 Miss U.S.A. beauty pageant, which Trump owned from 1996 to 2015.
"And you'd be OK with him dating your daughter?" Stern asked.
"I think he's great," Trump said. "He's 25 years old. He's Mr. All-American."
"Is he dating your daughter?" Stern asked.
"Well, it could happen. I mean, he'd like to, and we'll see," Trump said, noting that Brady was "focused now on the football stuff."
Brady was on the verge of his second NFL playoffs appearance at the time, and the Patriots would go on to win the 2004 Super Bowl against the Carolina Panthers.
"But he is such a great guy," Trump added in the interview.
From there, the conservation deviated to other subjects, including Stern asking Trump if it would bother him if Ivanka dated "a black guy," his NBC show The Apprentice, and Trump reminiscing about the "good ol' days" before heightened AIDS awareness when men didn't have to wear condoms.  Factba.se has published a rough transcript of the interview (as well as Trump's many other appearances on Stern's show dating back to 1993), and the audio can be found online.
Trump's first ex-wife, Ivana, has also corroborated Trump's wishes for their daughter to date Brady, but says Ivanka wasn't interested (former White House spokesman Anthony Scaramucci suggested last September that Brady and Ivanka once did date, but also admitted at the time it was only a "guess").
"[Ivanka] preferred to keep her personal life to herself," Ivana wrote in her 2017 book Raising Trump. "At one point, Donald wanted her to date Tom Brady, the quarterback. He said, 'You have to meet him!' But Ivanka wasn't into it."
Ivanka reportedly met Kushner through mutual friends at a business lunch in 2007 and were married in 2009. Brady began dating actress Bridget Moynahan in 2004 until they broke up in late 2006. He shortly thereafter began dating supermodel Gisele Bündchen, who he married in 2009.
And so Trump-Brady never became more than a T-shirt. But what an alternative universe that would be.