Politics
This is why Elizabeth Warren faced criticism from local police
"I now cannot trust her actions or words are real," a Mass. police chief said.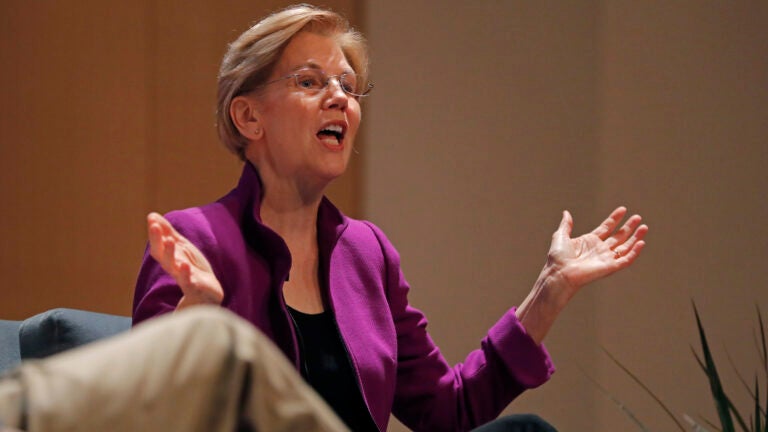 Massachusetts police said Sen. Elizabeth Warren dealt an insulting blow to law enforcement, especially on the heels of attacks on police that killed officers in the line of duty, when she said the country's criminal justice system is racist "front to back" earlier this month.
Warren, up for re-election in November and a potential presidential candidate in 2020, made the remark while speaking during a Q&A session at Dillard University, a historically black college in New Orleans, on Aug. 3.
But the comments grabbed the attention of local police chiefs last week, including Chief Frank Frederickson, of the Yarmouth Police Department, who lost Sgt. Sean Gannon in April after he was shot and killed in the line of duty.
Her words came as a slap in the face, Frederickson wrote in an Aug. 10 Facebook post.
"Sen. Warren's recent statement tarnished us all and diminished the sincerity of her condolence efforts. I now cannot trust her actions or words are real," he wrote. "I have a lot of respect for those who serve in elected positions even though we may disagree at times, however statements like this are disrespectful and divisive."
Others have criticized and questioned her remarks, including U.S. Attorney General Jeff Sessions and the Massachusetts Chiefs of Police Association, which wrote in a letter that the comments spread "false and damaging information about our members."
Here's what's been said regarding the senator's words:
Warren: 'The hard truth about our criminal justice system: It's racist…I mean front to back.'
Warren made her comments during a session hosted by Congressional Black Caucus Chairman Cedric Richmond, the Associated Press reports.
She pointed to how African-Americans are disproportionately arrested for drug possession; how state laws do not allow convicted felons to vote even after they have served their sentences; and how the public defender system is overloaded.
Police: 'It appears your statement was strategically placed to gather support for your position.'
In an Aug. 7 letter to Warren, Dudley Police Chief Steven Wojnar, also president of the Massachusetts Chiefs of Police Association, wrote that her statements create hostility toward officers and can hurt the relationships departments work hard to create with their communities.
He was "extremely troubled" by the comments, which he wrote appear "strategically placed to gather support for your position."
"We feel we do a very good job in Massachusetts of producing professional and community oriented police officers," Wojnar wrote. "These men and women, from a variety of backgrounds, provide dedicated service to their respective communities under difficult and highly scrutinized circumstances each day. As leaders, we are always concerned about having our officers conduct themselves professionally and fairly when dealing with the public."
Both Wojnar and Frederickson — who shared the letter along with his own statement on the Yarmouth Police Department Facebook page — wrote about recent attacks on police officers across the state, including ones that killed Gannon and Weymouth Police Sgt. Michael Chesna while both were on duty, and a third incident that injured two officers who were shot in Falmouth last month.
"All of these officers were simply doing their jobs when they encountered dangerous individuals," Wojnar wrote. "The outpouring of community support for these officers and their departments would appear to be contrary to your position. On each occasion mentioned above, the respective chiefs were contacted by their elected local, state, and federal officials. They were offered any support necessary. I am sure the discussion about the profession being racist was never brought up during these times. Why is it appropriate now?"
Wojnar requested that Warren explain her comments and offered her the opportunity to discuss them with police.
Sessions: 'A slander of every law officer and every prosecutor in America.'
Sessions also weighed in on the controversy last week, condemning Warren's words in a speech in Georgia, where he was meeting with law enforcement officials.
He said the statement was "a slander of every law officer and every prosecutor in America," Fox News reports. "And frankly, I think it is an insult to their families and to the crime victims they have helped to face their attacker."
Warren, responding to criticism: 'I spoke about an entire system — not individuals…'
In a statement, Warren said her remarks were about an entire system, not individuals within it, and that she would "continue to work on reforms to make the criminal justice system fairer," The Boston Globe reports.
Warren and Frederickson spoke on Saturday by phone, although details of their conversation were not released, according to the newspaper.
The senator also spoke to reporters in Eastham Saturday following a town hall event where she said she is thankful to the police officers who risk their lives every day, the Globe reports.
"The entire law enforcement system has a lot of good people who get up every day and try to make this a more just, a more fair, more responsive system," Warren said. "And they say over and over, the system needs reform. It needs change."