Politics
Why Michael Capuano and Ayanna Pressley disagree about Colin Kaepernick's decision to kneel during the anthem
A rift opened in the race for the Democratic nomination in Massachusetts's 7th district.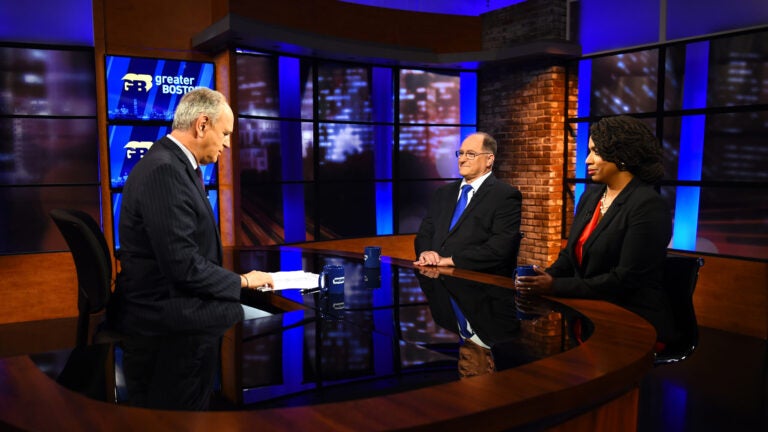 In a Democratic primary race where the two candidates have few major policy differences, a rift opened Wednesday between Rep. Michael Capuano and his challenger, Boston City Councilor Ayanna Pressley.
During a town hall in Boston last October, Capuano took issue with the decision by former NFL quarterback Colin Kaepernick to kneel during the national anthem in protest of police brutality and racial inequality. Speaking about purported balkanization of Democratic politics, the 66-year-old former Somerville mayor and 10-term Massachusetts congressman — who represents the state's only majority non-white district — said that Kaepernick's approach was unproductive, though he agreed with its underlying cause.
"He was right to raise the issue of racial disparity on our streets," Capuano said. "He was wrong the way he raised the issue. … It was the way he said it that turned off half of America, which I don't think is productive."
The clip was resurfaced Wednesday afternoon by New York Times reporter Astead Herndon, hours before Capuano and Pressley squared off in their final scheduled debate.
Looking over video from last year: Here's Dem Rep. Mike Capuano, who represents a majority-minority district and is now locked in a tough primary battle with Ayanna Pressley in Mass., saying Colin Kaepernick "was wrong in the way he raised the issue." pic.twitter.com/y2785Daryr

— Astead (@AsteadWesley) August 15, 2018
WGBH host Jim Braude brought up the clip during the debate, which taped around 4:30 p.m. Wednesday, and asked Capuano if he supported the protests. The congressman replied that he supported the players' "right to protest, absolutely, 100 percent," but thought Kaepernick should have done it in a less divisive way.
"I thought that particular action divided America, because he chose to do it on the national anthem," he said. "I understand what he's doing. I actually agree with the concept of what he's doing. I just thought it could have been done in a way that would have brung more people into the discussion, rather than actually anger an awful lot of America."
Capuano said that, after President Donald Trump inflamed the issue last year, he didn't blame more players for joining in the protest, but remained critical of the tactics.
"The minute Donald Trump called them out on it, of course more people are going to do it and it's more divisive," he said. "They allowed the country to be divided, as opposed to be brought together to have a conversation about the issues [Kaepernick was raising].
Pressley, who could become the Bay State's first black congresswoman, said she supported both the cause and the tactics.
"It is necessary that we are disruptive right now and making people uncomfortable," she said. "Again, the issue of police brutality and disproportionate brutality and murder of black men — this strikes at the soul and consciousness of this country. And this should be of consequence and concern to everyone."
Pressley said the NFL players have "every right" to kneel during the anthem and that she stands "in solidarity with them."
Shortly after the NFL announced a new policy (which has since been walked back) against kneeling during the anthem, the 44-year-old city councilor penned an opinion piece in The Bay State Banner calling applauding Kaepernick's effort to bring "long-entrenched issues" of racial disparity to light.
"Players who take a knee during the national anthem do so to protest injustice across the country — fulfilling a patriotic duty to never accept injustice, but to call it out when we see it," Pressley wrote.
"Regardless of your opinion on these matters, the ability to peacefully protest is fundamentally American," she continued. "That their willingness to do so makes some uncomfortable is entirely the point. We should be uncomfortable with the growing gaps in our society, and we cannot allow ourselves to become desensitized to these injustices."