Politics
Here's how Elizabeth Warren fares in a very early 2020 poll against Donald Trump
Again, emphasis on very early.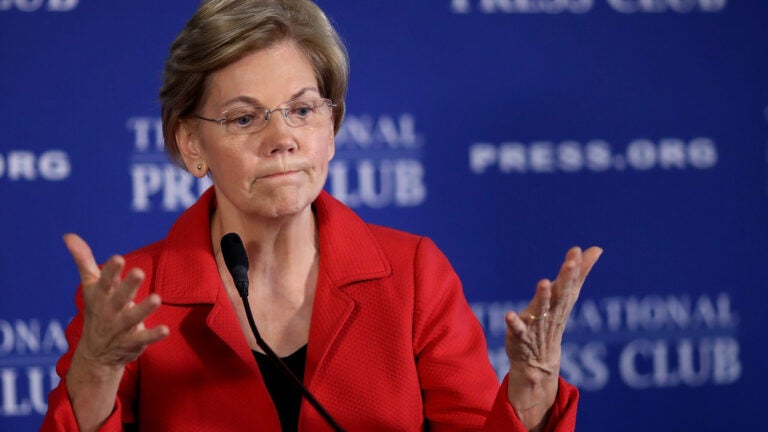 Sen. Elizabeth Warren might be the so-called "front runner" in the very early stages of the 2020 Democratic presidential primary race. And some of the Massachusetts senator's recent moves suggest she could indeed be preparing for a presidential campaign.
But how do general election voters feel?
While it's far too early for polls to offer any predictive value with regards to the 2020 outcome, a new survey — conducted last week and released Wednesday — by Morning Consult and Politico shows Warren leading President Donald Trump, if the election were held today. However, the results also suggest that two of her fellow Democrats would fare even better against the president.
According to the poll, Warren edges Trump among registered voters 34 percent to 30 percent, with a plurality of respondents (36 percent) replying that they didn't know or had no opinion. The Bay State Democrat's lead opened to double digits among younger and more educated voters, while the Republican president held single-digit leads among those who were older or hadn't attended college.
The poll showed Sen. Bernie Sanders and former Vice President Joe Biden with even wider leads against Trump. Sanders, who unsuccessfully ran for the Democratic nomination in 2016, held a 44 percent to 32 percent lead against the president in Morning Consult's hypothetical matchup, while Biden also led Trump by 12 percentage points, 43 percent to 31 percent.
Trump's support in the poll was remarkably consistent, narrowly ranging from 28 percent to 32 percent in a variety of hypothetical matchups against potential and long-shot Democratic presidential candidates.
The new poll released Wednesday is the latest in a series of large, national tracking polls conducted by Morning Consult, sampling nearly 2,000 potential voters. The last time the group asked voters about a potential Warren-Trump race in 2020, back in February 2017, the president had a six-point lead. However, surveys since then (conducted mostly by Public Policy Polling and other left-leaning political research groups) have consistently shown Warren with a lead.
Probably just don't ask her about it.