Politics
Michael Capuano and Ayanna Pressley agree on most things. But not everything.
Here's a look at the actual policy differences in the 7th District race.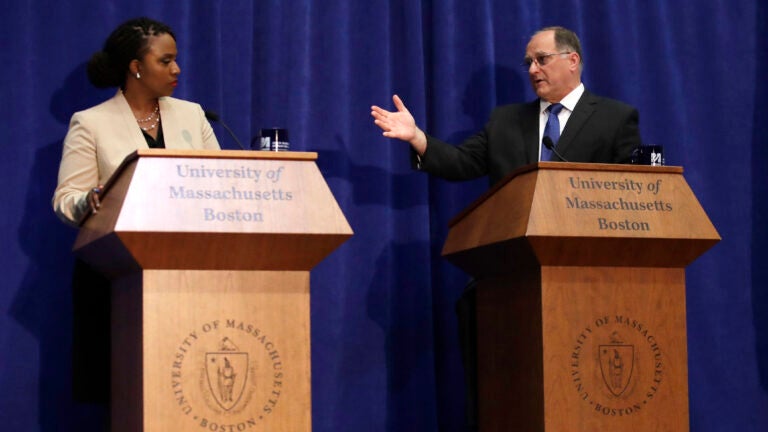 Boston City Councilor Ayanna Pressley has (repeatedly) been referred to as potentially the "next Alexandria Ocasio-Cortez."
And while the 44-year-old's congressional Democratic primary campaign against 66-year-old Rep. Michael Capuano draws similar parallels along the lines of race, age, and incumbency, the policy differences aren't quite what they were in Ocasio-Cortez's upset in New York.
For starters, it's difficult to primary Capuano from the left.
The former Somerville mayor, who has represented the 7th District since 1999, is among the most outspoken and staunchly progressive members of Congress. Capuano supported issues like single-payer health care long before it became mainstream in liberal politics and led the effort to make Somerville a so-called sanctuary city. His campaign also notes he helped secure funds for local transportation and housing initiatives in the neighborhoods of Dorchester, Roxbury, Mattapan, and Hyde Park.
Pressley, who became Boston's first black female city councilor in 2010, argues that she would push even harder for progressive causes and would be a better advocate for the 7th District, which is the most diverse — and unequal — congressional district in Massachusetts. While her opponent is undoubtedly progressive himself, Pressley — as a woman of color and survivor of sexual assault — says she could better champion the community's needs because of her "lived experience."
In effect, the race boils down to a choice between Capuano's record and experience versus Pressley's promise to provide a fresh perspective in Congress. Both candidates acknowledge that they agree on nearly every major issue.
"We will vote the same way, but I will lead differently," Pressley argued during a WBUR debate earlier this month.
That said, there is some daylight between the two candidates. Here's a look at where they disagree on policy matters.
Immigrations and Customs Enforcement
Pressley made a splash in June when she joined the calls to abolish ICE, an agency she said was "irrevocably broken" in light of the separation of immigrant families and deportation raids by President Donald Trump's administration.
"If elected I will work with federal leaders to rehouse the non-immigration enforcement functions of ICE — including human trafficking and money laundering investigations — elsewhere in the US Department of Homeland Security, while immediately eliminating funding for enforcement and removal functions," she said.
Capuano voted against the initial creation of ICE in 2002, but says that his first priority now is to stop Trump's immigration policies, rather than eliminate the agency.
"Before ICE existed there was INS, under the jurisdiction of the Attorney General," the congressman said in a statement last month. "No one should think for a minute that Jeff Sessions would impose different policies than Donald Trump."
The two candidates were asked about the issue during the WBUR debate on Aug. 7. Capuano, who personally visited the border in June to demand answers about the administration's separation of families, again stressed that it was his belief the policies being enforced were more important than the agency enforcing them.
"The first reform is to get rid of Donald Trump, because he's the one who tells them what policies to enact and that, to me, is the most important thing," he said. "His policies, as enforced by ICE, have been the main focus of my issues when it comes to immigration."
Pressley noted that the Trump administration was hardly the first under which ICE has faced criticism for its enforcement actions, which is why she said it needs to be completely overhauled.
"I do not think it is an agency that can be reformed from the inside-out," she said. "We have other agencies that have inefficiencies, that aren't on their job, and I haven't called for them to be abolished."
Border wall funding
Pressley has also said she wouldn't compromise on her opposition to Trump's proposed border wall, while Capuano says he would've been willing to provide some funding for the wall in order to achieve larger immigration policy goals. He referred to the 2013 immigration reform bill passed in the Senate, which was broadly supported by Democrats, even though it included some money to increase fencing along the border.
"It's great to be perfect, but Senator Warren, Senator Markey, Senator Sanders all voted for a comprehensive immigration reform bill, that had we had the opportunity to vote for in the House, I would have voted for," Capuano said in a WGBH debate last week. "It would have saved a lot of hassle for people on Temporary Protected Status, the Dreamers, and the mothers and children being separated at the border."
WGBH host Jim Braude noted that most of the existing 700 miles of border wall or fencing along the border with Mexico was completed during President Barack Obama's time in office (though it was passed and authorized under President George W. Bush). Pressley said that fact did not change her unwavering stance.
"None of us are exempt from criticism here," she said.
Pressley also suggested she would've voted against the 2013 bill: "I'm saying I would not."
Syria and Afghanistan
However, when it comes to the military involvement of American soldiers overseas, Capuano is the one with the more resolute position.
As The Intercept recently reported, both candidates were asked by the local anti-war group Massachusetts Peace Action if they supported ending the country's military involvement in Syria and Afghanistan.
Capuano simply checked yes for both questions, noting that he introduced a bill to forbid military action in Syria without congressional approval, voted several times to withdraw from Afghanistan, and was additionally part of a small group of lawmakers who sued the Obama administration in 2011 over its military action in Libya.
On the other hand, Pressley declined to provide a simple yes-or-no answer on Syria and Afghanistan. In a more detailed answer, the city councilor wrote that, even though she first looks to "exhaust all diplomatic and non-military options," the United States has a "responsibility" to ending the two conflicts and creating stability in the region.
"It would be irresponsible to foreclose any potential avenues to achieving that goal," Pressley wrote.
Both candidates did, however, agree that the United States should end its involvement in Saudi Arabia's bombing of Yemen.
Israel and Palestine
The Massachusetts Peace Action also pressed the two candidates for their positions on the conflict between Israel and Palestine.
Pressley said she supports a House bill that would require the American government to ensure that none of its military aid to Israel would be used for reported "detention and mistreatment of Palestinian children." Capuano said he opposes the bill because he doesn't think it "presents a balanced account of the continuing tragedy of the Israel-Palestinian conflict."
The group's questionnaire also asked the two candidates if they support a controversial House bill that would make it a felony to support a movement to boycott Israel and Israeli companies over the country's treatment of Palestinians.
Capuano said he opposes the bill "on First Amendment grounds," even if he is personally against the boycott movement.
"I do not support BDS, but I believe others should be free to advocate for it," he wrote.
Pressley declined to provide a yes-or-no response on the anti-boycott bill question. Addressing the conflict more generally, she wrote that, if elected, she would push for policy that " recognizes the basic human rights of both Israelis and Palestinians and promotes greater engagement between the two sides."
"Building empathy and understanding through intentional diplomatic efforts and grassroots engagement is essential to reaching a sustainable, long-term solution to the conflict," she said. "As I have always said, those closest to the pain should be closest to the power."
Public-private partnerships
One of the less flashy policies on which the two candidates have expressed some disagreement is the subject of public-private partnerships for funding infrastructure projects. During the WBUR debate, Capuano and Pressley both agreed that the country's transportation infrastructure was sorely underfunded.
Capuano has said that passing an infrastructure bill would be a priority for him if Democrats win a majority in the House. Asked about alternative ways of funding such projects, the congressman suggested that so-called P3s, in which the government contracts with a private entity for services, wouldn't be sufficient.
"Public-private partnerships are not going to work," Capuano said, noting that he chaired a congressional subcommittee study on the issue that found they "for the most part, don't work very often."
Rather, he said federal investment needs to be the main driver, adding Trump's recent tax break bill could have gone instead toward infrastructure needs.
"That trillion and a half dollars could have been used for an investment in this country," Capuano said.
Stressing the importance of affordable transportation, Pressley signaled she would be open public-private partnerships, though she said she was opposed to outright privatization of services, such as the MBTA.
"Public-private partnerships I think are creative and something that we should consider," she said. "We did not have much success with that with late-night T service, so it's hard for that to be something that's sustainable. But I do think we should be looking at everything."
In 2016, the MBTA considered partnering with the local shuttle company Bridj to provide late-night service. However, the talks fell through when Bridj shut down last year.
Assault on a police officer
During the WGBH debate, Pressley also pointed out that Capuano voted for a so-called "Blue Lives Matter" bill in Congress to make assaulting a police officer a federal offense punishable by up to 10 years in prison. Officially titled the "Protect and Serve Act," the legislation would apply to anyone who "knowingly causes serious bodily injury to a law enforcement officer, or attempts to do so."
Pressley says she would have voted against it.
"We are holding up the dignity and life of police officers, and, meanwhile, we are not getting justice for the black men in this country who are being murdered every day," she said.
Defending his vote in favor of the bill, Capuano characterized the legislation as a "statement bill" that wouldn't substantively change the existing penalties for crimes against a police officer, since all 50 states already have laws against attacking police officers. The congressman called it a "throwaway vote."
"It was redundant," he said of the bill.
No matter, Pressley said that that statement was still significant, as "black people are disproportionately profiled and brutalized by police, and could be defending themselves." Capuano said he agreed on the subject of systemic racism within the country's justice system, but maintained that the targeting of police officers was something to be addressed.
"[The bill] doesn't say that there are not other problems, but I also don't think you go out of your way to intentionally target a police officer," he said.
While agreeing with the congressman's statement, Pressley said it mattered how the narratives both of violence against police and violence against people of color were being held up against each other.
Capuano's campaign noted that the other eight Democrats in the Massachusetts delegation also voted for the bill. Earlier during the WGBH debate, Pressley said she wasn't "casting aspersion upon" any of her potential congressional peers for votes with which she disagreed, but stood by her positions.
"We each individually arrive at these decisions and take these votes alone, and I respect how they arrive at it," Pressley said, "You asked what I would do, and I'm telling you what I would do."