Politics
Mass. congressional candidates in the 1st District held their first debate. Here's what they said.
Candidate Tahirah Amatul-Wadud and Congressman Richard Neal sparred in one of two scheduled debates Wednesday.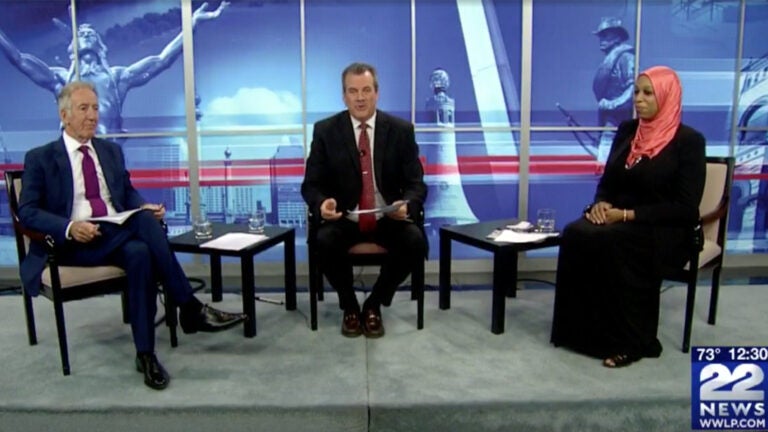 Meeting face to face Wednesday in their first debate, 1st Congressional District candidate Tahirah Amatul-Wadud and Congressman Richard Neal sparred over defense department spending, addressing the opioid crisis, and the future of health care as the political newcomer came out on the offensive against the 15-term incumbent.
Amatul-Wadud, a progressive Democrat and domestic relations and civil rights attorney from Springfield, took particular aim at Neal's record at different points during the 30-minute debate on WWLP, challenging his support for the $717 billion National Defense Authorization Act and his defense of the Affordable Care Act (ACA).
A mother of seven, she presented herself as a tenacious candidate who understands the plight of working families in the district, which, according to Ballotpedia, faces the highest unemployment rate and the lowest median income in the state outside of the Boston area.
"I am running this race because I have noticed there has been an absence of moral leadership and of being able to advance policies that meet our families," Amatul-Wadud said during a one-minute opening statement.
Neal, a lead Democrat on the House of Representatives Ways and Means Committee first elected to Congress in 1988, pushed back, citing his back-and-forth support of defense spending over the years, and underscored his role in crafting the ACA that's bolstered health care coverage for over 20 million Americans.
He touted his defense of social welfare programs like Social Security and Medicare as examples of how he's supported working families in Western Massachusetts.
"Health care, decent schools, opportunity for all members of the American family — and I think that the course that I have taken during this career has been consistent with the principles I've just outlined," Neal said in opening remarks.
Wednesday's debate, moderated by anchor Rich Tettemer, is the first of two scheduled — with a second one on Aug. 30 hosted by WGBY-Public Television and the League of Women Voters in Springfield — ahead of the Sept. 4 Democratic primary election.
The split
While Amatul-Wadud and Neal found some common ground over general attitudes toward stricter gun-control measures and immigration reform, the two see different directions for Democrats as the party has sought to keep the ACA in place under a Republican-dominated Congress.
Neal, who helped write the Obama-era ACA, listed the continued defense of the legislation as a top priority, adding he sees the possibility of expanding Medicaid in the future.
But Amatul-Wadud, who said Neal is against providing free health care through the "Medicare for All" bill, said Democrats must rally around those kinds of policies amid attempts under the Trump administration to repeal the ACA.
"I would support trying to assist and strengthen the Affordable Care Act, but that's just the wrong fight at this point," she said. "It's embattled. It probably won't be here long, so we have to get around a policy like 'Medicare for All.'"
She said the "Medicare for All" could be funded through bringing back $2 trillion from offshore tax havens into the U.S. budget and by trimming defense spending.
Neal disputed the notion he was opposed to "Medicare for All," but said the fundamental aspects of the ACA, such as eliminating pre-existing conditions and capping out of pocket expenses, among others, are critical.
"My argument has been that in the current controversy that we have, shouldn't we be better off making sure the Affordable Care Act gets extended? It's one of the signature accomplishments of the Obama administration," he said. "We worked hard to get that done."
Calling it a "bloated budget," Amatul-Wadud also criticized Neal's support of the 2019 fiscal year Department of Defense budget, which Trump approved last week.
The act provides money for two in-district military bases, Westover Air Reserve Base in Chicopee and Barnes Air National Guard Base in Westfield, including authorization to build a $42.6 million hangar at the former, according to a June press release from Neal's office.
Amatul-Wadud said national security is a priority for her, but added that "moral leadership" is lacking as the City of Westfield handles a water contamination issue believed to have originated at the Barnes Air Base.
The city filed a $50 million lawsuit against companies that made firefighting foam — the alleged contaminant — used at the air base for years in February, WWLP reports.
"I'm deeply concerned when we look at budgets such as what my opponent just signed, we recognize that defense contractors are big donors to his campaign fund," Amatul-Wadud said.
Neal, noting he voted against the war in Iraq, emphasized that his support of the defense budget does not mean he supports war, and added that the two military bases are economic pillars within the district.
"We have a commercial opportunity at Westover and a commercial opportunity at Barnes as well as the fact that 7,200 people get up and go to work there every single day," he said.
Both candidates offered up differing approaches toward reducing the cost of higher education and on tackling the opioid crisis.
Neal said lawmakers must treat addiction as a mental health disease and provide more treatment beds, while Amatul-Wadud said Congress must have a different conversation on dealing with addiction, one that addresses disparity in addiction treatment access among people of color and those living far from medical facilities.
(Some) common ground
Both Neal and Amatul-Wadud support a $15 federal minimum wage and criminal justice and immigration reform.
Additionally, each candidate outlined gun control efforts, with Neal, pointing to a 10-point plan he published in The Berkshire Eagle in May, proposing universal background checks and firearm bans for domestic abusers, among other points.
He said Amatul-Wadud was "wobbly" in her gun control stance and made reference to a Pittsfield forum but didn't provide more context.
But Amatul-Wadud said she has remained consistent, and said she wants to impose background checks, raise the age limit for firearms, and to have the Centers for Disease Control to research around the issue.
Both candidates also said they would be able to work across the aisle with the Trump administration, with Neal highlighting pension reform and infrastructure as two specific areas.