Politics
Everything you need to know about Ayanna Pressley
The Boston City Councilor is looking to become Massachusetts's first woman of color in Congress by unseating incumbent Rep. Michael Capuano.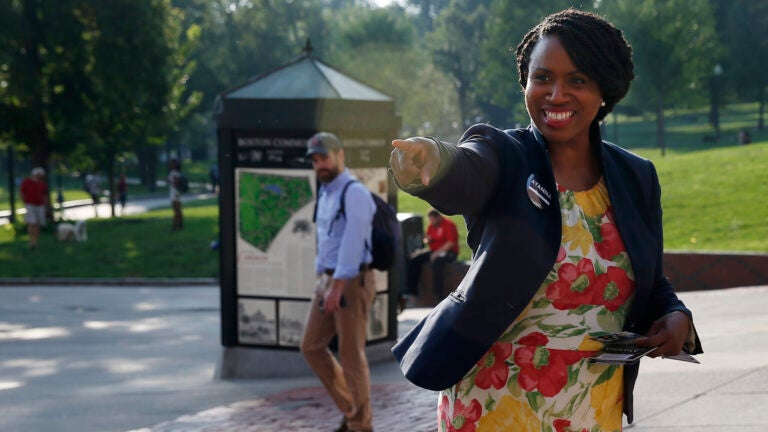 On Tuesday, Ayanna Pressley could make Massachusetts history — again.
The first woman of color elected to the Boston City Council, Pressley is now looking to become Massachusetts's first black person elected to the U.S. House of Representatives. To do so, she'll first need to defeat 10-term incumbent Rep. Michael Capuano in Tuesday's Democratic state primary election.
While the 44-year-old city councilor's candidacy has often drawn parallels to New York congressional candidate Alexandria Ocasio-Cortez and her upset over Rep. Joe Crowley, the dynamics of the 7th District primary race have some big differences.  Unlike Crowley, Capuano is about as liberal as they come in Congress and, unlike Ocasio-Cortez, Pressley is no political outsider.
But that's not the argument she's making to voters. Rather, Pressley is running on the idea that the 7th District, which is the only majority nonwhite district in Massachusetts, would be better served by someone whose life experience is reflective of its people — and that it's about time the state sent a black woman to Congress.
"I fundamentally believe that the people closest to the pain should be closest to the power, driving and informing our policymaking," she told Boston.com in a statement.
What has she done?
Pressley grew up in Chicago in what she has described as a "tough neighborhood" with a single mother and a father who was "in and out of prison."
"Bad influences and distractions were around every corner," she wrote back in 2009 when she was running for City Council. "But I also learned that my neighborhood could be a nurturing, positive place to grow up. We make a mistake when we stereotype neighborhoods as 'bad,' and not worth our attention or investment."
Pressley eventually moved to Boston to attend Boston University but never graduated, because she had to leave school to support her family after her mother lost her job.
Still, she stayed involved locally, and soon after got a job doing constituent services for Rep. Joe Kennedy II, for whom she interned in college. After volunteering for Sen. John Kerry's reelection campaign in 1996, she was offered a job and went on to work for Kerry in a variety of roles, from constituency director to political director, where she served as a liaison to elected officials and Democratic activists throughout the local and national levels.
Pressley stepped down from Kerry's office in 2009 to launch her historic at-large campaign for City Council. Upon getting elected, she created the Committee on Healthy Women, Families, and Communities to spotlight stable families, reduce violence and poverty, and promote women's issues.
A survivor of sexual assault in childhood and as an adult, Pressley revealed in 2011 she had been raped as a 19-year-old at BU. She then used her experience to spark and lead a public discussion about the sexual assault epidemic, years before the #MeToo movement.
Pressley's campaign also highlights her convening of the council's first-ever "listening-only hearing" on gun violence and her advocacy for liquor licensing reform, which allowed the city to give out 75 additional licenses, mostly for "disenfranchised neighborhoods." The reform had mixed results, and she's now pushing for even more licenses to be made available.
Her work hasn't gone unnoticed. Pressley was the council's top vote-getter in three consecutive elections. In 2015, Emily's List, a group that seeks to elect pro-choice women to public office, presented Pressley with its Rising Star award. In 2016, The New York Times named her one of the country's "14 Young Democrats to Watch."
Where she and Capuano disagree:
Pressley and Capuano both admit that their voting record in Congress would be very similar, if not virtually the same. But a few policy disagreements have surfaced during their primary race.
Despite bashing Sen. Bernie Sanders's "Medicare for All" health care plan in 2016, Pressley said she recently came around on a single-payer-style system, which Capuano has long supported. Otherwise, there's not much distance between the two candidates when it comes to policy. (Read more about their various policy differences here and here.)
Perhaps the biggest issue where they differ is their approach to immigration reform. In June, Pressley called for Immigration and Customs Enforcement to be defunded, following the agency's separation of immigrant families at the border. Capuano has argued that the more important issue is the administration directing ICE, rather than the agency itself, though the congressman voted against its creation in 2002.
But noting that the agency has acted controversially under other administrations, Pressley has argued that ICE is "irrevocably broken."
"I do not think it is an agency that can be reformed from the inside-out," she said at a recent debate.
Pressley also said she wouldn't vote for an immigration bill that included funding for any sort of southern border wall, even if it included reforms she favored. Meanwhile, Capuano has said he'd be willing to make concessions on the wall, a pillar of President Donald Trump's platform, in return for larger immigration reform goals.
Both candidates vigorously oppose Trump's policies, but Pressley has also taken a more aggressive stance on the subject of removing the president from office. In their most recent debate, Capuano said that even though he voted to proceed with impeachment proceedings last year, he wouldn't vote to indict Trump until the official House investigation was conducted. However, Pressley suggested she was already willing to vote to indict the president, saying that there's "absolutely" enough evidence of impeachable offenses, though she struggled to name specific acts.
Beyond their particular issue-based disagreements, the crux of the race between Capuano and Pressley comes down to a debate between seniority and representation. Pressley believes the 7th District would be best served by a person of color, while Capuano believes his progressive record and experience make him better positioned to deliver results for the people he represents, no matter his own race.
"A lot of my work has also been to name the issue that no one else named — to spotlight it, to advocate for it," she recently told The Boston Globe. "That's where all advocacy begins. I've asked different questions. I've raised different issues."
Endorsements
Pressley hasn't been endorsed by any of her potential peers in the Massachusetts delegation. Sens. Elizabeth Warren and Ed Markey and Reps. Niki Tsongas and Seth Moulton have remained neutral in the race, while the state's other six House members have backed Capuano.
Pressley does, however, have the backing of a number of her current peers — city councilors Annissa Essaibi George, Michelle Wu, and Kim Janey — as well as a large group of state and local lawmakers and progressive groups in the Boston area. At the national level, both the grassroots anti-Trump group Indivisible and the National Women's Political Caucus have officially backed Pressley.
Perhaps her biggest endorsement came from Massachusetts Attorney General Maura Healey, a fellow ascendant Bay State Democrat, who said the two women have a long history of working together "on issues that strike at the core of who we are as a city and a state and reflect the progress we still need to make."
"I've been lucky to work with some incredible people, but just a few have been willing to lean in every time," Healey said. "One of these people for me is Ayanna."
Pressley also was recently endorsed by the editorial boards of the two biggest newspapers in Massachusetts: The Boston Globe and the Boston Herald.
"Voters might be hesitant to move on from Capuano after his years of experience and the seniority he has accumulated in Congress," the Globe wrote. "But Pressley is a proven advocate with an understanding of the needs of the district, and she would be a fresh voice in Congress."