Politics
How did Ayanna Pressley pull off a double-digit drubbing of Michael Capuano in the 7th District?
"If you're serious about running a grassroots campaign, you don't just pick and choose where you think you can run a strong race."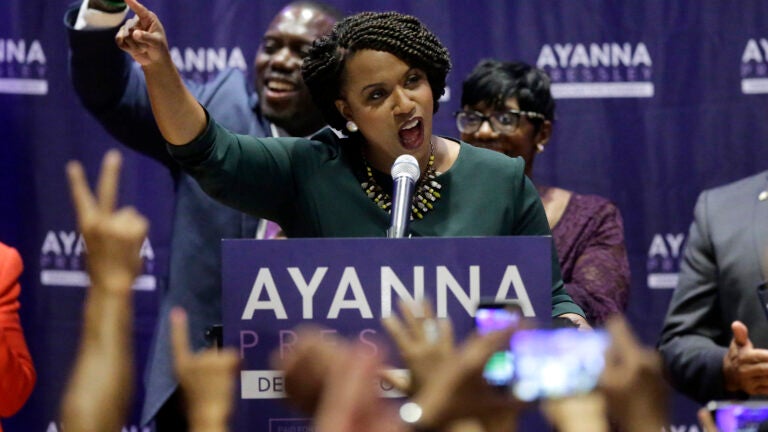 Ayanna Pressley didn't just beat Rep. Michael Capuano, she buried the incumbent Democrat by double digits in the district he has represented for more than 20 years.
With more than 100,000 primary ballots counted in the state's deep-blue 7th District, the 44-year-old Boston city councilor received 58.6 percent of the vote. Capuano, meanwhile, took home 41.4 percent of the vote. The 66-year-old congressman barely even carried his hometown of Somerville, which had propelled him into Congress two decades earlier.
"If you're serious about running a grassroots campaign, you don't just pick and choose where you think you can run a strong race or where you think you have a base of support," Alex Goldstein, a senior adviser to the Pressley campaign, said Wednesday. "You try to change the map everywhere."
Pressley, who became the first woman of color elected to the Boston City Council in 2009, was expected to do well in Boston, having lived in Dorchester and advocated for the surrounding neighborhoods for nearly a decade. It was less clear how she would do elsewhere in the district — which runs north from Randolph through half of Milton and most of Boston to the residential suburbs of Chelsea, Everett, Somerville, and half of Cambridge — where her opponent had been a fixture for decades.
"What she needed to do was to do well in the towns surrounding Boston," Steve Koczela, the president of MassINC Polling Group, said Wednesday. "She always looked pretty strong in the city of Boston — and we saw last night that she did."
Indeed, Pressley carried the entire city of Boston, where more than 60 percent of the total ballots were cast, by nearly 28 percentage points. She won the parts of Cambridge and Milton in the district by about 13 and 15 percentage points, respectively.
And while she lost the small cities of Chelsea and Everett by double digits (the latter of which by more than 30 percent), Pressley held virtually even with Capuano in Randolph and — perhaps most significantly — Somerville, where Capuano served as mayor for nine years. With more than 16,600 ballots cast in the city, Capuano won it by just 122 votes, less than 1 percent of the vote.
"One of the central values to a grassroots campaign is that everything is on the table and every community is worthy of organizing in and on behalf of, and I think that's what we tried to do," Goldstein said.
Before the election, Pressley spoke of the need to expand the electorate. As NBC News reported, the 102,067 total votes cast in Tuesday's election dwarfed — and sometimes more than doubled — the turnout in Capuano's previous uncontested primaries. Even in 2006, when Gov. Deval Patrick, a Milton resident, was on the primary ballot, the turnout reached only 85,051.
"She said that's what she had to do, and she did it," Koczela said, adding that other races for Suffolk County district attorney and local state representative seats may also have helped boost turnout.
According to Goldstein, the district-wide campaign strategy was "not only the right way to win, but it's also consistent with the values of running an inclusive campaign." In addition to months of canvassing and phone-banking, the Pressley campaign worked to reach voters through mail and social media. But they also knew they had to "defy the conventional wisdom" of how to locate and mobilize new voters, Goldstein said.
Faced with a nearly two-to-one fundraising disadvantage, Pressley's campaign focused on digital content, working with local production team Opalite Media to produce online videos. The ads included a two-minute, self-narrated video of Pressley riding the MBTA 1 bus from Cambridge to Roxbury, which she said was symbolic of many issues facing the 7th District, the state's most diverse congressional district, as well as it most unequal.
"There's a paradigm shift that is happening, at least in some types of races, where the return on investment from significant amounts of television, cable advertising is a little bit harder to ascertain than it was maybe a couple years ago," Goldstein said. "There's just a lot more ways to reach people."
The campaign also completely passed up TV ads, except for spots featuring local community activists on Telemundo and Univision. The campaign worked with Archipelago Strategies Group to create and place Pressley's ads in Hispanic, Haitian, and Chinese media outlets, including on the Spanish- language networks.
Josiane Martinez, the founder and CEO of the Boston-based consultancy firm, gave credit to Pressley and her campaign in a statement Wednesday for "understanding the importance of engaging diverse residents and not being afraid to invest in a fully multicultural strategy" in the majority-nonwhite district.
Pressley's candidacy drew comparisons throughout the summer to other progressive outsider candidates of color — such as Alexandria Ocasio-Cortez in New York or Andrew Gillum in Florida — that beat older establishment Democrats, who were more ideologically moderate and white. However, the 7th District race never exactly fit that narrative. Pressley is no outsider — having worked for Rep. Joe Kennedy II and Sen. John Kerry before her election to the Boston City Council — and Capuano is no moderate, touting one of the most progressive records in Congress. On policy, the two candidates only had a few notable differences.
Koczela says the decisive results Tuesday were less a rebuke of Capuano and more a vote in favor of Pressley's promise to "lead differently" in the age of Trump, noting that the two bonafide progressives have "very strong favorable numbers" in the district.
"This was a race where voters legitimately liked both of the candidates and just preferred to send one candidate to Congress over the other," he said. "Neither candidate was really made to be unacceptable to the other's voters. They both put their best foot forward and voters decided they wanted a new direction."
According to Koczela, past polling and Tuesday's voting results suggest "some polarization by race and age," but not much.
"I don't think this was just demographics," he said. "I think this was also persuasion."
According to MassInc's most recent poll for WBUR in late July, Pressley did fare better among younger and black voters, while Capuano was favored among older and white voters. But Koczela says the main contours shaping the race — as also evidenced by the defeats Tuesday of longtime incumbent state Reps. Jeffrey Sanchez and Byron Rushing — was an energized Democratic base.
"The passion and the discontent that's sweeping the Democratic Party nationally is also present here in Massachusetts," he said. "That extends beyond just the Pressley and Capuano race. People are voting in large numbers, and they're electing some new candidates, and some news kinds of candidates."
In her victory speech Tuesday, Pressley said that some of the issues of inequality plaguing the 7th District were "cemented through policies long before" Trump's presidency. She even put the blame for those policies on previous "Democrats in the White House and in control of our Congress." Pressley campaigned on a broad "equity agenda," seeking progressive reforms in areas ranging from health care to housing to immigration to the justice system.
"We committed to running a campaign for those who don't see themselves reflected in politics or government, and are forever told their issues, their concerns, their priorities can wait," she said Tuesday night. "Through the spring and summer, we gained momentum and we gained a certain amount of clarity of one thing: The people in the 7th CD expected more from their leaders. … It's not just got enough to see the Democrats back in power, but it matters who those Democrats are."
Goldstein says he thinks the urgency — "Change can't wait" — and the vision of Pressley's message is what ultimately motivated voters to turnout for Pressley.
"There is a hunger for people to go deeper in terms of 'This is what we're against,' but we also need to talk about 'This is what we're for,'" he said. "That's the message of the whole campaign in a nutshell right there."