Politics
John Kerry had some tough words about President Trump this week
"We have a presidency which is off the rails," the former Massachusetts Senator told Anderson Cooper.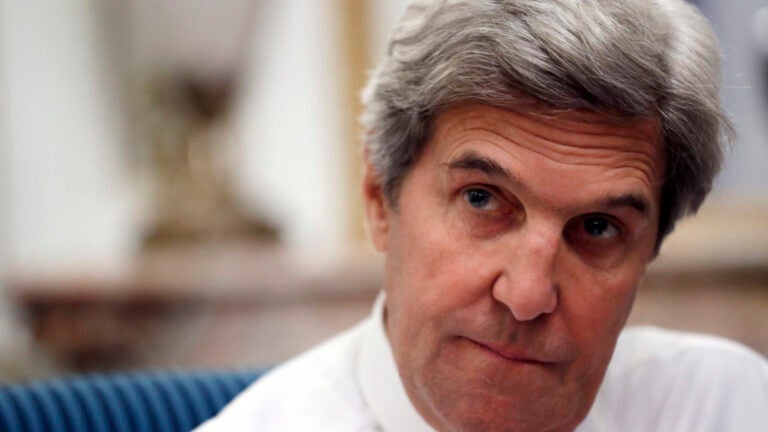 John Kerry had a busy Wednesday.
The former U.S. Secretary of State and five-term Massachusetts Senator made the rounds on talk shows and news programs this week amid the release of his new memoir, "Every Day is Extra."
And while Kerry spoke about everything from his relationship with late U.S. Sen. John McCain (who Kerry once considered for his running mate on his unsuccessful presidential bid in 2004) to the continued criticism surrounding the Iran nuclear deal negotiated under his tenure, he offered particularly pointed criticism of President Donald Trump in light of news this week about the schisms and fears of staffers within his own administration.
"We have a president who is not capable of doing the job, who clearly has these temper tantrums, doesn't know enough to be making the decisions he makes, and we see the evidence of people stealing a presidential document off his desk," Kerry told CNN's Anderson Cooper, in reference to both a forthcoming book by famed journalist Bob Woodward on the administration's inner workings and an anonymous New York Times op-ed penned by a senior Trump administration official published Wednesday.
"We see a general, the secretary of defense, ordered to kill the leader of another country who turns to everybody after the phone is hung up and says, 'I'm not going to do that. We're not going to do that,'" Kerry continued. "This is unbelievable. This is a genuine constitutional crisis."
Here's a brief recap of Kerry's comments this week.
On 'The View': "You cannot have a president who seeks revenge."
Appearing on ABC's "The View" Wednesday morning, Kerry talked about how he and McCain, two Vietnam War veterans, came to be friends and work together in the Senate despite their different viewpoints.
He lamented an apparent lack of bipartisanship in Congress and noted how Trump was unable to attend the funeral "of a war hero in America."
Trump, who has criticized McCain's service as a prisoner of war, was not asked to attend the ceremonies at McCain's request.
"There's a reason he wasn't invited, and it's the underlying reason that speaks to the problem we have in America today: You cannot have a president who seeks revenge," Kerry said Wednesday. "You cannot have a president who divides the country."
Kerry then turned to Woodward's book, "Fear: Trump in the White House," from which snippets released this week indicate Trump aides took papers off his desk "to protect the country." Kerry said the report "confirms things that most of us who talk to people in Washington have known."
"Now it's accumulated in a conglomerate, and in the conglomerate it's pretty stunning," he said.
The former Democratic nominee for president also defended the negotiation of the Iran nuclear deal under his watch as Secretary of State in 2015 despite criticism from Trump, who withdrew the United States from the agreement.
Trump has said the deal was one-sided, poorly negotiated, and failed to crack down on Iran's nuclear program.
"I think the administration has made a terrible mistake because what they've done is the president has pulled out of the agreement, others are trying to stay in it, so if he did have to go to war, believe me, those other countries are not going to be supportive of the United States in the way they would if we had worked with him to put the pressure on Iran," Kerry said.
On 'Anderson Cooper 360': "We have a presidency which is off the rails."
Not long after the Times released an anonymous opinion column by a Trump official that details how some staffers have taken actions to "thwart parts of his agenda and his worst inclinations," Cooper asked Kerry if there was any comparison he could make on the situation.
In a nutshell: No, he replied.
"So the credibility level against a president who has now been found clearly to lie on a daily basis and has a serious problem with the truth — that's the balance here," Kerry said, after speaking to Woodward's credibility. "And so we have a presidency which is off the rails."
He called it a "genuine Constitutional crisis" where Republicans are not defending the Constitution or the Senate as an institution, according to CNN.
"They're defending party and the president, who simply doesn't know what he's doing," Kerry said.
Trump denounced the column Wednesday as "gutless" and criticized the newspaper's decision to publish it.
On 'The Late Show with Stephen Colbert': "He is not capable of doing the job."
Asked by Colbert about whether points made in the Times column offered him any comfort, Kerry said the situation "scares the hell out of me."
"What it really means is we don't have a president," Kerry said later in the interview. "We have a president who's there, but he is not capable of doing the job or living up to the responsibility. And that, you can imagine what people all around the world are reading, and I got some emails today from abroad, friends of mine did, saying, 'What's going on? What's going on in the United States of America? You're the leader of the free world, but we have serious doubts about what is happening in your country.' It's really scary."
Kerry also took aim at a notion raised by Colbert that Trump's presidency is a "two track" presidency; that there is a difference between what the president says in public and what is actually happening.
"Let me be blunt about it: You're not supposed to have a two track presidency, you're not supposed to be having people steal things off the desk of the president, you're not supposed to have a resistance within the White House to prevent your president from breaking the law or doing something that's irrational and dangerous," Kerry said. "You're not supposed to do that."
Kerry, both on Colbert's show and on "The View," also reaffirmed the doubts he'd take a run at the presidency in 2020, despite speculation this week, including from Trump.
I see that John Kerry, the father of the now terminated Iran deal, is thinking of running for President. I should only be so lucky – although the field that is currently assembling looks really good – FOR ME!

— Donald J. Trump (@realDonaldTrump) September 3, 2018
"I've tried to be as direct and honest as I can be about it," Kerry said. "I doubt I'd be running for office again. I think it's a mistake to be focused on 2020. It just really is. Every bit of energy and focus ought to be on 2018."