Politics
This progressive Democrat won the primary to be the next Boston-area district attorney. Then she went on Fox News.
Rachael Rollins defended her support for decriminalizing shoplifting and drug possession.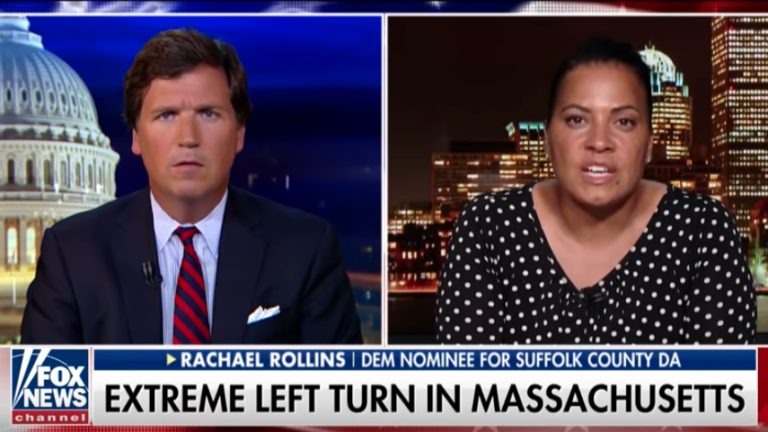 Rachael Rollins won the Democratic primary Tuesday in the race to be the next Suffolk County district attorney, promising to bring progressive reform to the Boston-based office. On Wednesday night, Rollins took her message to a perhaps tougher audience: Fox News.
"I want to be respectful of you, and I'm going to try to be," Tucker Carlson, the conservative columnist-turned-combative Fox News host, said, introducing Rollins above the chyron, "EXTREME LEFT TURN IN MASSACHUSETTS."
Rollins, a former federal prosecutor and lawyer for the MBTA and Massport, ran on a platform that centered around prioritizing the prosecution of violent crimes, restorative justice, reducing racial disparities in the system, and the "decriminalization of poverty, addiction, and mental illness." Some of the reforms she supported included the elimination of cash bail and mandatory minimum sentences.
On her campaign website, Rollins also said she would effectively decriminalize a list of nonviolent crimes, including drug possession with intent to distribute, shoplifting, and larceny under $250. It was that aspect of her platform which Carlson was interested in talking about. Rollins told Boston.com that Fox News reached out to her campaign to invite her on the show.
"I'm concerned though and confused why — in the middle of the worst drug crisis in our history — you would want to decriminalize possession with intent to distribute," he asked.
Rollins said her position was reflective of her concern about general possession charges and the belief that the criminal justice system isn't the best venue to deal with the issue of addiction. She noted that the state is already moving away from the punitive approach toward those types of offenses. The recent criminal justice reform bill, signed by Republican Charlie Baker in April, eliminated many mandatory minimums, including for some drug-dealing convictions.
"There are lots of nonviolent people who are currently sitting in jail, and it costing us over $50,000 — and sometimes upwards of $65,000 — a year [per inmate] to have them there," she said. "When they come out, as you know Tucker, they have a felony, they can't get housing, they can't get employment, and that's why we have over a 50 percent recidivism rate here."
Carlson countered that, given the number of overdose deaths a year, drug dealing "could be construed as a form of violence."
On the question of decriminalizing shoplifting, Rollins said that the court dates and detainment costs weren't "fiscally responsible" for prosecuting low-level shoplifting charges and suggested alternative punishments, such as community service or returning whatever was stolen.
"No one is saying they won't be held accountable," she said, adding "we have to think creatively about solutions."
Carlson said he thought it was a "fair point" that the current justice system is overly tough on those accused of crimes, but asked what Rollins was doing to the victims of those crimes.
"What do you say to them?" he asked.
Rollins said cases involving an "opioid or overdose-related death" would be a different charge and her office would still seek some form of redress for store owners affected by shoplifting.
Carlson responded by telling Rollins that "the crime rate will go up if you get elected," suggesting that the reforms she and other progressives were pushing would lead major cities to be "uninhabitable" due to the crime rate. Rollins said that, even though Boston's crime rate is at a two-decade low, there are already certain neighborhoods in the city that are disproportionately affected by crime, noting that there is a three-mile radius with more than 1,000 unsolved homicides. The Washington Post reported in July that Boston also has the widest gap in arrest rates for white and black homicide victims among major cities in the United States.
"There are sections in Boston that are not livable at all," Rollins said. "I want to focus on that type of crime. … I don't have a problem putting people in jail if they are violent, but I believe we have too many people in jail who are not violent. And we can disagree with what violence is, and I respect that and understand it, but I believe that we are spending too much time on petty crimes that are clogging up our system and costing us more money. … They're more social problems than they are crimes."
Rollins said afterward that the interview with Carlson was a "great opportunity" to share facts and different perspectives with Fox News viewers.
"We do our best to talk to everyone and get our message out to a diverse audience, even if they do not share our views," she told Boston.com in a statement Wednesday.
"Criminal justice reform is an issue that transcends ideology – it has real life consequences for people around the country," she said. "Massachusetts is poised to be a model of criminal justice reform for the nation – which is something that we are proud to share with anyone who is willing to listen."