2018 Elections
Lori Trahan reaffirmed as 3rd District Democratic primary winner after recount
Trahan narrowly defeated Dan Koh, who conceded Monday afternoon.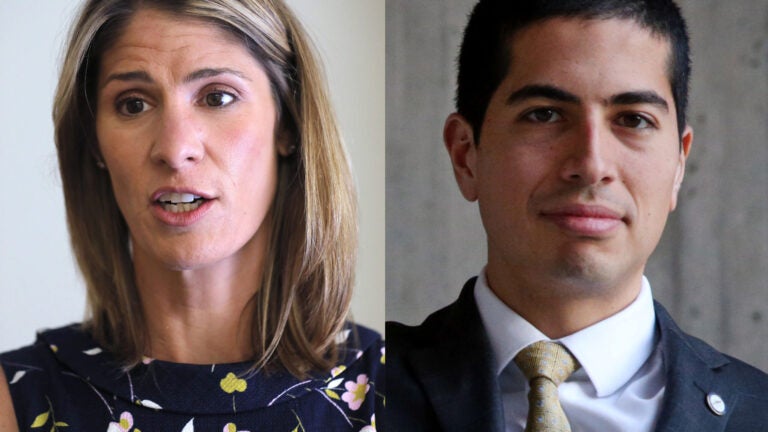 Lori Trahan is the Democratic nominee in the 3rd Congressional District this November after a district-wide recount following this month's primary election concluded Monday and reaffirmed her victory in the close-to-the-finish race over runner up Dan Koh.
"I could not be more proud to stand before you here tonight, finally, officially, as the Democratic nominee," Trahan said at a press conference in Lowell.
Third congressional district race: @latrahan says "it's time for a new breed of leaders. Leaders who will stand up for working class families" pic.twitter.com/2oujiUAeih

— Sharman Sacchetti (@SharmanTV) September 17, 2018
Koh conceded Monday afternoon shortly before Massachusetts Secretary of State William Galvin's office released a statement that said the days-long, district-wide recount Koh had called for was completed and had confirmed Trahan as the winner.
"Out of 89,000 votes, it looks like we fell short by about 0.1 percent," Koh, the former chief of staff to Boston Mayor Marty Walsh, said in a statement posted on Twitter. "There's no use in getting upset about the close margin — we can't afford to. It's time for us to unite behind Lori Trahan to be sure this seat stays Democratic."
Both developments Monday finally capped a highly contested primary election  — one that had drawn 10 candidates seeking a chance at outgoing U.S. Rep. Niki Tsongas's seat in the Nov. 6 general election.
Initial certified results had put Trahan ahead of Koh by 122 votes before the recount.
But the final results solidified Trahan, a Lowell native and former chief of staff for U.S. Rep. Marty Meehan, as the Democrat who will face Pepperell Republican Rick Green, co-founder and CEO of the online auto parts company, 1A Auto, and independent candidate Mike Mullen, an IT director from Maynard, this fall.
The recount tally released by Galvin's office Monday evening indicated Trahan garnered 145 more votes than Koh — or 18,580 votes to 18,435 — in an election where a total of 88,823 votes were cast.
"Congratulations to Dan Koh on a hard fought race, and to Lori Trahan on a hard fought victory," Green said in a statement Monday. "As we finally turn to November, I look forward to discussing the issues that matter most to the residents of this district."
Koh, of Andover, in his statement that acknowledged the work and dedication of his family, campaign staff, supporters, and fellow candidates, said there was still much to be thankful for, despite the election's outcome.
"Over a year ago, we launched this campaign with a simple idea: that the American Dream was under attack, and we needed to come together to make sure it was alive for generations to come," the statement said. "To think of how far we've come, and what we've built, makes me more grateful than I will ever be able to express."
Today, my heart is filled with love and appreciation. #MA3 #MApoli pic.twitter.com/ZHnOIfpsBK

— Dan Koh (@dank) September 17, 2018
Trahan, CEO of the consulting firm, Concire Leadership Institute, initially claimed victory following the Sept. 4 primary election, voicing confidence she would be the party's nominee.
"I am eager to highlight my vision for how we need to change Washington and get government back on the side of working people," she said the morning after the election.
The recount process, which had election workers counting ballots by hand in the district's 37 municipalities since Thursday, drew added attention after Galvin announced his office would take control of election offices in Lawrence and Lowell — due to insufficient staffing levels and administrative errors, respectively — for the recount and for the November election.
On Monday morning, Galvin told reporters officials believe the election was a valid election and that the process had gone as planned, The Boston Globe reports.
"The fact that the two contestants at this point both gained votes in numerous communities, including Lowell, suggest the accuracy and fairness of the process," Galvin said. "That's exactly what it should have been."