Politics
Could the 10-person 3rd District primary push Mass. toward ranked choice voting?
"If someone wins with 22 percent of the vote, that means 78 percent of voters did not choose that person, and that on its face is not democracy."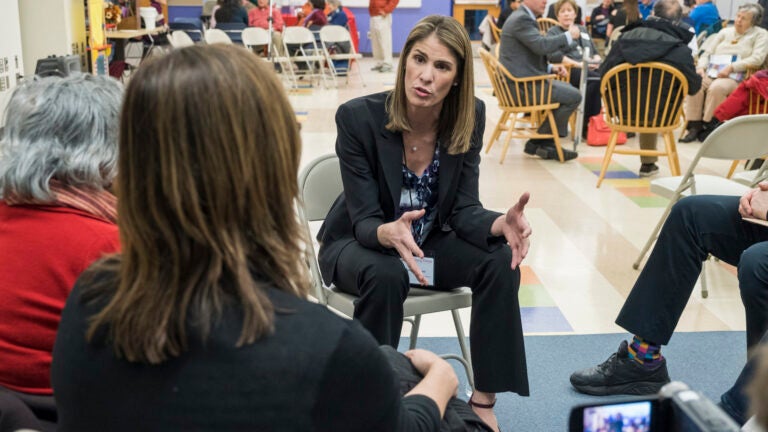 BOSTON — Nearly two weeks after voters went to the polls, Lori Trahan emerged Monday as the official winner of a 10-person Democratic primary for the congressional seat based in Lowell, Massachusetts, held for a decade by Rep. Niki Tsongas, who is retiring.
The sprawling district, north of Boston, votes reliably Democratic and is expected to stay in the party's hands in November. What makes the race interesting is its potential for changing the way Massachusetts votes in future elections.
After a recount of votes was finished Monday, Trahan, a former congressional aide and now a business consultant, was declared the winner — with less than 21 percent of the vote, according to the secretary of state. That slim margin could strengthen calls for Massachusetts or some of its municipalities to convert to a system known as ranked choice voting, which ensures that the eventual winner earns a majority of votes.
Advocates say this system is more democratic than relying on a mere plurality, which often does not reflect the will of most voters.
Under ranked choice voting, which applies only when more than two candidates are competing, voters list candidates in order of preference; if no candidate wins a majority in the first round, the candidate in last place is eliminated, those votes are redistributed, and the ballots can be recounted immediately until someone does.
Australia, Ireland and several American cities, including Cambridge, Massachusetts, have used ranked choice voting for years. The Academy of Motion Picture Arts and Sciences uses it to pick the Oscar for best picture.
In June, the state of Maine became the first to use it statewide in its primaries for governor and other offices. In November, Maine will become the first state to use it in general elections for Congress. Ranked choice voting may be on the ballot for voters in New York City to consider in 2019, and several other cities are poised to use it in coming elections in states as varied as Utah, New Mexico, Minnesota and California.
In Massachusetts, Trahan squeaked to a lead in the Sept. 4 primary in an unwieldy field of 10 candidates. Most conceded. But one, Dan Koh, the extremely well-funded former chief of staff to Boston Mayor Martin Walsh, came within 122 votes of Trahan, a tiny fraction of all 89,000 ballots cast. Trahan claimed victory, but Koh refused to concede.
He then requested a recount, a process that ended Monday. After all 37 municipalities had recounted their ballots, Trahan had won 18,580 votes, or 145 more than Koh. She was declared the winner with 20.9 percent of the 88,823 votes cast.
In a concession statement Monday, Koh said: "Out of 89,000 votes, it looks like we fell short by about 0.1 percent. There's no use in getting upset about the close margin — we can't afford to. It's time for us to unite behind Lori Trahan to be sure this seat stays Democratic."
Trahan, 44, grew up in Lowell and attended Georgetown University in Washington on a volleyball scholarship. She worked for former Rep. Marty Meehan, eventually becoming his chief of staff. More recently, she has worked as a business consultant, helping companies foster the next generation of leaders.
In November, she will face Rick Green, a Republican, who is a businessman, and Michael Mullen, an unaffiliated candidate, who works in information technology.
Some advocacy groups hope the concrete example of this crowded and chaotic primary, in which candidates had difficulty distinguishing themselves, will spur the legislature to consider changing the voting system.
"If someone wins with 22 percent of the vote, that means 78 percent of voters did not choose that person, and that on its face is not democracy," said Adam Friedman, executive director of Voter Choice Massachusetts, which advocates for ranked choice voting
"In the next 12 months, we want to ensure every member of the state legislature understands ranked choice voting, how it works, its benefits and how it can revitalize democracy and give voters more choice."
But persuading lawmakers to go along could be a hard slog. Earlier attempts fizzled, as did an effort to gather signatures to put the measure on the ballot as a voter referendum.
Once candidates get into office, especially in districts where one party dominates, they often stay for a very long time, regardless of the percentage of the vote that put them there. This was the case with Rep. Michael Capuano, who was first elected in his Massachusetts district in 1998 with less than 25 percent of the vote. He faced his first serious challenge in a Democratic primary earlier this month and lost in a stunning upset to Ayanna Pressley.
It does not seem fair "to be able to earn a likely long stint in the House with such a low share of support," said Rob Richie, president and chief executive of FairVote, a national organization that promotes ranked choice voting.
But this job security helps explain why incumbents are often reluctant to support a ranking system, as they have little incentive to change the process that put them in office. In some cases, ranked choice voting has led to unexpected outcomes.
William Galvin, the Massachusetts secretary of state, said Monday that he was open to the idea of ranked choice voting, as long as voters understood it. He has no say in whether Massachusetts adopts it, but he would have to implement it.
He noted that in Maine, officials conducted an extensive educational outreach campaign before the June primary, and few problems occurred.
"We watched it very closely in Maine, and it worked," Galvin said. "The fact that another state did it, especially one in New England, is significant."