Politics
Elizabeth Warren wants Massachusetts voters to volunteer in the closest competitive House districts
That means a trip over the border.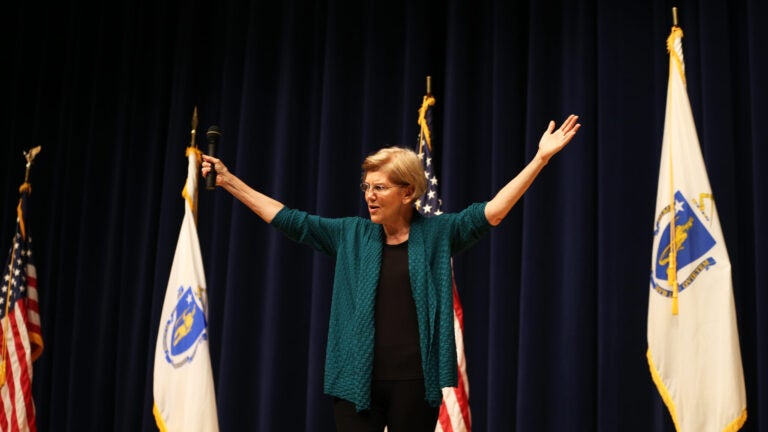 Elizabeth Warren is rallying Massachusetts residents to get out the vote, and not just in their home state.
With no Bay State congressional districts currently projected to be competitive this November, Warren is partnering with the progressive group Swing Left to call on her constituents to volunteer in other states, as Democrats strive to take back majority control in the U.S. House of Representatives.
"The clock is ticking, and it's going to take a grassroots army to get out the vote in districts where it counts the most," the Massachusetts senator says in a video released Monday, imploring voters to reach out to everyone from their softball teammates to their stereotypical "cranky uncle."
"This is what our democracy is all about, a chance to fight for the things we believe in like affordable health care, living wages, and most of all a government that works for everyone," she said.
The video is part of a campaign led by Swing Left — which launched the day before President Donald Trump's inauguration in January 2017 — and other progressive groups called The Last Weekend, which is organizing "a mass movement of volunteer action" from Saturday, November 3, to Tuesday, November 6, the day of the midterm elections.
While not explicitly mentioned in the video, Swing Left says Warren is working to rally Massachusetts voters to head to those "districts where it counts the most" to persuade others to vote for Democrats. In Massachusetts — where Warren, running for a second term in the Senate, and all nine of the Democratic congressional candidates are heavily favored — those competitive districts are over the border.
Swing Left is highlighting New Hampshire's 1st and 2nd congressional districts, as well as — "if they are up for a drive" — Maine's 2nd District and New York's 19 District.
With Democratic Rep. Carol Shea Porter retiring, New Hampshire's (infamously swingy) 1st District is an open race between Executive Councilor Chris Pappas, a Democrat, and former police chief Eddie Edwards, a Republican. In the state's 2nd Distrist, Rep. Annie Kuster is running for a fourth term against Republican state Rep. Steve Negron.
As SwingLeft notes, the two nearby districts that Democrats are looking to flip from red to blue may be a bit farther of a drive for Massachusetts residents, especially in the Boston area.
Maine's 2nd District, which covers everywhere north of Portland and Augusta, is currently held by Republican Rep. Bruce Poliquin, who's running against (the Seth Moulton-backed) veteran and state Rep. Jared Golden. Meanwhile, in New York's 19th District — which sits immediately across the Massachusetts border and wraps around the Albany area — Rep. John Faso is running for re-election against Democratic challenger (and former rapper) Antonio Delgado.
Currently, the extent of Warren's involvement in Swing Left's midterm effort is her 74-second taped video. However, the group says they're also "in the process of identifying other opportunities" to involve the progressive star, even as Republican groups try to use her against Democratic candidates in swing districts across the country.