Politics
3 things to know about Massachusetts ballot Question 3
A first-of-its-kind effort to repeal the state's 2016 transgender rights law is on the ballot this November. Critics say the law is "ripe for abuse," but supporters say their claims are completely unsubstantiated.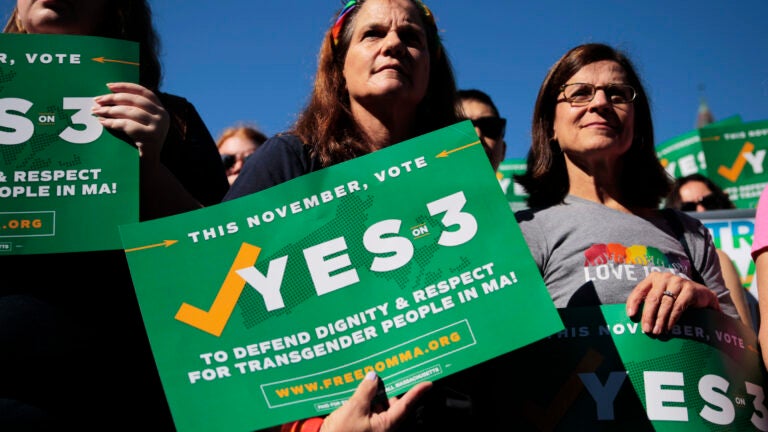 In 2016, Massachusetts enacted a milestone transgender rights law ensuring that individuals could use public restrooms and locker rooms according to their gender identity. The legislation was passed by the state's Democrat-controlled legislature, signed into law by Republican Gov. Charlie Baker, and applauded by a broad coalition of LGBT, business, and civil rights groups, as well as New England's five major sports teams.
But now, Massachusetts voters will decide whether it stays on the books.
Question 3, one of the three state ballot questions that will be posed to voters in the Nov. 6 election, is a referendum on the 2016 law, as well as a high-stakes fight with potential implications for the rest of the country. If successful, supporters say the first-of-its-kind repeal effort could set a precedent for other, less-liberal states where laws against discrimination on the basis of gender identity have been passed.
"The eyes of the nation, in many ways, will be on Massachusetts this November," Sarah McBride, the national press secretary for the Human Rights Campaign, which opposes the repeal effort, told Boston.com in June.
1. Opponents of the law say its language is 'ripe for abuse'
The 2016 law expanded a 2011 law prohibiting workplace and housing discrimination against transgender people to also apply to public accommodations. The list includes all sorts of public places — from hotels, restaurants, and retail stores to hospitals, transportation services, and child care centers to gyms, libraries, and parks.
But the most controversial venues covered by the law — and the ones on which opponents of the law dialed in — were sex-segregated facilities, such as restrooms and locker rooms.
Opponents of the law say the statute's definition of "gender identity" is too broad and vague and raise fears that it allows men improperly posing as women access to female restrooms and locker rooms. Additionally, they say the potential fines and prison sentences imposed by the law on anyone who discriminates based on gender identity effectively prevents people from stepping in to stop such exploitation.
Debby Dugan, the chairwoman of Keep MA Safe, the group which collected signatures for the referendum and is leading the No on 3 campaign, wrote in a Boston Globe piece last month that the law is "ripe for abuse by criminals and convicted sex offenders."
"The way this law is written, an attempt to block someone who self-identifies as belonging in a women's locker room, dressing room, or bathroom — including convicted sex offenders — could result in penalties of up to a year in prison, and fines of up to $50,000 for multiple offenses," Dugan said (first-time violators would be subject to fines of up to $100 and/or up to 30 days in prison).
However, those concerns were taken into account during the drafting of the legislation.
According to state law, gender identity is defined as "a person's gender-related identity, appearance or behavior, whether or not that gender-related identity or behavior is different from that traditionally associated with the person's physiology or assigned sex at birth" and also an identity that is "sincerely held as part of a person's core identity."
The law also included a provision directing Attorney General Maura Healey to provide guidance on dealing with anyone who asserts a gender identity for an "improper purpose." In a September 2016 report, Healey's office wrote that if "an employee of a public accommodation has reasonable grounds to believe that a person, regardless of gender identity, is engaged in improper or unlawful conduct," they should do whatever they would normally do to address the situation, including asking the patron to leave or calling security or law enforcement.
"This new law does not provide any protections for someone who engages in improper or unlawful conduct, whether in a sex-segregated facility or elsewhere," Healey's office wrote. "Nor does it provide a defense to criminal charges brought against someone engaged in unlawful conduct."
In other words, the law provides no passes to Peeping Toms or any feared bathroom invaders.
Still, Keep MA Safe released their first campaign ad last week, which depicted a man hiding out in a bathroom stall while a teenage girl undresses.
2. Supporters of the law say those concerns are completely unfounded
Kasey Suffredini, a co-chairman of the Yes on 3 campaign, which is backed by the coalition group Freedom for All Massachusetts, told the Globe after Keep MA Safe's ad was released that the 30-second video was baseless fear mongering.
"This law simply protects transgender people from discrimination in public places and that is why law enforcement leaders from across Massachusetts and the leading sexual assault prevention groups support upholding this law," Suffredini said.
While supporters of the law often frame the issue as a matter of values — Rep. Joe Kennedy III told Boston.com in June that "these protections are about a government standing up and saying that everybody counts, that in Massachusetts you are free to be true to yourself. And it doesn't need to be much more complicated than that." — they also highlight the lack of evidence backing up opponents' claims.
In their 2016 report, Healey's office noted that, in the 18 other states with such transgender anti-discrimination laws, reports of "improper assertion of gender identity have been exceedingly rare." In June, Kennedy said that there is "not one single incident that they can point to of any sort of assault or danger that's taken place as a result" of the law. And earlier this month, an independent study concurred.
In a paper released on Sept. 12, researchers at the Williams Institute — a think tank at the UCLA School of Law that focuses on sexual orientation and gender identity law and public policy — announced they found no link between the passage of the 2016 public accommodations law in Massachusetts and any change in the "number or frequency of criminal incidents in restrooms, locker rooms or changing rooms."
The report looked at bathroom crime report data in several Massachusetts cities that had passed local ordiances against gender identity discrimination in public accommodations prior to the 2016 statewide law, and compared them to similar towns that did not have such protections in place. They also tracked the data over time to see if passing a transgender accommodations law could be linked to a change in the number of bathroom crimes.
Not only did the study find that reports of such crimes or privacy violations are extremely rare, but it also found no connection between transgender accommodations laws and the "number or frequency of criminal incidents in restrooms, locker rooms or changing rooms." If anything, researchers found that such laws actually were linked to fewer incidents.
Amira Hasenbush, the study's lead author, said that the evidence should refute the claims that "accommodations laws that include gender identity protections … leave women and children vulnerable to attack in public restrooms." Jody Herman, another one of the study's authors, said these types of laws only benefit transgender people, who are otherwise often left vulnerable.
"Research has shown that transgender people are frequently denied access, verbally harassed or physically assaulted while trying to use public restrooms," Herman said. "This study should provide some assurance that these types of public accommodations laws provide necessary protections for transgender people and maintain safety and privacy for everyone."
3. A yes vote keeps the current law in place
Don't get confused by the wording of the bill; this part is pretty simple:
A YES VOTE would keep in place the current law, which prohibits discrimination on the basis of gender identity in places of public accommodation.

A NO VOTE would repeal this provision of the public accommodation law.
Unlike the other two questions on the Massachusetts ballot, Question 3 is a referendum on an existing law. So somewhat ironically, due to wording required by the state constitution, the backers of the referendum, like Keep MA Safe, actually want people to vote "no" on the measure (in case that didn't come across in the name of their No on 3 campaign).
To avoid potential confusion, Secretary of State Bill Galvin added statements explaining what a yes vote and a no vote would mean below the summaries listed of each measure on the ballot, which he said will be of "particular importance" with Question 3, due to the required format.
That said, there doesn't seem to be much ambiguity about where Massachusetts voters stand on the actual debate. Two recent polls found that a consistent, sweeping majority of likely 2018 voters support keeping the transgender accommodations law.
According to a MassINC Polling Group/WBUR poll released Tuesday, 71 percent said they would vote yes on Question 3 to keep the law in place, while 21 percent said they would vote to repeal it and 8 percent said they were undecided. A Suffolk University Political Research Center/Boston Globe poll released last week similarly found that 73 percent of voters said they favored keeping the law as it is, while 17 percent said they would vote no and 9 percent said they were undecided.