Politics
Sean Spicer made a private stop on his book tour in Boston this week
The former White House press secretary stopped by the Harvard Club to talk about his memoir.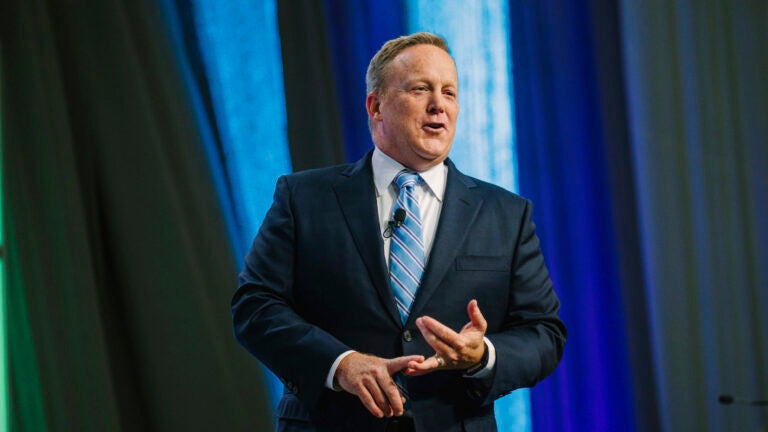 Former White House Press Secretary Sean Spicer was in Boston this week making another stop on his national book tour before catching the Red Sox's loss to the Baltimore Orioles Wednesday night.
Spicer appeared Wednesday at the Harvard Club of Boston for a book signing and interview with 2010 alumna Kay Foley, chief of staff for Spicer's consulting firm and a Worcester native.
"Great night to discuss #TheBriefing with (Kay Foley) at (the Harvard Club) and cheer on the @RedSox from the @WEEI broadcast booth," Spicer wrote on Twitter.
Great night to discuss #TheBriefing with @K_LikeTheLetter at @HarvardClub374 and cheer on the @RedSox from the @WEEI broadcast booth #gosox #boston #fenwaypark pic.twitter.com/Flx8QsKuGY

— Sean Spicer (@seanspicer) September 27, 2018
His book, The Briefing: Politics, The Press, and The President, a memoir that details his career working in politics as well as his time in the Trump West Wing, was released in July.
Foley told Boston.com Thursday that Spicer's appearance at the alumni organization was part of the club's "author series" — complimentary events put on for club members and their guests — and drew a crowd of 150 attendees.
"We just talked about pretty much everything that's in the book: how Sean got to D.C., growing up in small town Rhode Island, and how he made his way to being behind the podium," Foley said.
Afterward, Spicer met with a team from WEEI — which has worked with him on his forthcoming podcast series due to launch next month — in the Fenway Park press box, according to Foley.
(Despite his Virginia residence these days, Spicer remains a passionate fan of the Sox and New England Patriots. The Sox lost the second half of a double header Wednesday night against the Orioles, 10-3.)
On Thursday afternoon, Spicer was set to attend an event in Brighton for the Independence Fund, a nonprofit that works to help wounded veterans and their families, Foley said. Spicer serves on the group's board of directors.
He also visited the grave of his great-grandfather, William Spicer, an Irish immigrant who received the Medal of Honor following his Navy service in the Spanish-American War, according to a tweet he posted.
While in #Boston had the opportunity to finally see the resting place of William Spicer, #medalofhonor recipient from #spanishamericanwar aboard #ussmarblehead thanks to Bill Sweeney of #medalofhonorsociety & Tom Sullivan of @CityOfBoston cemeteries 4 getting it properly marked pic.twitter.com/tMFb3Z71jM

— Sean Spicer (@seanspicer) September 27, 2018
Spicer's private Boston book tour stop comes after a scheduled public appearance at B.J.'s Wholesale Club in Seekonk in July was canceled by the store "due to the political climate," according to Regnery Publishing, Spicer's publisher. Wednesday's talk at the Harvard Club had already been planned before this summer's cancellation, Foley said.
Spicer appeared at other book events in Rhode Island and Nantucket earlier this month, according to his schedule.