Politics
Why did Barack Obama endorse these 2 local Massachusetts candidates?
"We've gone from relatively unknown to now being known by a former president."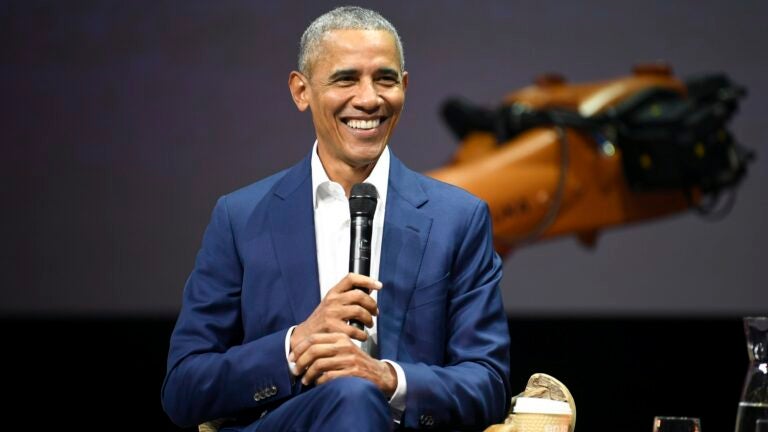 Across the country, there will be more than 6,000 state legislative races on the ballot this November. Two of them in Massachusetts caught the eye of former President Barack Obama.
Kate McBrine says she got the call last Friday while driving her kids to school for class pictures.
"I just kind of lost it, screaming and applauding," McBrine told Boston.com. "My kids were like what is going on."
The 39-year-old Hingham pediatrician is running for state Senate as a Democrat in the Plymouth and Norfolk District against incumbent Republican Sen. Patrick O'Connor. McBrine, a first-time candidate, says they had to keep the news of Obama's endorsement under wraps until it was officially announced Monday.
Today, I'm proud to endorse even more Democratic candidates who aren't just running against something, but for something—to expand opportunity for all of us and to restore dignity, honor, and compassion to public service. They deserve your vote: pic.twitter.com/NO5jnhX3XD

— Barack Obama (@BarackObama) October 1, 2018
"We couldn't tell anybody, which is like the hardest secret to keep," she said. "Seeing my name on his Twitter site was just outstanding. It still is. I can't stop smiling."
The reaction was similar up in Andover, where Democrat Tram Nguyen is running in the 18the Essex District against incumbent Republican state Rep. Jim Lyons. Nguyen says she only found out she was getting endorsed by Obama when the final list was released Monday.
"It's an amazing feeling," the 32-year-old legal aid attorney told Boston.com.
McBrine and Nguyen weren't the only Massachusetts candidates Obama backed Monday. The former president's raft of 260 new endorsements also including a number of more high-profile candidates running for office in the Bay State, included Boston City Councilor Ayanna Pressley, who is running uncontested in the 7th Congressional District after upsetting Rep. Michael Capunao in the Democratic primary; Democratic gubernatorial nominee Jay Gonzalez; Democratic lieutenant gubernatorial nominee Quentin Palfrey, who worked in Obama's administration; and state Sen. Julian Cyr, who also worked in the White House and on Obama's re-election campaign.
So how did two down-ballot candidates like McBrine and Nyugen also make the list?
Though neither ever got to speak with Obama, both said in interviews that they had previously met with representatives from the Democratic Legislative Campaign Committee, which assisted in the endorsement process. Nguyen's campaign was even "spotlighted" by the DLCC, which is focused on flipping Republican-held state legislature seats across the country, earlier this summer. And while Massachusetts's two state legislative chambers are already overwhelmingly controlled by Democrats, Nguyen and McBrine are two rare, first-time candidates trying to unseat Republican lawmakers.
But that isn't the only way that they're unique.
According to McBrine, she would be the first physician in the Massachusetts Senate since 1936.
"We need more diversity in our government, and I think that's what he was looking at," she said. "We need more women. We need more professional perspectives. We need different jobs. We need more scientists."
McBrine says her unique experience working as a pediatrician would make her well suited to the problem-solving aspects of legislating.
"People want to attack me and say, 'You don't have any experience,' but I do," she said. "I deal with the bureaucracy of the insurance companies on a daily basis. If you think I don't know how to deal with a bureaucracy, you've obviously never called an insurance company. … And I solve problems. I take information and studies and use a scientific approach to solving your problems. That's what's needed in our State House."
As a former Vietnamese refugee who came to the United States with her family at the age of 5, Nguyen says she also fits the profile of the type of unique candidate Obama was looking to boost. According to her campaign, Nguyen is the first Vietnamese-American woman to run for office in Massachusetts.
"The president made clear that he's working to build a new generation of leaders, and he's looking for people who have diverse backgrounds and have fresh perspectives," she told Boston.com
After graduating from Tufts University and Northeastern Law School, Nguyen went to work at Greater Boston Legal Services, where she represented vulnerable populations, including veterans, seniors, people with disabilities, and survivors of domestic violence.
"Instead of going into corporate law, I decided to give back to my community as a legal aid attorney," Nguyen said. "I would assume that that resonated with him as someone who is very much committed to making sure we have representation and that we have leaders who are compassionate."
Both candidates also said they thought the strength of their insurgent campaigns was something that helped get them into the group of DLCC-featured races from which Obama picked. McBrine has nearly equalled O'Connor in the fundraising race and says her campaign has sent more than 20,000 handwritten postcards and knocked on more than 5,000 doors.
"We've gone from relatively unknown to now being known by a former president, so I think that shows how much work we're doing," she said.
McBrine's platform includes support for single-payer health care, rethinking the current approach toward addressing the opioid epidemic, investing more in infrastructure, and treating gun violence as a public health issue. But she says her biggest issue is transparency in government, and she wants to make it easier to find out how legislators voted — and why they did so.
"My site actually is a little overwhelming," she said. "There's like 20 things up there, because I want to make sure people know my opinions on everything. But I firmly believe in that, because I feel like with a lot of elected officials, you don't know where they stand."
In her own respective race, Nguyen has actually out-fundraised her incumbent opponent. She says that Lyons, the former state chair of Sen. Ted Cruz's 2016 presidential campaign, stands on the "polar opposite" of herself on the issues. Nguyen has similarly called for a more open government, as well as treating the opioid crisis as a public health issue, increased support programs for seniors and veterans, and strengthening the public education system. She also draws contrast between herself as a "defender of reproductive rights" and Lyons, who is pro-life.
"I don't think my opponent shares the values of the people of this district," said the Andover resident.
Both candidates say that Obama's endorsement this week has further galvanized supporters; McBrine said her friends and family were "amazed and astounded." Nguyen says she's been on the phone "nonstop" this week with friends, supporters, and people who just want to get involved.
"It's been phenomenal," she said.
But that hardly means the race is now over.
"We still have to do our thing," McBrine said. "We still have to work hard. We still need to get in front of people. I still need to get out our mailers. It doesn't mean like, 'Oh, now we're done.' But I think it's given a lot of people happiness that they really need."