Politics
After tortured debate exchange, Charlie Baker says he will vote for Geoff Diehl
The Massachusetts governor endorsed the state's Republican ticket, but initially said during Wednesday's debate that he hadn't decided if he would personally vote for Diehl, the party's U.S. Senate nominee.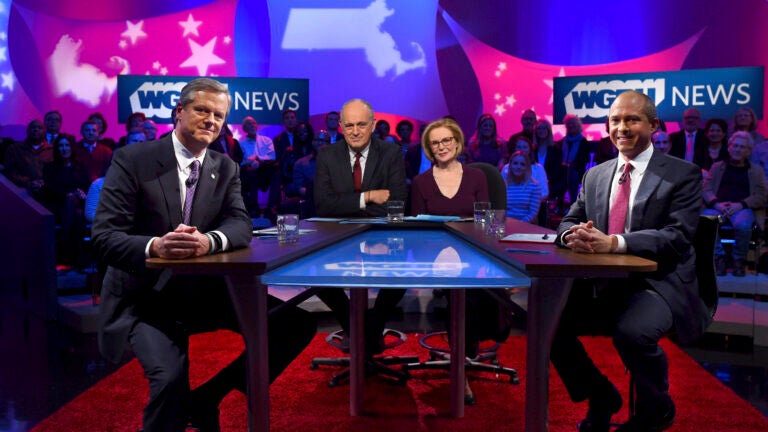 BOSTON (AP) — Massachusetts Gov. Charlie Baker said Wednesday that he hadn't decided if he would vote for fellow Republican and U.S. Senate candidate Geoff Diehl even though he has publicly endorsed his candidacy — but quickly backtracked and pledged to cast a ballot for Diehl.
Baker made the statement during his second televised debate with Democratic challenger Jay Gonzalez.
Baker said he decided to back the state's Republican ticket which includes Diehl, who co-chaired President Donald Trump's 2016 Massachusetts presidential campaign. When pressed, the governor wouldn't say whether he planned to vote for Diehl, who's hoping to unseat Democratic Sen. Elizabeth Warren.
"I don't know what I'm going to do yet with respect to that one," Baker said. "I'll make my decision eventually. I'll make sure people know."
That decision came quickly. Talking with reporters after the debate, Baker said he misspoke.
"I'm going to vote for the ticket," Baker said. "I'm going to vote for him."
Gonzalez has repeatedly criticized the governor's support for Diehl despite Baker's decision not to vote for Trump in 2016. He said Baker's refusal not to say whether he would vote for the GOP senate candidate doesn't make sense.
"I still can't believe that the governor's asking people in this state to vote for Geoff Diehl and won't say whether he's going to vote for him, himself," Gonzalez said during the debate.
Diehl would be a "rubber stamp" for Trump's agenda, Gonzalez said.
Baker said voters know where he stands on issues, including his opposition to several Trump initiatives, including proposals to end President Barack Obama's 2010 health care law and cut funding to the National Institutes of Health.
During the hourlong debate on WGBH, Baker criticized a proposal by Gonzalez to create a so-called single-payer health care system in Massachusetts, saying it would cost $30 billion. Baker said he would instead try to improve the current health care system, including going after the cost of prescription drugs.
"That's just a profound change in literally everything," Baker said of the single-payer proposal, which would essentially guarantee universal health coverage to all Massachusetts residents.
Gonzalez said the plan wouldn't cost $30 billion and would end up saving money overall.
Baker also hit Gonzalez on his proposal to tax the endowments of the state's wealthiest colleges and universities like Harvard University and MIT, saying it would make it harder for them to offer scholarships to students who need them.
Gonzalez defended the plan, saying it — and a second proposal to impose a surtax of 4 percent on any portion of an individual's annual income that exceeds $1 million — would end up bringing in an additional $3 billion annually that could be spent on improving local schools and transportation, including metropolitan Boston's public transit system.
During the debate, Baker was also asked if he had any information about the investigation into his son Andrew "A.J." Baker. A woman told officers that Andrew Baker groped her during a flight from Washington to Boston in June, according to a police report obtained by the Boston Globe.
Baker said he hasn't talked to anyone in the U.S. Attorney's office or the Massachusetts State Police about his son. He referred questions to the U.S. Attorney's office.
"My son's a private citizen and I said it should be investigated and I said he would cooperate," Baker said.
Gonzalez — the state's top budget official under Baker's predecessor, former Democratic Gov. Deval Patrick — has been trying to chip away at Baker, who has maintained a lead over the Democrat in polls and has millions more in his campaign account.
There were moments of agreement during the debate.
Both Baker and Gonzalez said they oppose an effort on the November ballot to repeal the state's 2016 transgender rights law. The law in part guarantees transgender people can use restrooms and locker rooms that correspond with their gender identities in Massachusetts.
Election Day is Nov. 6.