Politics
Massachusetts ballot Question 2 will almost certainly pass. But what would it actually do?
The anti-Citizens United ballot question isn't drawing much attention — or opposition. Supporters say it would play an "instrumental" role in a longterm push for a 28th amendment to the U.S. Constitution.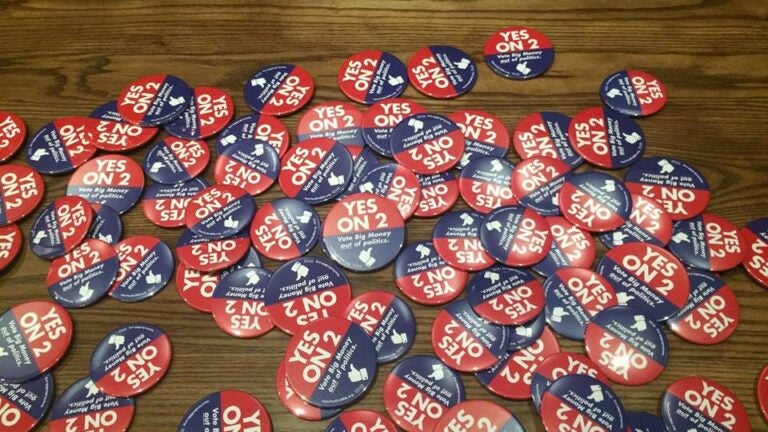 Question 2 supporters aren't quite popping champagne yet. But with less than three weeks until Election Day, they're unarguably well-positioned.
Perhaps the least contentious of the three ballot questions in Massachusetts this year, Question 2 is part of a national effort to push for new laws to limit the influence of money in politics — specifically, to overturn the 2010 Citizens United v. FEC Supreme Court decision.
The broadly popular movement also appears to have high support among Bay State voters; recent polls have shown more than two-thirds of likely voters say they will vote yes on Question 2. It has the support of Republican Gov. Charlie Baker, too. And while millions of dollars have already been spent on the state's other two ballot question campaigns, there has literally been zero formal spending in opposition to Question 2, according to the most recent campaign finance filings.
Beacon Hill lawmakers have already passed resolutions in previous years calling for the reversal of Citizens United, and Massachusetts would hardly be the first state to affirm those calls through a ballot initiative. Some opponents say the effort, even if successful, will ultimately be futile. However, the group backing Question 2 says their proposal has teeth.
Here's a look at what the measure would actually do.
How is Question 2 different from what's been passed in other states?
By wide margins, voters in four states — Colorado and Montana in 2012 and California and Washington in 2016 — have passed ballot initiatives calling on Congress to pass a constitutional amendment to overturn the Citizens United decision, which ruled that the government could not limit the amount of money corporations, unions, and other nonprofits could raise and spend to influence candidate elections.
But in all four cases, the questions were advisory in nature. According to Massachusetts state law, ballot questions can't just be advisory; they have to establish a new law. So not only would Question 2 put Massachusetts voters on the record in support of a 28th amendment, but it would create a "Citizens Commission" that would try to make sure that happens.
Ben Gubits, the political director for American Promise, the Concord-based group backing Question 2, says the proposed "Citizens Commission" is "a first of its kind."
"This commission is a great mechanism to keep that accountability in place and make sure that the voters of the state have their voice heard," he said.
While the vast majority of voters in the four previous states called on their congressional delegations to work for an amendment to overturn Citizens United, there was no way of pressuring elected officials to follow suit. And according to Gubits, after the measures passed, the energy behind them naturally dissipated.
"Generally speaking, eight out of 10 Americans, regardless of political party, think there's too much money in politics and that Citizens United was wrongly decided," he said. "The idea is really to harness that energy and make sure that that is being translated into public officeholders, especially in Congress."
What would the commission look like?
The "Citizens Commission" would be made up of 15 unpaid Massachusetts residents, who would apply to serve through an application process posted on the state's website within 30 days of the law taking effect on Jan. 1, 2019.
Applicants would have to be legal U.S. citizens, and they would have to state their "intent to comply" with the commission's purpose of advancing an amendment to overturn Citizens United and reform campaign finance laws. They would also have to list their qualifications and interest in serving on the commission, their town of residence, any current or past political affiliations, and employment (if any).
Gubits says their intent is to form a commission that's politically, demographically, and geographically diverse.
"We're hoping to get a large applicant pool that's really representative of the state of Massachusetts," he said. "Maybe they are attorneys or retired judges or maybe professors that teach constitutional theory or law. But maybe not. Maybe they're just activists or folks that are concerned with the state of our democracy."
Gubits added that he foresee nurses, teachers, and even college students applying to be on the commission (which has no age minimum).
There would be a 60-day window to apply. After it closes, state officials would be required to pick appointees from the pool between the beginning and the end of April 2019. The governor, secretary of state, attorney general, president of the Senate and speaker of the House of Representatives would each get to select three commissioners.
What would they actually do?
According to the language of the ballot initiative, the commission would be tasked with a number of duties.
Their foremost responsibility would be to research and report on the state of money in politics with recommendations for amending the Constitution. The report would have five parts:
The nature and impact of political and election spending in Massachusetts
The impact of the Citizens United ruling on the state's ability to regulate corporations and other entities
Recommendations for one or more "prudent" constitutional amendments to deal with the influence of money in politics and corporate rights
An analysis and assessment of the amendments that have already been introduced in Congress in response to Citizens United
Recommendations for actions to be taken by state and federal elected officials in order to propose and ultimately ratify the proposed amendment(s)
Question 2 says that the commission must issue their first report by Dec. 31, 2019. It also specifically directs the Massachusetts secretary of state to send copies of the report to all members of Congress and the Massachusetts state legislature, as well as the president of the United States.
Gubits says that many details are still left up for the commission to decide when they establish their bylaws and charter. The ballot measure calls on them to "meet on a regular basis" to gather evidence, take public testimony, and work with elected officials toward overturning Citizens United and addressing the influence of concentrated money in politics. The body would in effect be the "public watchdog" on the issue to make sure the state's federal delegation is raising awareness and trying to advance the 28th amendment cause in Congress, according to Gubits.
"We're hoping that this commission will be strong and remain intact all the way up until ratification," he said.
What type of amendment could they propose?
Question 2 aims to effectively address two issues: the ability of government to limit political spending, which the Supreme Court previously ruled is a protected form of free speech, and whether those rights are extended to corporations and other artificial entities, as was decided in Citizens United. Because of those rulings, Gubits says his group views amending the Constitution as the only "viable" path to meaningful campaign finance reform.
"We view this more as a constitutional crisis, and not just a mere set of policies or laws can change it," he said.
Gubits says he could envision two separate amendments — one that clarifies that Congress and the states can set limits on political spending and one that says corporations do not have the same First Amendment rights as people — being advanced. Or, he said, it could all be included into one large amendment. Congress could even decide to include other fundamental election reforms, such as public financing elections or a ban on partisan gerrymandering.
For now, American Promise points to a previously introduced amendment by Sen. Tom Udall, a New Mexico Democrat, as a "good start." Udall's three-part proposal would tackle the two issues together and includes a third section to protect the freedom of the press:
To advance democratic self-government and political equality, and to protect the integrity of government and the electoral process, Congress and the States may regulate and set reasonable limits on the raising and spending of money by candidates and others to influence elections.
Congress and the States shall have power to implement and enforce this article by appropriate legislation, and may distinguish between natural persons and corporations or other artificial entities created by law, including by prohibiting such entities from spending money to influence elections.
Nothing in this article shall be construed to grant Congress or the States the power to abridge the freedom of the press.
According Gubits, the ultimate recommendations resulting from Question 2 may depend on what the commission finds in their research and deems the most feasible and effective way of redressing the decades of Supreme Court-led gutting of campaign finance rules.
"I think the commission is going to be instrumental in helping raise the voice of the people and determining what the next constitutional amendment actually says," he said.
What does the ultimate timeline look like?
There's a reason the United States hasn't amended its Constitution in more than 25 years (even if, as American Promise points out, there have previously been some good reasons for doing so, like expanding voting rights to women and black people).
Unlike regular bills, constitutional amendments require approval by a two-thirds supermajority in the House and Senate (290 votes and 67 votes, respectively). And then it would have to be ratified by state lawmakers in three-quarters (38 of 50) states.
Democrats in both chambers of Congress have introduced amendments to overturn Citizens United as recently as last year. And even though a vast majority of both liberal and conservative voters support such an amendment, none of the proposals have gained any traction in the Republican-controlled legislative branch. Furthermore, a Center for Public Integrity analysis last year found that none of the two dozen bills introduced by Democrats relating to money in politics had gotten even a formal hearing, much less a vote.
Udall repeatedly filed proposed amendments to overturn Citizens United during President Barack Obama's presidency. But even when Democrats had more power in Congress, those efforts failed to meet the 67-vote threshold on a party-line Senate vote.
Paul Craney, a spokesman for the conservative group Massachusetts Fiscal Alliance — which opposes Question 2 on the grounds that it proposes to restrict the First Amendment rights of corporations, unions, and other entities — says the ballot question "very well could pass … but it doesn't necessarily mean that much is going to happen."
"Practically speaking, it's not going to go anywhere," he said.
Noting the failure of previous attempts in Congress, Craney said an amendment to overturn Citizens United would face "some significant hurdles." He also said that the biggest beneficiaries of the ruling in Massachusetts have been unions, rather than corporations, and pointed to the lack of spending in general against Question 2 as a sign that opposing groups aren't taking it as a serious threat.
"I think a lot of people who look at this say it's not really worth pursuing or spending resources one way or another," he said.
Gubits is under no illusions that Question 2 would result in an amendment to overturn Citizens United particularly soon. Rather, he thinks "six to eight years" would be a "realistic" timeline for ratification.
"We think that the 2020 election will be a pivotal point in American history, and we will have enough momentum after that 2020 election to get the votes needed in Congress to send it back to the states for ratification by 2021, 2022, and then a two to three year effort in the states to actually get it ratified by all the states," he said.
American Promise has poetically set July 4, 2026, the 250th birthday of the United States, as their target date for ratification. With 19 state legislatures having already called for the reversal of Citizens United, Gubits says they're a lot further along in the process than some may credit. The group is also pushing a similar ballot question (though it wouldn't establish a commission) in Wyoming for 2020.
"Massachusetts really has the opportunity to set the standard for the rest of the nation, as Massachusetts, quite frankly, has done often throughout American history," he said.
Bay State lawmakers likely won't need much of push from the commission if an amendment does come up for a vote. Sens. Elizabeth Warren and Ed Markey support Question 2 and have already signed on as co-sponsors of Udall's proposal. The state's nine-member congressional delegation is also fully on board with the companion bill in the House. And the Massachusetts state legislature called for an amendment to overturn Citizens United as early as 2012.
That said, Gubits says he doubts the issue was top-of-mind for the majority of residents, which is another reason for Question 2.
"This is a huge public awareness campaign, as well as establishing the commission." he said.