Politics
Elizabeth Warren says her name-calling is different than Donald Trump's
"What we're really talking about is hatefulness against groups."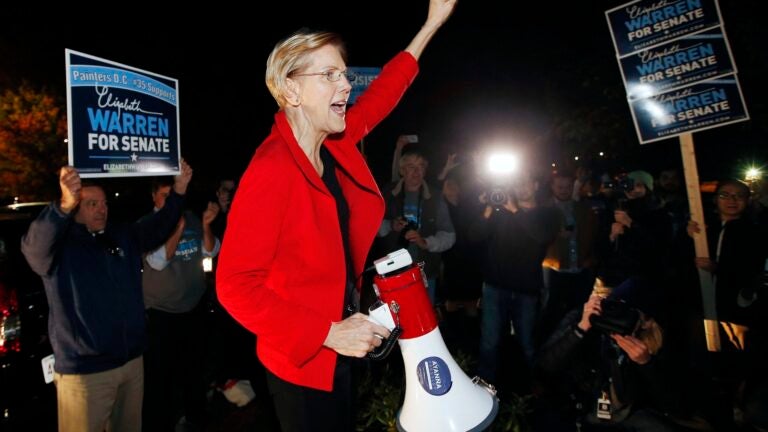 Sen. Elizabeth Warren says that President Donald Trump's constant personal attacks won't work and that the ever-growing list of things and people he has insulted is a distraction from more important issues, from corruption to child care.
However, the Massachusetts Democrat's record when it comes to name-calling isn't exactly spotless, either.
During the 2016 presidential campaign, Warren and Trump exchanged increasingly vitriolic words, during which she mocked his Twitter style and called the then-candidate a "loser," a "small, insecure money-grubber," a "loud, nasty, thin-skinned fraud," "the large orange elephant in the room," and so on.
Warren didn't stop with the colorful language since Trump's election, either.
In a debate Sunday, state Rep. Geoff Diehl, the Republican candidate running against Warren in next month's Senate election, said the senator, like Trump, makes "pretty disturbing" comments. Diehl specifically referred to (and somewhat mischaracterized) remarks Warren made in an MSNBC interview the day after the 2016 election in which she said "part of" the reason for Trump's win was "an ugly stew of racism." He also mentioned a speech the Bay State senator made in June 2017 asserting that the Republican health care bill was paid for with "blood money" (referring to proposed Medicaid cuts).
Carrie Saldo, the moderator of Sunday's debate, also noted that Warren had sent out a campaign email in May titled, "Mick Mulvaney the mosquito," after a New York Times article quoted a Trump administration member describing the Office of Management and Budget director's rollbacks as acting director of the Consumer Financial Protection Bureau as "like a mosquito in a nudist colony." In the email, Warren went on to call Trump staffers "blood-suckers" and "henchmen."
"How do you justify calling President Trump out for his name-calling, but then using language like that?" Saldo asked.
"OK, so look, we called him a mosquito," Warren acknowledged. "You're right."
But the senator drew a distinction when it came to who the name-calling was being directed toward.
"What we're really talking about is hatefulness against groups, against — how it is that you pick the most vulnerable and really going after them," she said.
Warren criticized Diehl, who co-chaired Trump's Massachusetts presidential campaign, for distancing himself from the president's divisive rhetoric, yet supporting the same policies.
"This is about ugly slurs, and who is going to support that kind of ugliness that turns Americans against Americans, that turns people against people, that says if there's a problem in your life, it's 'their' fault," Warren said. "That's what Donald Trump and his campaign chair, Mr. Diehl, both support."
Diehl responded that Warren herself was one of the "main reasons that we have this lack of dialogue, this poisonous political environment" and accused the senator of putting the lives of law enforcement officers at risk by calling the justice system "racist … front-to-back" during a speech in August.
"You said they're all racist," he said.
Warren reiterated that she was referring to "an entire system — not individuals," and — amid research showing that black people are punished more harshly than whites for the same crimes — called for criminal justice reform to make the system "fairer"
"I didn't call anyone a name like that, and you know that," she told Diehl.
Well, there is one person.