Politics
Should non-citizens be allowed to vote in local elections? Somerville is the latest city to ask the question.
"We need to expand that opportunity to bring people's ideals into the political process," Mayor Joseph Curtatone said.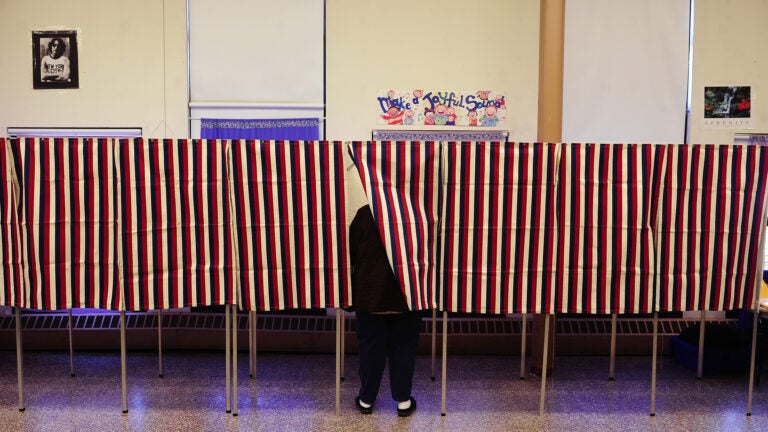 Somerville is now the latest Massachusetts city to consider its answer to the following controversial question: Should non-citizens be allowed to vote in local elections?
And there's an extra caveat set to go before city officials: Should the voting age also be lowered to 16?
Mayor Joseph Curtatone says his answers are yes and yes — and now is the time to change both.
After a report by the city's Clean and Open Elections Task Force was released earlier this month, Curtatone has asked the Board of Aldermen to start discussing whether the city should petition state lawmakers for permission to amend its local voting laws.
"At a time when our democracy is under attack and a time when our democracy is being dismantled by Trump and his administration, at a time when the voices in our community that are most vulnerable — our youth and immigrants in our community, and others — are struggling to be heard and to participate in the decisions that affect their lives every day, we need to double down on our democracy," he said in an interview Tuesday. "We need to expand that opportunity to bring people's ideals into the political process."
The two amendments are among several recommendations put forth by the report for ways Somerville can bolster and expand voter participation and voting accessibility and can improve transparency in local elections. The list includes ideas ranging from creating "festivals" with food and music at polling places to entice voters to the ballot box to publishing election data online.
Additional suggestions include revamping campaign financing measures and extending the right to vote in local elections to incarcerated residents, among others.
Curtatone supports all of the outlined recommendations, he said. But he has asked aldermen specifically to launch debate on the two geared at allowing non-citizens to vote and changing the voting age in city and School Committee elections with the hopes of submitting a home-rule petition to the state Legislature.
"There is a sense of urgency for people wanting to be involved, and I as one leader am listening to those voices and trying to lead on that," he said.
Somerville is far from the first municipality in Massachusetts to chew over the idea of extending voting rights to non-citizens.
Newton, Brookline, Cambridge, and Amherst have all mulled over the possibility in some way before. Most recently, the debate went before the Boston City Council in July, although councilors have yet to return to the topic.
The Somerville task force report also states that non-citizen voting is not unprecedented in the United States.
"For much of the history of the United States, non-citizens had the right to vote in elections," the study reads. "That right was steadily eroded and ultimately eliminated all across the country amidst a surge of xenophobic nationalism and anti-immigrant sentiment in the first quarter of the 20th Century."
The report makes specific mention of Takoma Park, Maryland, which allowed the practice to return in 1992, and also allows 16-year-old residents to vote in local elections.
"In an era of increasing activism among high school students, Somerville should lead the way by extending the right to vote in municipal elections to all otherwise-eligible residents who are at least 16 years of age, thereby helping to foster a lifelong commitment to civic engagement and participation," the report states.
Curtatone argues that expanding voting rights to these two demographics would make the community stronger because more people who have a stake in city decisions would have their voice counted for in the decision-making process.
Specifically, it would give the power of the ballot to 15 percent of Somerville's adult residents who are not U.S. citizens, according to the report. Officials anticipate over a thousand people would be added to voter registration rolls if the voting age was lowered.
Like other communities, turnout for local elections has generally been significantly outpaced compared to that during state and federal elections.
Veronica Serrato, executive director of the apolitical Boston nonprofit Project Citizenship, which provides legal services to immigrants working to become citizens, said there are concerns that come with non-citizen voting.
For non-citizens who someday want to become U.S. citizens, a voting policy like this one could put them at risk if it's not carried out in an extremely careful way, she said.
Non-citizens who vote illegally are barred from ever being able to become citizens, according to Serrato. Additionally, illegal voting could lead to criminal prosecution, and potentially deportation for immigrants.
In order to ensure non-citizens do not vote in unauthorized races like state and federal elections, Serrato said changes are needed, such as creating different ballots and lines at polling places; scheduling local elections on different days than other races; and a clear process for registering to vote in municipal elections.
Legalizing non-citizen voting may also mean confirming citizenship at the ballot box, according to Serrato, who spoke before the Boston City Council on the issue last summer.
It comes down to weighing the risks with the benefits, she said. Any system for non-citizen voting has "no room for error and has to be executed in a really sufficient and careful way," Serrato said.
"It's a level of bureaucracy and record keeping that is really extreme," she said.
Curtatone said his office has not yet outlined what such a shift would entail for the city's elections operations. It's also currently unclear how Somerville, a sanctuary city, would manage any distinction between documented and undocumented immigrant participation in local elections.
Curtatone, however, does not expect managing the practical components to be a daunting task, he said.
"I would state that it's worth it: the time, the effort, and the investment because what we're investing in is something very important," he said. "It's about our democracy. It's about what we value."
The report indicates the recommendation to pursue a home-rule petition for non-citizen voting received a 6-1 vote from task force members, which included six residents with backgrounds in community organizing, data and technology, law, and social change, along with Ward 2 Alderman Jefferson Thomas "J.T." Scott and election experts.
The task force reached a consensus in support of its recommendation to lower the voting age.
In an email, Board of Alderman President Katjana Ballantyne said she could not speak about the report because she had not yet fully read it. But she has spoken to the chairperson of the board's Legislative Matters Committee about adding the discussion to its Nov. 1 agenda, she said.
"I know a couple of my Irish immigrant neighbors, who have lived in Somerville 25 years and are not USA citizens are happy about the possibility to vote," Ballantyne added.
Scott did not return requests for comment.
For the recommendations to move forward, the board would need to sign off on its support for a home-rule petition to send to state lawmakers for consideration. The proposal would then need approval from both chambers of the State House and the governor.
Curtatone said city officials expect to have "a robust public conversation" on the topic.
He also anticipates plenty of resident support during the lengthy process because he believes the report's recommendations reflect the city's values.
"We value democracy, we value our inclusiveness, we value our diversity, and we're proud to be who we are," Curtatone said.