Politics
Meet the Somerville nonprofit powering Democrats' small-donor wave
And "bludgeoning" Republican candidates across the country.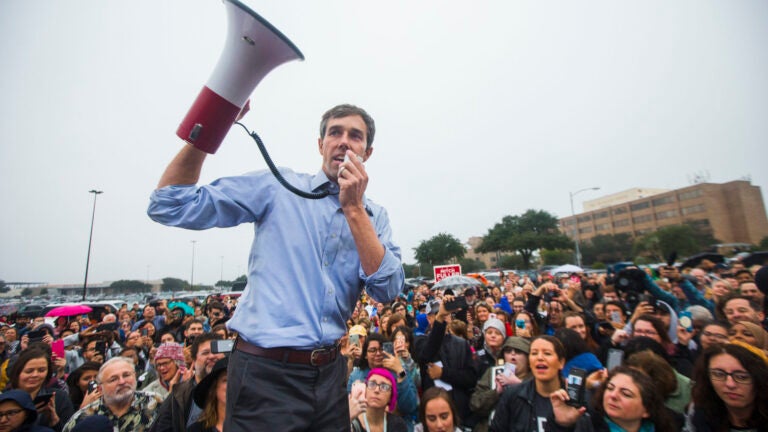 Erin Hill says her company doesn't "necessarily need people to know" who they are.
But maybe they should.
Tucked away in Somerville's Davis Square, ActBlue has been playing a central force in political campaigns across the country — and particularly in next week's midterm elections. Hill, the executive director of ActBlue, says the nonprofit exists to connect small-dollar donors with "the causes that they care about."
What that means in reality is providing an online portal through which nearly every Democratic candidate in the country — from fundraising powerhouses, like Sens. Elizabeth Warren and Bernie Sanders, to first-time candidates in competitive, local races — gets campaign donations from supporters.
And amid the rise of progressive activism to counter President Donald Trump, they've been doing it on an unprecedented scale.
In the 2018 campaign cycle alone, ActBlue has facilitated $1.5 billion in donations, averaging $40 per individual contribution, the group announced last week. That amount was more than the total amount raised in their previous 12 years of existence. Three weeks into October, Hill said it was already their highest-volume month ever; ActBlue passed the $200 million mark later that week — all going toward liberal candidates and causes.
"REPUBLICANS have nothing like ActBlue, and it's bludgeoning candidates across the country," Politico Playbook, the prolific political email tip sheet, wrote earlier this month, after Rep. Beto O'Rourke announced a staggering fundraising haul for his Texas Senate campaign, much of which funneled through ActBlue.
"People used to see small-dollar donations as kind of a supplement to the fundraising work that they were doing," Hill said. "And now it's a major defining force of campaigns."
ActBlue was founded in 2004 by Matt DeBergalis and Ben Rahn, at a time when former Vermont Gov. Howard Dean's Democratic presidential campaign was singularly at the forefront of online, small-dollar fundraising. Unhappy with the direction of the country under President George W. Bush, DeBergalis, an MIT graduate with a degree in computer science, and Rahn, a Harvard alum who studied math and physics, set forth to use their skills to handle online fundraising for less tach-savvy campaigns and simplify the process for individuals.
"We want to make campaign fund-raising really easy, as easy as ordering a book online," DeBergalis told The New York Times in 2007.
Those words turned out to more than a bit prophetic. There's now a tool called ActBlue Express — which 5.6 million people use — that allows donors to save their information so that future contributions, even to different candidates, can be made with just one click. Just like shopping on Amazon.
"It had to be simple," Hill said of the general founding concept of ActBlue.
To make the process more convenient, ActBlue  provides a straightforward, fast-loading contribution form for individuals to enter their information when donating to candidates and groups online, whether it be on their desktop or phone (Hill says they process half of donations through mobile devices). They also run real-time tests on their platform to see what features entice more donations or, in ActBlue parlance, "conversions."
"We find whenever you're making it easier for people to give, they're going to give more often — because they want to take these actions," Hill said. "It just needs to fit in to the work that they're doing in their lives."
Hill says it's been gratifying to see small-dollar fundraising take off. The nonprofit processed $32 million in their first three years of existence. In the era of Trump, the group processes more than 10 times that amount in a week. ActBlue also helps liberal donors get the most bang for their buck, offering a page that directs them to the most cost-efficient midterm races in which to give money as Democrats look to win majority control of the House. And while ActBlue has made it easier to donate to campaigns, they've also made it easier for more and different types of candidates to run.
"First-time candidates don't feel the need to be tapped into a traditional donor network," Hill said.
She added that the small-donation model they're facilitating is a strategic advantage, as opposed to relying on large, one-time donations (the Federal Election Commission limits individuals to contributing $2,700 per campaign cycle to a candidate). Candidates like O'Rourke, but also lower-profile campaigns, have a consistent stream of cash coming in from fans all around the country. According to FiveThirtyEight, 57 percent of the money donated to congressional candidates this cycle through ActBlue went to out-of-state races.
Hill says they're making the "least democratic part of the democratic process" a little more democratic (and maybe a little more Democratic).
"The small-dollar donors who are making those contribution are also the people who are calling their congresspeople, are who marching, who are making sure that their voices are being heard in different ways," she said. "They're making all of these competitive races across the country possible, but they're also continuing to keep that pressure on through Election Day."