Politics
Is Elizabeth Warren really going to run for president in 2020? Here are all the signs.
"If you were advising someone who had the resources of someone who was going to run for president, this is what you would do."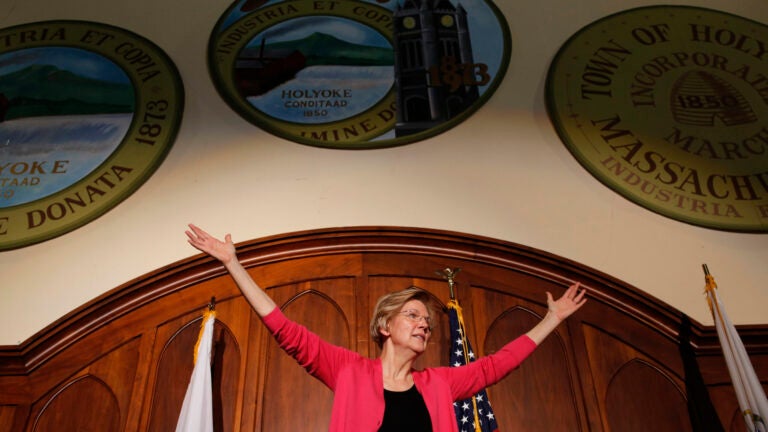 With a week until Election Day, much of the focus of the U.S. Senate race in Massachusetts has been cast not on Nov. 6, but on 2020. In debates and ads, Sen. Elizabeth Warren's Republican challenger, state Rep. Geoff Diehl, has claimed that the incumbent Bay State Democrat is already preparing a White House bid.
"You are running for president," Diehl said during a debate earlier this month. "Everybody knows now at this point."
Warren may be a virtual lock to win re-election, but that doesn't mean Diehl's claims are unsubstantiated. The individual signs each take some interpretation, but there are many.
Here's a look at how the Massachusetts senator has been laying the possible groundwork over the last two years to vie for the 2020 Democratic nomination and take on President Donald Trump.
Brushing up on foreign policy
After declining to run in 2016, murmurs that Warren was positioning herself for a 2020 bid began a little less than a month after Trump's election with her appointment to the Senate Armed Services Committee in December 2016.
Though her three brothers served in the military and Massachusetts is home to several defense contractors, the move was interpreted as an effort by Warren, who had limited foreign policy experience at that point, to round out her resume.
With Sen. Cory Booker, a New Jersey Democrat and fellow possible 2020 candidate, joining the Foreign Relations Committee, Politico wrote the moves would "burnish their foreign policy credentials ahead of a potential national run." CNN wrote at the time that the assignments "fuel speculation that Warren and Booker are looking to broaden their issue portfolios," and The Boston Globe noted that Sen. Tim Kaine, the 2016 Democratic vice presidential nominee, made a similar move after the Virginia governor was elected to the Senate in 2012.
Warming up to the media
Following Trump's inauguration, the "notoriously press-averse" senator began making herself more accessible to the media, as Politico reported in March 2017. At the time, Warren's aides said the increased number of events open to the press was another path for her to speak out against the Republican administration. In March, Warren's re-election campaign also hired a new spokeswoman, Kristen Orthman, who previously worked for Sen. Harry Reid, the Democratic Senate leader (who had reportedly asked Warren to consider running for president a few months earlier).
The Globe also picked up on the "noteworthy shift in strategy" when it came to Warren's accessibility, both in Senate hallways and on the national Sunday morning shows.
"Not incidentally, getting more comfortable in the media glare and creating a more positive relationship with the national press corps could serve her well if she decides to aim higher," the paper wrote last October.
A pre-2018 (or 2020) book?
Even if they don't always sell, pre-presidential campaign books have been something of a rite of passage for White House contenders. And while Warren had already written 10 books as law professor and senator, the April 2017 release of her latest publication, This Fight Is Our Fight, particularly raised eyebrows for its timing and content. Rather than re-litigate what went wrong for Democrats in 2016, the policy-oriented book focused on the causes and movement that should unite the party.
During her book tour, Warren repeatedly maintained that she was running for re-election as the senior senator from Massachusetts. But as NBC News reported at the time, some conservative groups saw it as a "a soft launch of her 2020 presidential run."
Building a national political network
Given her presence as a firebrand populist, progressive star, and high-profile Trump critic, Warren has been a "fundraising juggernaut" since she was elected to the Senate, raising millions more than likely necessary for re-election in deep-blue Massachusetts.
She's also using that cash to build bridges across the country. According to Politico, Warren's leadership PAC donated $10,000 to vulnerable Senate colleagues' re-election campaigns in April 2017. This past March, she donated $15,000 to the Democratic National Committee and $5,000 each to every single one of the 50 state parties (while also calling out some colleagues over their support for a bank deregulation bill).
"I've gone out and worked for the team and I'll continue to do that," Warren told the Los Angeles Times earlier this month. "But at the same time, I'm going to fight hard for what I believe in. It's not good for American families when Wall Street calls the shots in Washington."
The Washington Post recently reported that the senator planned to donate another $460,000 sum to 2018 midterm candidates. Warren has also used her small-donor army to directly fundraise on behalf of other candidates. Combined with the donations from her campaign account, she has brought in a total of  $7.6 million for Democratic candidates and committees this cycle, according to the Post.
The network isn't merely financial
While Warren hasn't made any big public visits to Iowa or New Hampshire, like other prospective 2020 candidates, she has toured other early primary and swing states to campaign, meet with local candidates, and give high-profile speeches. Behind the scenes, she's also worked to be almost omnipresent.
According to the Post, Warren placed 172 calls to congratulate Democratic candidates across the country after their primary wins, offering campaign help and assigning them a staffer to work as an intermediary for any future requests.
David Axelrod, the former campaign manager and adviser to former President Barack Obama, told the Post that he had spoken with a lot of Democratic candidates running this year and said that Warren  is "the first call they get after a primary."
"It's not just the winners she's calling, she's calling the losers, too. … The scale is pretty impressive," Axelrod said. "This is how you go about building relationships and acquiring chits for a future project. It's very smart. If you were advising someone who had the resources of someone who was going to run for president, this is what you would do."
Furthermore, many of Warren's staffers have left to work in states that just so happen to hold early primaries or pivotal general election votes.
The senator's longtime official spokeswoman went to work for the Democratic gubernatorial candidate in Ohio this past March, two other aides moved up to New Hampshire in August to work at the state party there, and in late September her office's most recent press secretary decamped for the South Carolina Democratic Party, while another aide joined Nevada' state party. According to the Post, former Warren staffers have also been deployed to Iowa, Florida, Michigan, and Wisconsin.
As the Globe reported earlier this month, the employment changes amount to moves reminiscent of when other presidential candidates, like Hillary Clinton, Martin O'Malley, and Chris Christie, had former staffers working in Iowa and New Hampshire ahead of the 2016 primaries.
The making of a presidential platform?
As much as Warren ramps up her political involvement, she's also been working on a slate of ambitious policy proposals. Though they have virtually no chance of passing the current Republican-controlled Congress, the Democratic senator has released a string of major bills aimed at addressing some of the country's most pressing issues.
In August, she introduced a bill to reform how corporations are run and make capitalism work better for average Americans. Less than a week later, she unveiled a plan to reduce corruption in Washington. And last month, she introduced legislation to address the country's affordable housing crisis.
"Warren knows neither proposal is likely to become law anytime soon, but each could easily help form the backbone of an eventual nationwide platform, and introducing them to the party's national conversation early effectively grants Warren ownership of the ideas, which other potential White House contenders may eventually embrace," New York magazine wrote in August, after the first two bills were introduced.
Campaigning for re-election in all 50 states
As her Senate re-election campaign took its final turn into the fall, Warren has been one of the highest spenders in the country on national digital ads, according to The Boston Globe. She trails only Trump and Rep. Beto O'Rourke, a Texas Democrat running in the country's highest-profile Senate race.
The Globe wrote earlier this month that Warren's ad strategy "show she's already looking at 2020":
In the last two weeks alone, Warren has run 401 separate digital ads on Facebook, seen by as many as 10 million people. These aren't all geared for Massachusetts: Her ads are getting four times as many eyeballs in other states. Especially noteworthy is her use of Facebook advertising in Oklahoma, the ruby-red state where she grew up. It is a key part of her middle-class biography, a place she's likely to highlight a lot more if she runs for president.
Warren's campaign also recently expanded its merchandise store to sell individualized "Persist" T-shirts for all 50 states, as well as Washington, D.C, and Puerto Rico.
"We wanted to give everyone the chance to show they're in this fight," Orthman, Warren's communications director, told Politico, when asked about the shirts.
"I'm an open book"
Trump may still be withholding his tax returns, but Warren wasted no time releasing hers — which are easily accessible on her campaign website. The Associated Press reported on her release of 10 years worth of forms as "another possible signal that Warren may be laying the groundwork for a run for president in 2020."
In an attempt to put the hotbed issue of her claims of Native American heritage behind her, Warren also released "every record in her possession" from her law school days last month, showing she received no advantage from listing Native American as one of her ethnicities. The senator also released the results of a DNA test that showed she likely had a Native American ancestor dating back six to 10 generations. The release was accompanied by a polished, five-minute campaign video showcasing her family story, Oklahoma roots, and a pledge to stand up for disadvantaged groups, like Native Americans.
"The move is also another indication of how seriously Warren is considering running for president," the Globe wrote in its story on the DNA test results.
Facing criticism from all sides over her DNA test, questions were quickly raised about why Warren made the risky decision if she was only running for re-election in Massachusetts in what should be a relatively easy campaign.
"I believe in transparency," she told the Globe in a later interview. "This was just another part of it."
Taking a "hard look"
When pressed by Diehl about all the signs she's readying a presidential campaign, Warren has responded by asserting that she's running for re-election based on her record of accomplishments to benefit the state.
"I'm clear on Massachusetts and work hard here in Massachsuetts and have produced in Massachusetts," she said during a recent debate, listing the results she'd delivered for residents on student loans, infrastructure, and health research.
But, in line with her belief in transparency, Warren recently acknowledged, when asked by a constituent if she had plans for a White House bid, that it was something she would consider — after the election.
"It's time for women to go to Washington and fix our broken government, and that includes a woman at the top," she said at a Holyoke town hall last month. "After Nov. 6 I will take a hard look at running for president."
That said, all the signs show that, maybe, she already is.