Politics
Charlie Baker and Jay Gonzalez were asked to describe Donald Trump in 3 words. Neither held back.
Even the Republican governor's choice of words was remarkably harsh.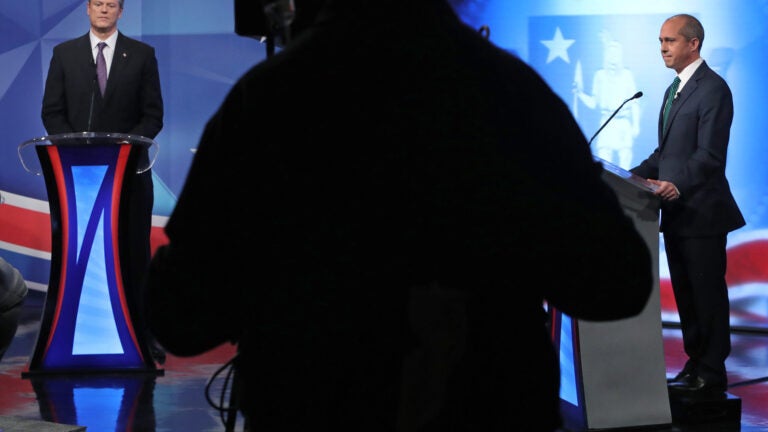 During the final of the three Massachusetts gubernatorial debates, incumbent Republican Gov. Charlie Baker and his Democratic challenger, former state budget chief Jay Gonzalez, were asked to describe President Donald Trump in three words.
Gonzalez went first, and was unsurprisingly unsparing in his choice of words for the inflammatory Republican president.
"Hateful. Racist. Un-American," he said.
Then it was Baker's turn. The blue-state governor has at times also been a forceful critic of Trump, especially compared to most other GOP elected officials. Still, Baker's assessment of his fellow Republican was nonetheless remarkable.
"Only three," he sighed, looking down at the podium.
"Outrageous. Disgraceful. And a divider," Baker said of Trump.
Gonzalez's campaign has tried to tie Baker to the president through his support for the state's Republican nominee in this year's Senate race, state Rep. Geoff Diehl, who co-chaired Trump's presidential campaign in Massachusetts.
Baker has repeatedly criticized the president's divisive rhetoric and argued Thursday that he importantly spoke out against Trump on policies that would hurt the Bay State, such as the Republican health care bill and the administration's proposed cuts to the National Institutes of Health. But Gonzalez says Baker's opposition hasn't been as relentless as it should be. The Democrat argued that a state as blue as Massachusetts should have a bolder leader.
The two candidates were also asked Thursday night to describe each other in three words. Gonzalez, again, did not hold back.
"Status quo governor," he said.
Baker, however, took a slightly different approach.
"Smart, ambitious, and public servant," he said.
https://www.youtube.com/watch?v=iDTfpcjgsMg