Politics
This political ad asks voters to 'be a Masshole' and vote yes on Question 3
The official Yes on 3 campaign is distancing itself from the supportive commercial.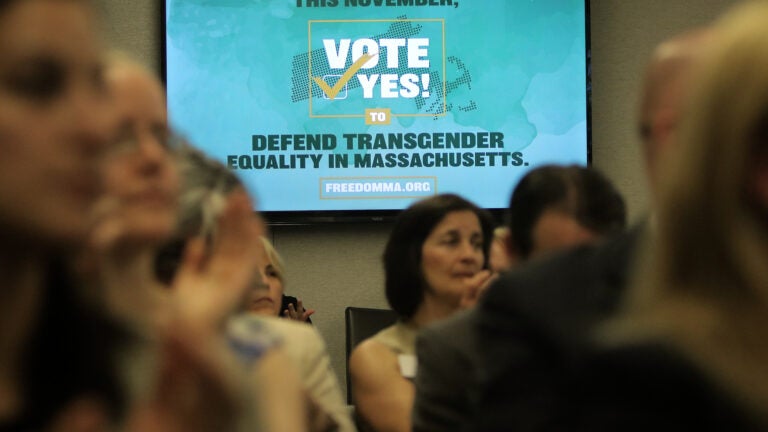 If the word Masshole is good enough for the dictionary, it's surely good enough for a political ad. But this still appears to be a first.
A local group is using the colloquialism in an attempt to persuade Massachusetts residents to vote yes on Question 3, the referendum on the state's transgender anti-discrimination law.
"We're Massholes, but we're no a**holes," says the Boston-accented, beer-drinking star of the profanity-laced commercial, which was posted online Thursday.
(A warning before viewing the ad: We aren't joking when we say profanity laced.)
"Hey, think about it, kid," the speaker begins his monologue, seated at a dimly lit bar, before listing off the stereotypical behavior of a true Masshole.
"We bang U-ies wherever we want — no blinkah. We cut you off on the Pike, and then we slow it right the f*** down. And the second that light turns green, I'm honkin'. We use our grandmothers' furniture to save our parking spots. We drop our Rs and put them back in words that don't even have 'em."
The speaker goes on to deride Manhattan clam chowder and, of course, boasts about Boston's 10 — wait, no, 11 — professional sports championships this century.
"We'll still find something to bitch about on sports radio, and we'll remind you who the f***in' GOAT is… every… five… minutes," he declares.
But then the ad takes a turn.
"You know, our forefathers originally granted us this right, to be loud, proud, occasionally obnoxious, and that freedom is so important to us," the man says. "So, who are we to take away our neighbors' liberties or revoke the law that protects their right to live a life free of discrimination? Or be biased against someone based on the gender they identify with?"
The website associated with the ad  — massholesnota**holes.org — describes its creators as "a group of trans-supportive citizens who believe everyone in the Commonwealth deserves to be treated with respect and dignity."
"We also happen to work at an ad agency with deep roots in the state, and we wanted to use our skills to help raise awareness of Question 3 and why people should support it," the website reads. "While we do not work directly with the Yes on 3 coalition, we view our work as a complementary extension of their efforts. And we hope our message reminds folks that the freedoms we enjoy belong to everyone."
As The Boston Globe reported Friday, the ad was created pro-bono by the Boston-based ad agency MullenLowe. Even if the FCC would allow it, they have no plans to run the expletive-filled commercial on TV. And while appreciative of the group's good intentions, the official Yes on 3 campaign is actually distancing itself from the ad — particularly the suggestion that those who want to rollback the 2016 public accommodations law are a**holes.
Freedom For All Massachusetts spokesman Matthew Wilder reiterated that the video is not associated with their campaign, which released its own three-minute ad Friday.
"While it's intended to be a fun take on the ballot question, we recognize that this is a serious issue and the Yes on 3 campaign rejects name calling," Wilder said in a statement. "Our campaign is about dignity and respect for all people, including voters who are right now deciding how to vote on Question 3."