Politics
What independent experts are saying about Question 1
Still undecided? Here's where those who have studied the issue stand on nurse-to-patient staffing ratios.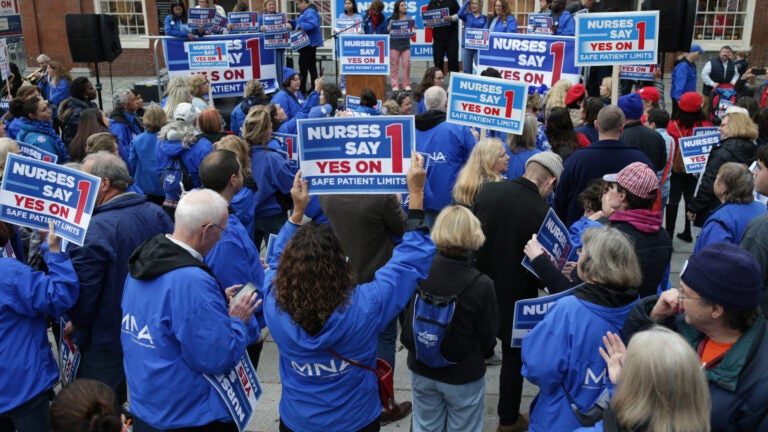 Question 1 has shaped up to be by far the most expensive and volatile of the three 2018 ballot measures in Massachusetts.
It's also arguably the most confusing.
The union-backed ballot initiative proposes to set limits on the number of patients a nurse can be assigned at a time. Supporters say such statewide nurse-to-patient staffing ratios are necessary for the safety of patients and the welfare of nurses, while opponents argue the costs of hiring more nurses to comply with the proposed limits could force smaller hospitals to close.
Adding to the complexity of the debate is that nurses themselves are divided over Question 1 and the dueling campaigns can be difficult to distinguish from each other. Fortunately, an abundance of independent professional experts in the health care industry have publicly weighed in on the debate.
There are two baseline facts that appear to be settled.
First, there isn't much debate that having more nurses at a hospital results in better patient outcomes. And second, even the biggest opponents of Question 1 have acknowledged that nursing is a highly stressful job and that there's "legitimate discussion" about the problem of understaffing.
"This is something everyone pretty much agrees on — you add more nurses and you get better results," Jack Needleman, a health policy professor at UCLA, recently told Commonwealth magazine.
"There are a lot of well-staffed hospitals [in Massachusetts]," Needleman said. "But just as is the case in other states, there are some hospitals that are so low-staffed in Massachusetts I would not want to be a patient in them."
It's an issue worth a serious look, considering the potential stakes.
Karen Donelan, an associate professor of medicine at Harvard Medical School, says the concerns about understaffing hold "especially true" for hospitals in the state that care for the "most vulnerable populations," such as people in poorer or more remote areas, as well as adults and children with physical or mental health disabilities. In a first-person piece for WBUR, Donelan wrote that staffing levels at some of these hospitals and health care facilities are "almost certainly unsafe at some times."
However, it's a completely different issue whether nurse-to-patient staffing ratios — and, in particular, Question 1 — would be a good way to address the problem.
California is the only other state in the country with nurse-to-patient staffing ratios. While their law resulted in no hospital closures, there was also "no systematic improvement in patient outcomes post-implementation of ratios," according to a recent report by the Massachusetts Health Policy Commission.
However, there are also key differences between California's law and the law proposed by Question 1, which is more stringent and would take effect on Jan. 1. Massachusetts also already has better-performing hospitals and far fewer uninsured residents than California did in 1999.
"Health care is so different now from when California passed their law," Donelan wrote. "Most importantly, their law allowed time — five years! — for implementation, was developed in the legislature, and was written more carefully. This is not California."
Question 1, on the other hand, is "poorly written," according to Donelan. Combined with the specific ratios, she says the language mandating that hospitals must adhere to the limits "at all times" rather than "on average" would result in hospitals having to hire even more nurses to make sure they're always covered.
The HPC report estimated that implementation of Question 1 would cost between $676 million and $949 million per year, which is far more than the nurses union supporting the initiative estimates. Donelan said the difference between "at all times" and "on average" was a likely contributor to the inflated cost estimates.
"Hospitals will have to staff in excess of them at all times — so you are effectively asking for even higher ratios than are written in the bill" she wrote. "Details matter."
Massachusetts hospitals would also be subject to a fine of up to $25,000 for every time they violate the maximum limits.. California's law, meanwhile, set no specific penalties. Rather, it allowed for fines if violations resulted in incidents that endangered patients.
Nancy Kane, a Harvard health policy professor, says the lack of flexibility in Question 1 is worrisome.
"It doesn't take into consideration special circumstances when a nurse might call in sick, or if there's a big nursing conference and 10 percent of the staff is gone," Kane told Boston magazine in an interview. "And the fines for not staffing up, or abiding by the law in those situations, create a huge problem for financially weak hospitals. … If you have a 1-to-5 patient-to-nurse ratio and you have six patients come in, do you hire another nurse for that one patient or do you wait to treat that patient until another one leaves? When hospitals have this huge fine hanging over their head, I'm worried how decisions will be made regarding patients."
According to the HPC report, the places that would most feel the impact of Question 1 — for better and worse — would be the places the law is proposed to serve the most: Community hospitals serving a high proportion of MassHealth and Medicare patients. And while California's law included waivers for rural hospitals, Question 1 does not.
"Hospitals with a higher percentage of private payers would be able to afford the staffing ratios, but only by siphoning off nurses from nearby community hospitals and nursing homes," state Rep. Ronald Mariano, the Democratic House majority leader and one of the few Democrats to go against the union to oppose Question 1, recently wrote in Commonwealth. "As a result, the Commonwealth's most vulnerable residents will have reduced access to key services and lower quality of care."
Mariano argued that Question 1 "is a blunt instrument for a complex problem."
Then again, nurses have tried to press the issue through the legislature, where complex problems are purportedly supposed to be solved, for decades to mostly no avail. State lawmakers did pass a 2014 compromise bill setting limits for intensive care units — but only under threat of a similar proposed ballot question.
Perhaps blunt force is needed to force the hand of lawmakers and the hospital industry to address the problem of understaffing, Central Connecticut State University political science professor Jerold Duquette recently wrote in a blog post.
Duquette argued that voters shouldn't think of Question 1 as "merely a vote about a specific policy," but as "a vote about the ability of healthcare workers to compel employers to do the right thing by workers." In other words, by passing Question 1, voters would incentivize both sides to come together to work out whatever flaws there are in the law when lawmakers return to Beacon Hill in January.
"Effectively, all the dire predictions by opponents of Question One, even if entirely accurate, can be mitigated or eliminated by the legislature subsequent to the passage of Question One," Duquette wrote. "Because the Massachusetts Hospital Association and its allies continue to have great sway over legislators, the political incentives to correct problems with enacted nurse staffing ratios are far better than would be the political incentives to find a pre-enactment compromise on this issue."
Lawmakers similarly took action following the passage of the 2016 marijuana legalization ballot measure to amend and partially rewrite the language originally approved by voters.
On the other hand, if Question 1 fails, Duquette says that nurses would see their power to negotiate for better conditions "greatly reduced."
"A yes vote will force all three groups to accept meaningful responsibility for dealing effectively with this issue," he wrote. "A NO vote will further empower and embolden the wealthy special interests whose outsized political influence has prevented the legislature from taking up the nurses' cause, further weakening the ability of healthcare workers to resist exploitation by hospital administrators."