Politics
Should Massachusetts be paying more attention to the 9th District race?
"If there is anywhere it could happen, I'd look there."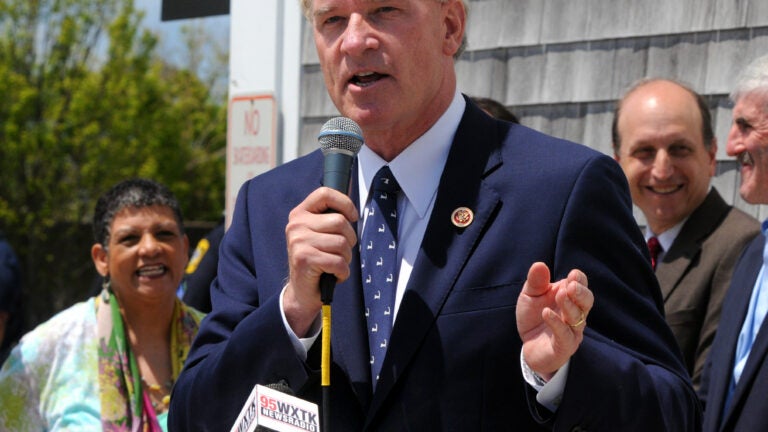 Rep. Bill Keating may be the most vulnerable of the nine Democrats running for Congress in Massachusetts.
But that may not be saying much. FiveThirtyEight gives the 9th District congressman a 99.8 percent chance of being re-elected to his fifth term Tuesday night.
That said, while many of Keating's peers in the Bay State delegation are running unopposed, the 66-year-old Bourne Democrat is up against a formidable challenger this year, Republican candidate and businessman Peter Tedeschi, the former CEO of the eponymous Massachusetts-based convenience store chain.
"The 9th has occasionally been close, and Peter Tedeschi has the marks of a real candidate," Steve Koczela, the president of MassINC Polling Group, told Boston.com.
The 58-year-old Marshfield Republican has high name recognition for a non-incumbent GOP candidate in Massachusetts and has actually outspent Keating's campaign by more than $300,000, according to the most recent Federal Election Commission filings. On Facebook, he has run more than $15,000 in paid ads.
Keating, meanwhile, has run zero ads whatsoever, opting instead to invest resources in the campaign's field efforts.
"Every campaign is different," Keating said Tuesday afternoon over the phone from a car en route to his next campaign event, adding that the early turnout and enthusiasm among voters had "reinforced the optimistic feeling" he has had about this year's race.
"All indications are good," Keating told Boston.com. "I always wait for the votes to come in. But all indications are good."
Keating won re-election by 22 percentage points in 2016. However, his wins in the 2010 and 2014 midterms came by just single digits. According to the Cook Political Report, the 9th District, at D+4, is the least Democratic-leaning district in Massachusetts.
Koczela says he still thinks Keating is the "heavy favorite," particularly considering the national environment in this year's midterm elections, in which Democrats are expected to pick up seats in the House of Representatives. Taking into account the party's national advantage and the benefits of incumbency, FiveThirtyEight forecasts Keating to win Tuesday by a 25 percent margin. Massachusetts hasn't sent a Republican to the House since 1994.
"But if there is anywhere it could happen, I'd look there," Koczela said.
Tedeschi campaign spokeswoman Maureen McInerney says they don't see the so-called Democratic wave impacting the 9th District race very much.
No public polling has been done on the race, but McInerney says they have gotten "very encouraging" internal poll numbers. Declining to provide specifics, McInerney would only say that their data showed "very strong support" among independent voters, which make up roughly two-thirds of the southeastern Massachusetts district.
"We're extremely encouraged," she told Boston.com. "We know that this is a winnable race."
McInerney also noted that Republican Gov. Charlie Baker, who has endorsed Tedeschi, won the 9th District by nearly 12 percentage points in 2014 and that other previous GOP candidates for U.S. Senate have outperformed their statewide margins. A recent WBUR poll found that southeastern Massachusetts voters favored the Senate campaign of Republican state Rep. Geoff Diehl over Sen. Elizabeth Warren by 7 percentage points.
By all accounts, this year's 9th District congressional race has been remarkably civil and substantive. Tedeschi has centered his campaign around infrastructure and the opioid epidemic, while promising to govern in a bipartisan manner and touting his endorsement from Baker (who holds a 65-point lead among southeastern Massachusetts voters in his respective re-election campaign, according to the WBUR poll).
The Value of Community: Tedeschi For Congress

We are proud to launch our first TV ad! I'm running for Congress to deliver results for Massachusetts families.SHARE! SHARE! SHARE! Please share our ad with your friends and family, and help us to bring change to Washington, D.C.#mapoli #ma09 #ma9 #Congress #community

Posted by Peter Tedeschi for Congress on Wednesday, October 3, 2018
Likewise, Keating has campaigned on two main fronts: the local issues affecting people in the district, like ensuring local residents can access affordable health care, and providing a national check on President Donald Trump's administration.
Today is the most important election of our lifetimes. I'm asking for your vote before 8pm to help me form a new majority to fight for our basic core beliefs: freedom of religion, freedom of press, and rule of law.Not sure where to vote? Visit WhereDoIVoteMA.com

Posted by Bill Keating on Tuesday, November 6, 2018
"It's an area where health care is incredibly important," Keating told Boston.com, noting that the district's two biggest hospitals serve a high proportion of Medicare and Medicaid recipients.
If Democrats take back the majority in the House, the congressman said he expects that "one of the first things that we'd move on would be issues of ethics and campaign reform … to deal with some issues of corruption that have come forward" since Trump's inauguration.
"We'll see how the results go tonight," Keating said.