Politics
Question 1 supporters say the fight for nurse-to-patient staffing limits isn't over
"Hospitals have admitted there is a problem."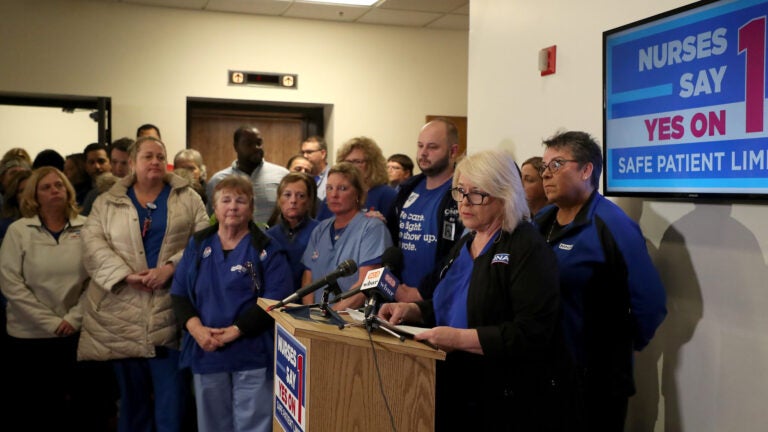 Question 1 may have been firmly rejected by Massachusetts voters, but supporters say they won't stop pushing for nurse-to-patient staffing ratios.
"All patients deserve a safe standard of nursing care, and this advocacy — this fight — won't be over until we achieve the equity that all patients deserve," Donna Kelly-Williams, the president of the Massachusetts Nurses Association, said in a speech Tuesday night at the union's headquarters in Canton.
Once projected to be a close decision, recent polls showed that voters had turned against the proposal to set limits on the number of patients that could be assigned at a time to nurses in the state. With more than 50 percent of precincts reporting, about 70 percent of voters had cast their ballot against Question 1.
Kelly-Williams attributed the loss to the amount of money spent by the industry-backed No on 1 campaign, which nearly doubled the amount spent by supporters. Opponents argued that the ballot question was poorly written and could have caused smaller hospitals to close.
"The hospital executives opposed to safe patient limits cried hysteria and chaos about the cost of these safety measures, but clearly spared no resource — with just under $27 million and counting — in an attempt to drown out the voices of bedside nurses calling for help," she said. "These tactics, rooted in fear and confusion, seem to have worked. The voters deserved better."
Kelly-Williams said one silver lining was that the campaign had pushed the issue of understaffed and overburdened nurses "outside the walls of the hospitals." A bedside and pediatric nurse for more than four decades, she advised Massachusetts residents should keep the proposed limits enclosed in their ballot booklets "as a reference" for the standard of care they should demand for loved ones.
Steve Walsh, the president of the Massachusetts Hospital Association, the industry group that led the campaign against Question 1, even recently acknowledged that it had prompted "a legitimate discussion about whether the workforce needs additional resources to do their job."
"Along the way, hospitals have admitted there is a problem," Kelly-Williams said Tuesday. "They just don't want to be held accountable with limits. We'll wait, along with those patients in harm's way, to see what their proposed solution is."
Celebrating the No on 1 campaign's win Tuesday night at the MHA's Burlington headquarters, Walsh said that the result had  "empowered" health care professionals to find solutions to the issue of understaffing at hospitals "together."
"Tonight, voters endorsed the high quality of care at our hospitals, but many also suggested that this be the beginning of a conversation, and not the end," he said.
"Question 1 forced some difficult and necessary discussions about the future of our health care and the future of our workforce going forward," Walsh continued. "These conversations with our care teams and our communities have been incredibly important, and they will continue in bargaining sessions, in legislative debates, in meeting rooms, and in newspapers."
While the loss diminished the nursing union's leverage at the bargaining table, MNA spokesman David Schildmeier said Tuesday night that the union would continue to do everything they could to make sure nurses weren't being assigned too many patients. Asked about Walsh's pledge to continue the discussions, Schildmeier told Boston.com that "at this point we're evaluating the situation and determining what we're going to do."
"We'll deal with that on another day," he said. "But for now, nurses will go back and care for patients, as they always they do."