Politics
How the new Democratic majority means more sway for 3 Massachusetts House members
Here's what the newly empowered Bay State Democrats are planning to do.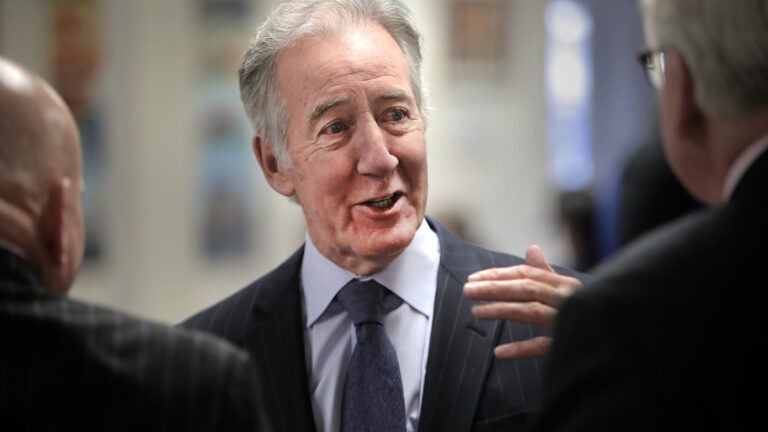 There may not have been any barnburner congressional races in Massachusetts, but the incoming Democratic majority elected to the House of Representatives is still sweeping local members into power in Washington, D.C.
Despite losing seats in the Republican-controlled Senate, party leaders signaled Wednesday that there are areas where they believe they can make progress.
"We believe that we have a responsibility to seek common ground where we can," Rep. Nancy Pelosi, the House minority leader, said in a press conference Wednesday afternoon.
The three priorities being outlined by officials in the incoming Democratic majority are transportation infrastructure, health care, and issues surrounding corruption and money in politics. The first two — transportation and some health care proposals, like reducing prescription drug prices and ensuring people with pre-existing conditions can get coverage — are issues on which Democrats say they think they could work with President Donald Trump's administration; the latter, probably not.
And while much attention has been paid to the Bay State's two new members and two young, ascendant stars in Congress, there are three other House members from Massachusetts who are now positioned to play a particularly influential roll in the new majority.
Rep. Richard Neal, the dean of the Massachusetts delegation, is set to step into arguably the most influential position.
Neal, who was re-elected to serve the 1st District for his 16th term Tuesday, is currently the ranking member on the House Ways and Means Committee. That means that when Democrats take power in January, he'll take over as chair of the powerful committee, which is the oldest committee in Congress and has jurisdiction over tax-writing, trade agreements, and social services like Medicare and Social Security.
"In terms of jurisdiction over financial matters, there's nothing that beats it," Neal said during a press conference Wednesday afternoon in Springfield.
Above all, Neal said the Ways and Means committee's priority will be health care. The longtime congressman said the committee plans to work to reinforce the Affordable Care Act — which Republicans have tried to dismantle — and "enshrine" the principle that people with pre-existing conditions cannot be refused coverage. He also stressed that Congress needs to immediately handle the crisis of declining multi-employer pension plans.
"I will be unyielding in my defense of Social Security, Medicare, and Medicaid," the 69-year-old former Springfield mayor also noted.
Neal also emphasized that he thinks there's bipartisan common ground on infrastructure, noting that Trump campaigned on a $1.5 trillion infrastructure plan. Neal cited a specific need for transportation infrastructure, such as the proposed "East-West" passenger rail project connecting Boston to Springfield.
Neal has repeatedly said in recent months that he also intends to request Trump's tax returns — which the president has refused to release, breaking decades of precedent — among other planned oversight actions and investigations into the Republican administration. Under a 1924 law, the Ways and Means chair has special authority to request the president's — or anyone's — tax returns for the purposes of an investigation, though Neal says he would prefer Trump voluntarily cooperate.
"I think we would all be comfortable if this was done on a voluntary basis," he told CNN in October. "If they would resist the overture then I think you could probably see a long and grinding court case."
BREAKING: Democrats will request Trump tax returns, senior source tells @AriMelber, if they take the House as @NBCNews projects: pic.twitter.com/Q17F6fXlQz

— TheBeat w/Ari Melber (@TheBeatWithAri) November 7, 2018
MSNBC reported Tuesday night that Neal and his Democratic peers on the Ways and Means committee still plan to request Trump's tax returns, which Rep. Kevin Brady, the outgoing Republican Ways and Means chair, has criticized as a "dangerous" move. Neal told CNN on Wednesday that while he still plans to request Trump's tax returns, he doesn't want the committee to get bogged down by the expected legal fight.
"I think we'll do what we have to do, and then see where the road takes us and the path that we travel," he said, though later adding, "I don't think that the opening position of the most prominent committee in Congress ought to be weighed down by one dispute that we have."
Neal said during his press conference Wednesday that he thinks "proportionality is important" when it comes to Congress's oversight responsibilities.
Rep. Jim McGovern was an aide for former Rep. Joe Moakley during the South Boston Democrat's six years as the chair of the House Rules Committee. Now, as the current ranking Democrat on the Rules committee, McGovern is in line to take over his late boss's old position.
As chair, the 2nd District congressman would have broad influence on the bills debated in Congress. In addition to deciding the general rules for how the House is run, the Rules committee also sets the rules of debating and proposing amendments for specific pieces of legislation.
Under Republican control, the committee broke a record for the number of bills during a single session that were closed to amendments, and McGovern has repeatedly criticized GOP leaders for not allowing a more open process. According to the Wall Street Journal, the Worcester Democrat has — under the direction of Pelosi — been talking to lawmakers on both sides of the aisle about what changes they would like to see.
That said, the main change McGovern wants to see is to go back to having House committees hold hearings on major bills before sending them to the floor for a vote.
"We shouldn't be afraid of a fair fight, and so that means even some ideas that we may disagree with ought to be in order for debate," he told WGBH. "So I want to change dramatically the way the Rules Committee does business."
When it comes to more general rules, McGovern told The Boston Globe that he's planning to introduce ethics legislation to reduce conflicts of interest in Congress and "rehabilitate the image of the House of Representatives." According to the Globe, the bill would include a ban on House members sitting on corporate boards, an issue that recently has come under scrutiny following the indictment of Rep. Chris Collins, a New York Republican, for insider trading.
Rep. Katherine Clark isn't in line for any top committee posts, but the Melrose Democrat is in the running for one of the highest positions in her party's leadership.
Clark is seeking to become the vice chair of the Democratic caucus, which is the fifth highest ranking position in the party's House leadership team. The 55-year-old congresswoman will face off against California Rep. Pete Aguilar in a party election sometime after Thanksgiving.
With the Democrats now in the majority, the position would place Clark in a particularly influential role shepherding the party's legislative agenda. As the co-chair of the Democratic Congressional Campaign Committee's "Red-to-Blue" program, Clark traveled the country during the midterm campaign to work with the party's recruits and has thus already built a relationship with many of the newly elected members.
Those relationships could serve her well as vice chair, since the position's responsibilities include communicating with House Democrats to make sure their concerns and ideas are being incorporated into the party's policy-making agenda. And with Democrats soon to be in the majority, the party will no longer be playing defense. Rather, they will actually have the ability to advance that legislative agenda — from improving the country's infrastructure to reducing prescription drug prices to reforming how government is run.
Though still in the minority, Clark already helped shape the opioid bill Trump signed into law last month.
"By electing a Democratic majority to the House, we have chosen compassion and common sense over policies that are motivated by callousness, fear and division," the 5th District congresswoman said in a statement early Wednesday morning, adding that the diverse, new Congress will be more reflective of the American people.
"Together, we will enact policies that will create opportunity and security for everyone," she said.