Politics
Newcomer Mass. Democrat Becca Rausch bests Republican state Sen. Richard Ross in one of a few upsets in the state Legislature
"The voters in this district are largely independent, vote-the-person kind of voters, and they see something in me that I will do everything within my power to fulfill," she said Wednesday.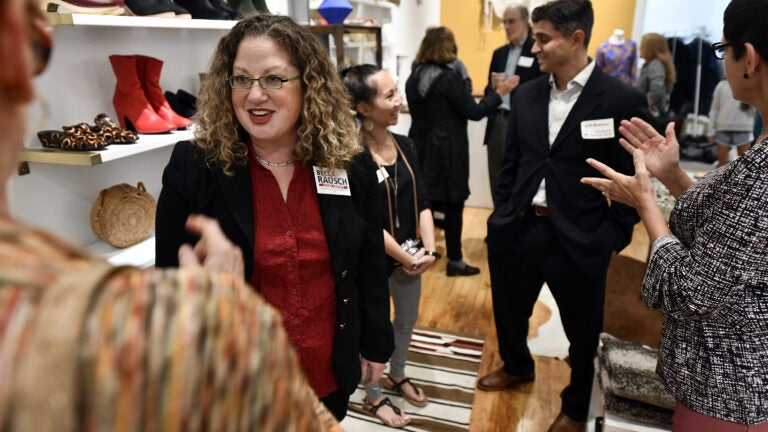 Sometime in Wednesday's early morning hours, Becca Rausch, a Democratic political newcomer, secured her place in the Massachusetts State Senate, ousting Republican Sen. Richard Ross to take the helm of the Norfolk, Bristol, and Middlesex District.
The close-to-the-finish race had hinged on late results in Attleboro because of a delay in counting ballots.
"It was a long night. It was really just the die-hard people there until the very end," Rausch, who declared victory after 1 a.m., said with a laugh in an interview much later Wednesday morning. "I was just so incredibly proud — deeply, deeply honored to have so many people come out in such force to flip this seat."
Rausch, an attorney and Town Meeting member from Needham, led a grassroots campaign that culminated in just over an estimated 1,600-vote-margin win against Ross, first elected in 2010 to fill the seat left vacant by former U.S. Sen. Scott Brown.
She'll be the second Democrat in the district's history, following only former state Sen. Cheryl Jacques, who served from 1993 through 2004, Rausch said.
The race was one of a handful of upsets across the state in which Republican lawmakers lost their positions to Democratic candidates amid the raucous and charged national midterm elections.
Among them, in the state House of Representatives 18th Essex District, newcomer Democrat Tram Nguyen bested Republican Jim Lyons, a four-term incumbent, and, in the 17th Worcester District, Democrats flipped a seat with the election of David LeBoeuf, who replaces outgoing Republican state Rep. Kate Campanale.
Despite the fervor across the country, Rausch, a progressive Democrat, believes her victory relied less on the national political climate than it did on the specifics of her district.
The fact that Ross declined multiple invitations to debate her last month "absolutely" played some part in her upset win, she said.
All politics is local, Rausch added.
Despite the scope of the district, which spans parts of 12 communities from Wayland and Natick and heads south to Attleboro, campaigning taught Rausch about the overlap in constituent concerns, she said. Many are focused on wanting more funding for public schools, a reliable and eco-friendly transportation system, and affordable, quality health care, she said.
"What carried us through, from an issues perspective, is that the voters in this district are largely independent, vote-the-person kind of voters, and they see something in me that I will do everything within my power to fulfill," she said.
Rausch's win likely came as a surprise to Ross, who told The MetroWest Daily News Tuesday night he would be "absolutely shocked" if he lost.
Ross told the newspaper he declined debate invitations to quell Rausch's recognition in the race.
"All along, nobody knew of my opponent," he said. "(A debate) gives her a chance to become more popular. There was no upside for me to debate her."
In a Facebook post, Ross congratulated Rausch and said although he is disappointed by the election results, he is proud of his 14 years serving the district, including his tenure as a Wrentham selectman.
"It is time to look towards the future, and I am eager to see what it holds," he wrote.
With a slight majority in votes, Rausch said she's looking forward to representing all the residents in the district. She touted her bipartisan abilities by pointing to her time working in the state's Executive Office of Health and Human Services during both former Gov. Deval Patrick's and sitting Gov. Charlie Baker's administrations.
When she takes office, Rausch intends to first delve into voting rights reform and is eyeing a push for same-day voter registration in Massachusetts as well as "some pretty serious upgrades to our voter rolls," she said.
"This has been a grassroots campaign from the very start, and it has been successful because of its grassroots nature and because of my deep dedication to working in a collective, collaborative way," Rausch said. "So this win is an opportunity, not just for me, (but) for all of the people in this district and the people in the Commonwealth at large to be a real part of the conversation that dictates our lawmaking."