Politics
'I knew that it was possible': Tram Nguyen ousts Republican state. Rep Jim Lyons in election upset
The Democratic newcomer beat the conservative incumbent with about 54 percent of the vote, according to her campaign.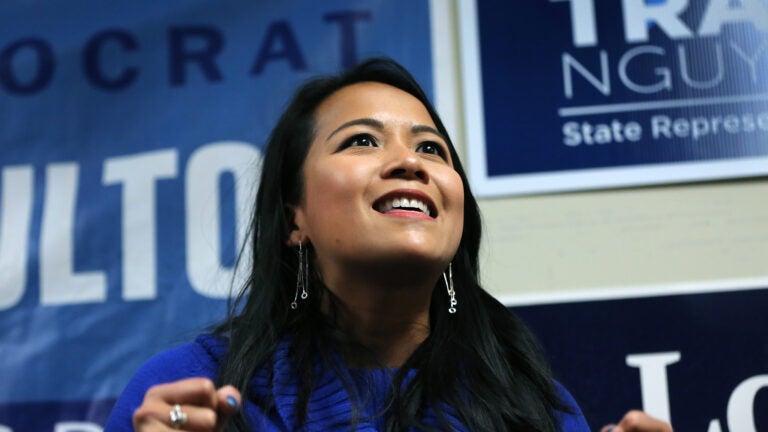 Tram Nguyen's upset victory Tuesday night against 18th Essex District Republican incumbent state Rep. Jim Lyons came as a surprise even to the candidate herself.
Nguyen, an Andover legal aid attorney who came to the United States with her family as a political refugee from Vietnam at age 5, beat out the four-term lawmaker with about a 54 percent vote majority — a victory she credited to an aggressive campaign focused on making sure constituents' voices are heard.
"We thought that the race was going to be very close and the results completely surpassed our expectations," the political newcomer told Boston.com Wednesday. "I did not come in expecting I was going to win, but I knew that it was possible — and that's what we worked for."
The loss for Lyons, a staunch conservative on Beacon Hill who has fought against abortion and LGBTQ rights, brings back a House seat for the Democrats, who lost it in 2010 when Lyons defeated incumbent Rep. Barbara L'Italien.
The flip is among a few across the state in a shift toward Democrats, including in the Norfolk, Bristol, and Middlesex State Senate District where newcomer Becca Rausch bested Sen. Richard Ross and in the 17th Worcester District where David LeBoeuf secured a Democratic win for the House in a previously red district.
Nguyen thinks her win is in part due to district constituents seeing a need for a more accessible representative, but also due to the widespread political engagement born out of the 2016 presidential election.
She pointed specifically to local grassroots groups formed over the last two years as networks that she said connected to and shared her message.
Nguyen campaigned on government transparency, addressing gun violence prevention, and treating the opioid epidemic as a public health crisis.
"We have people coming out of the 2016 election and women's march feeling engaged and wanting to do something and make a difference," she said. "And this race was about change and they know that by working on this race, they are making a difference."
Lyons, who called Nguyen to concede and congratulate her Tuesday night, thanked supporters on Facebook Wednesday "for the privilege and honor to serve as your State Representative for 8 years."
"Thank you to everyone who helped us on this incredible journey … God Bless you all," the post read.
Last month, Nguyen's campaign got a spotlight from outside of the district — which spans from Tewksbury to Boxford — and Massachusetts when she picked up endorsements from former President Barack Obama and Hillary Clinton.
While she admits the political star-power behind the two names added some extra excitement to the local race, she doesn't think those approvals swayed voters minds too much.
When she takes office, she's looking forward to getting to know the district even better, she said, adding that she wants constituents to know that they all have a partner in the State House.
"I think that this is a race that shows that when you have a messaging that is for the people and you're giving them hope for change that it works," Nguyen said. "This is a time that people are looking for change and are looking for someone who is going to work with them and I think that is very exciting — that this is the messaging that won the race."