Politics
Photo of Hitler embracing child of Jewish grandmother sold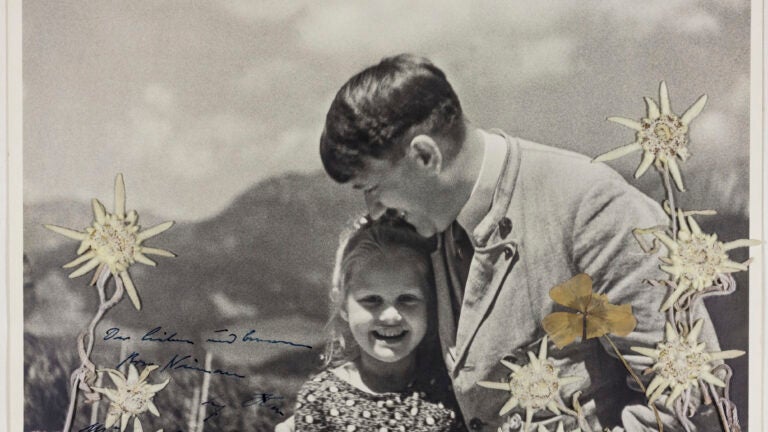 WASHINGTON (AP) — A photograph showing Adolf Hitler embracing a young girl who had a Jewish grandmother has sold at auction for more than $11,000.
The Washington Post reports the black-and-white image taken by Heinrich Hoffmann and inscribed by Hitler in dark blue ink shows him smiling as he embraces Rosa Bernile Nienau in 1933 at his mountainside retreat. The paper reports the image was deployed as propaganda at a time when the Nazi leader was being presented to the world as a kindly figure.
Alexander Historical Auctions of Chesapeake City, Maryland, sold the photo Tuesday for $11,520.
The auction house said research showed Hitler became aware of the girl's Jewish heritage but chose to ignore it. Nienau, who was nearly 6 when the photo was taken, died of polio in 1943.
Andreas Kornfeld, vice president of sales for the auction house, wouldn't identify who consigned the photograph or the person who placed the winning bid.
According to James Wilson's book, "Hitler's Alpine Headquarters," one of Hitler's henchmen discovered the young girl's roots and forbade her and her mother from visiting the retreat. But Hitler wasn't told, and after a while, Hitler wondered what happened to his favorite child. Eventually, he learned she'd been blacklisted from the property and he was not happy, the book said.
This wasn't the first time the auction house handled Hitler-related items. In February 2017, a telephone owned by Hitler has sold at auction for $243,000. Kornfeld said at the time the phone sold to a person who bid by phone.
The red telephone includes a Nazi party symbol and Hitler's name engraved on the back. Occupying Russian officers gave the phone to a British officer during a visit to Hitler's bunker in Berlin. The phone was used in vehicles and trains as well as Hitler's field headquarters.
Kornfeld said a porcelain figure of an Alsatian dog, also owned by Hitler, also sold to a different bidder for $24,300.
___
Information from: The Washington Post, http://www.washingtonpost.com