Politics
Q&A: Suffolk County District Attorney-elect Rachael Rollins on her priorities and how her personal experiences inform her work as a prosecutor
"We're going to all have a seat at the table and start some tough conversations."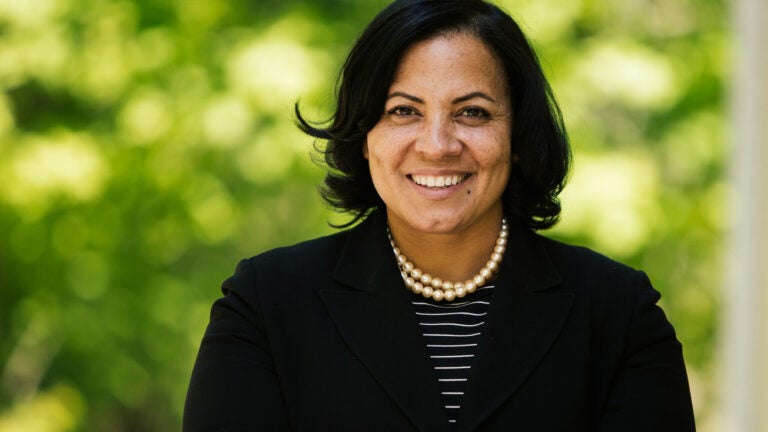 History was made last week in Massachusetts when Suffolk County voters elected Rachael Rollins to serve as their next district attorney.
The 47-year-old former federal prosecutor will be the first female district attorney to represent Boston and the first woman of color to hold the position in the state.
Rollins, who grew up in Cambridge, said her interest in law was sparked as a student at UMass Amherst when the women's lacrosse team she played for on an athletic scholarship — despite its winning season — was cut. When the women's volleyball and tennis teams were also halted, Rollins and a few other athletes got a lawyer and threatened a Title IX lawsuit, getting the teams reinstated.
"It made me realize very early on just how powerful lawyers are," she said. "How they get things done. They can change things instantly."
Boston.com spoke with Rollins to learn more about her goals and priorities for serving as the Suffolk County district attorney. She said transparency with the community is important to her, and she plans to hold "at least" quarterly meetings in neighborhoods throughout the county to get feedback and hold discussions about the work her office is doing.
During the course of the interview, Rollins said she's excited to get started and wants to hear concerns from the community.
"I'm going to work really hard, but this office belongs to you and I feel humbled and honored to have received such a mandate to make change," she said. "I will work as hard as I am able to implement the changes that we talked about on the campaign trail."
This interview has been edited for clarity and length.
Boston.com: How do you think your childhood in the area and your personal experiences inform your approach to being a prosecutor and how do you think it will inform your work as a district attorney?
Rachael Rollins: For me it was important that there was representation on the prosecutor's side of the people who were actually coming into contact with the system. So many prosecutors, many former DA's — the individuals making the decisions and setting policy — have only ever been prosecutors in their life or have only ever prosecuted people. And that's how they come into contact with the criminal justice system. …
Whereas I have lived this experience. I have siblings that have cycled in and out of the criminal justice system. I am a visible person of color who has had exceptional interactions with law enforcement — members of my family have been state police and local police — but I've also had negative interactions myself with law enforcement that I believe were based on protected categories, very candidly. So I have a lived experience that's very different.
I have a sibling that's struggling with opioid addiction, and, as a result of that, I have custody of two of my nieces. I have oversight, in my life, of DCF. It's not the same as probation, but it's definitely a sort of regulator that is in my life and believes that they can dictate what I do, where I go, where I bring this little person that's my niece that I love. And it's tough. So I bring that lived experience. I've visited jails, not only to interview clients when I was a criminal defense attorney, but to visit family members.
It's going to be a requirement that the prosecutors that work in my office are going to visit a jail — and not a close one. They're going to have to experience what families go through every day when they have to plan out a drive for over an hour to visit a loved one only to find out that today there isn't visiting hours, or whatever. We're not going to get the special treatment for the visitation where we're whisked through and everybody's nice to us and says hi. No, no, no. We're going to be treated just like everyone is treated when they go to visit a person that they love who's incarcerated. … I want us to recognize that because we have the ability to take away somebody's liberty. And we need to know what that feels like and what that looks like.
What do you see as the biggest challenge for building trust in the county community, particularly between communities of color and law enforcement? How do you hope to tackle that challenge?
I think we need people from the community that are in leadership positions, but I think that we also need to have some really hard conversations and admit the gaps and the lapses that we've had. A perfect example right now is with the opioid crisis. It is a health issue, it is a crisis for sure — I agree with that wholeheartedly. But I will say that until law enforcement is willing to admit that when it was crack cocaine and heroin back in the '80s and the '90s and the demographics of the people that were struggling with addiction didn't look like the people now, nobody cared that it was criminalized and people were sent away to jail for being addicts, essentially. Until we start having conversations about saying things like that out loud, the community isn't going to think we're serious. Because there needs to be a real discussion about things like that and the hypocrisy that is happening right now. …
The Washington Post said that white homicides [in Boston] are solved at a 90 percent rate where black homicides are solved at a 42 percent rate. Now those are numbers that people are reading, and they are consistent at times with some people's interactions with the system. So we have work to do. And data doesn't lie. Numbers aren't racist, they're numbers. So for me we just need to start having some really tough conversations acknowledging these disparities and then rolling our sleeves up and getting to work about 'How are we going to change them?' Because that's the next step that we always have to pivot to. …
What I said is that I'm going to run for DA and I'm going to be in a position of power where I can implement policy changes on day one. And I am going to be incredibly transparent about what I want, too. I'm a first time candidate — I want to tell everyone exactly who I'm going to be, and I want them to vote with their eyes wide open. And I'm really proud that with that Suffolk County resoundingly said, 'Yes, that's what we want.'
What is your top priority when it comes to changing policing and the criminal justice system in Boston?
I want to work really closely with law enforcement and with the community. I think we need to start working together on solutions, and that means getting people that maybe don't often sit down with each other to sit down and think about solutions. There was a period just about three or so weeks ago where sadly we had eight homicides in 10 days. My understanding is that we only had two arrests to date. So those are six families that still haven't received any sort of closure or any 'justice' for lack of a better word or any answers about what it is that's happening with respect to the death of their loved one. …
There's a huge disconnect in the sense that there's an over-representation of police in certain areas, but they're not solving crime. And why is that? And the answer is not, 'Oh, well, the community won't talk to us, they're not giving us information.' You can't just blame a community for that. Every interaction you have with a community is interrelated. When there are questionable encounters with law enforcement in this day and age of social media, you don't know who is seeing that information. That is your potential jury pool. Those are people that might have information about an unsolved crime. And when they see questionable behavior from law enforcement, it reinforces negative stereotypes and results in them maybe not coming forward.
So I want to make sure we're making everyone know just how interrelated everything is. How we are the paid professionals. We are the government, and your tax dollars pay for us to do our job. We have a higher duty and burden.
This campaign is people powered & we worked harder and smarter with our sweat equity. We knocked over 100k doors, made almost 100k phone calls, and sent over 200k text messages to voters in Suffolk County.

Thank you to all who came & voted yesterday.

We will make you proud. pic.twitter.com/5fIgepdbqQ

— Rachael Rollins Suffolk County DA-Elect (@Rollins4DA) November 7, 2018
And I do want to make sure I say out loud, I have an incredibly deep respect for what law enforcement does. Family members that are state and local police, my dad is a veteran and former corrections officer — so this is healthy respect for the police. But what we're talking about is a very small percentage that unfortunately we see on TV, often nationally, engaging in behavior that's questionable and criminal at times. That's who the media is sort of putting out there all the time, not the overwhelming majority of officers that are doing exceptional work and want to keep communities safe and are abiding by laws and treating people with dignity and respect.
How do you plan to address concerns that were raised in response to some of your pledges, such as the idea of decriminalizing some nonviolent crimes like shoplifting and drug possession? Do you feel like you have a responsibility to defend your positions and educate people who don't believe or understand those methods? Or do you feel like you can just move forward without having to engage too much with critics?
I feel like my duty is always to educate as a DA. I don't think we've done a great job of letting people know what the DA really does — or what the office does — let alone the district attorney herself. … I obviously want to gain consensus. I'd rather make my changes with consensus rather than just implementing them. But what I will say I'm really proud of is that we were incredibly clear about our list. I was asked about it hundreds of times and explained it. And we have a mandate. The voters knew exactly what the list was. They had it explained to them by me, and they even had it mis-explained to them by my opponent or others who love to say things like, 'She will allow breaking and entering.' As opposed to what my website really says, which is, 'breaking and entering into a vacant property for the purpose of seeking shelter.'
The list is all about mental health, homelessness, and addiction and crimes of poverty, mental illness, and addiction. What I'm saying is we're going to hold people accountable in different ways than just incarceration. There's still accountability there.
And very candidly, I pushed back and say and in some circumstances accountability isn't even the right word. I'm a breast cancer survivor. No one held me accountable for my breast cancer. They said, 'How can we help you, let's treat you.' So if this truly mental health issues or if addiction is truly a health issue then let's get them services not sentences. …
I want to be smart on crime, and I want to focus my resources on violent crimes that make us less safe and significantly impact the community and our health and safety. That's why I came up with the list.
I will work with my partners. The mayors and city managers of [Boston], Chelsea, Winthrop, and Revere, as well as the commissioners and police chiefs of those four places and the MBTA and parts of the state police as well. And the community for sure. We're going to all have a seat at the table and start some tough conversations. But we are going to change the system, and we're going to think differently about how we're going to do that.
You've made history not only by becoming the first female district attorney for Suffolk County, but the first woman of color to be elected district attorney in the state. How do you feel having achieved that?
It's awesome. It's very, very cool. This is really powerful for me just because people of color and women are over represented in this field quite a bit. I don't mean employed — I mean incarcerated or coming into contact with [the system]. So it's very special in that sense. But I'm also really proud of the fact that I'm very qualified for this job. So yes, I'm a woman, and yes I'm a person of color, but there are lots of men that aren't people of color that voted for me. There are lots of women who aren't people of color that voted for me. There was a lot of women of color and people of color that did. But I feel like my message resonated with people. …
So it's historic, I'm proud, but I'm also really proud that we're going to do great work. I don't think people voted for me because I'm a woman and I'm a person of color. I think they voted for me because I'm qualified. And I'm going to work really hard to make sure we are looking at these issues in a different light and we're getting better results.