Politics
Seth Moulton teamed up with an unlikely ally on legislation to reform the VA's treatment of medical marijuana
"Let's not kid ourselves, people are using marijuana — including our veterans."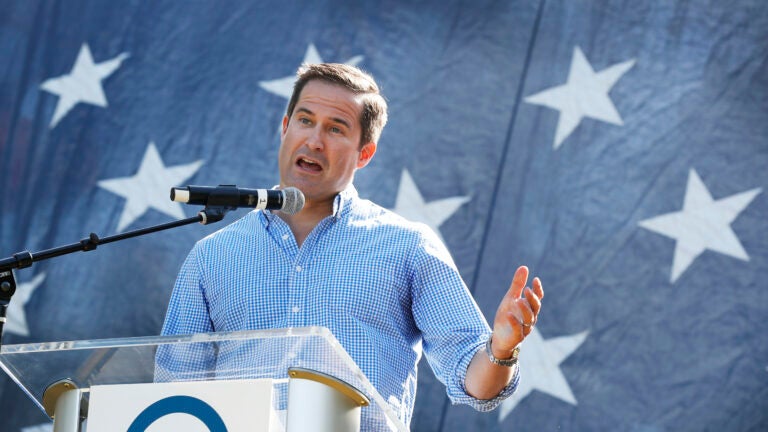 Rep. Matt Gaetz was called "the Trumpiest Congressman in [President Donald] Trump's Washington" in a recent magazine profile.
The combative 35-year-old Florida Republican has gained notoriety for repeatedly promoting conspiracy theories, particularly amid the ongoing midterm election recounts in his home state. But he is also a supporter of legalizing medical marijuana.
So even if Rep. Seth Moulton has never hesitated to blast Trump and his Republican allies in Congress, the 40-year-old Massachusetts Democrat apparently sees no reason why he and Gaetz can't work together for the sake of veterans.
The two congressmen teamed up to introduce a trio of bills Wednesday that would reform how the Department of Veterans Affairs treats medical marijuana. Asked about the seemingly unlikely partnership, Moulton spokesman Matt Corridoni said they often try to introduce legislation with Republicans, since a bill has a "better chance of getting passed if it's bipartisan."
Moulton — who himself saw intense combat action in Iraq as a Marine Corps member — and Gaetz simply "listened to veterans," according to Corridoni.
"Clearly [they] don't agree on everything, but because they made an attempt to communicate they found the one area where they both do agree and were able to come together and do something," he said in an email Wednesday.
Gaetz said in a statement Wednesday that he was "proud to cosponsor Congressman Moulton's bills," and that the legislation would "protect veterans' benefits, and will advance scientific knowledge about medical cannabis."
"This small step will make a big difference to veterans nationwide," he added.
The first of the three bills would clarify an existing VA policy to protect a veteran's benefits if they discuss medicinal cannabis use with their health care provider, which the congressmen say is not widely known or universally followed.
"Medical cannabis has tremendous potential for veterans. It can reduce chronic pain, without the harmful side effects of opioids, and some early reports indicate that it may even have potential as a treatment for PTSD," Gaetz said. "Unfortunately, many veterans fear discussing medical cannabis with their doctors, for fear that their benefits will be jeopardized."
The second bill would direct the VA to conduct a nationwide study to learn more about veterans' medical marijuana use. And the third bill would have the department partner with medical universities that have incorporated medicinal cannabis education into their curriculum to continue developing education programs for primary health care providers.
The legislative package has been endorsed by drug policy reform groups, including the National Organization for the Reform of Marijuana Laws, or NORML.
"Let's not kid ourselves, people are using marijuana — including our veterans," Moulton, who also supports legalizing marijuana for recreational purposes, said in a statement Wednesday.
"We have an obligation to regulate it and make it as safe as possible," the Salem Democrat continued. "We also have an obligation to make sure our veterans are getting the best healthcare in the world. We have a long road ahead of us until medicinal cannabis is fully researched and legal but we can take a few steps now to start figuring that out. As someone who still receives healthcare from the VA, I see no reason why veterans healthcare should be behind the eight ball."