Politics
Trump visits Marines, talks at veterans' event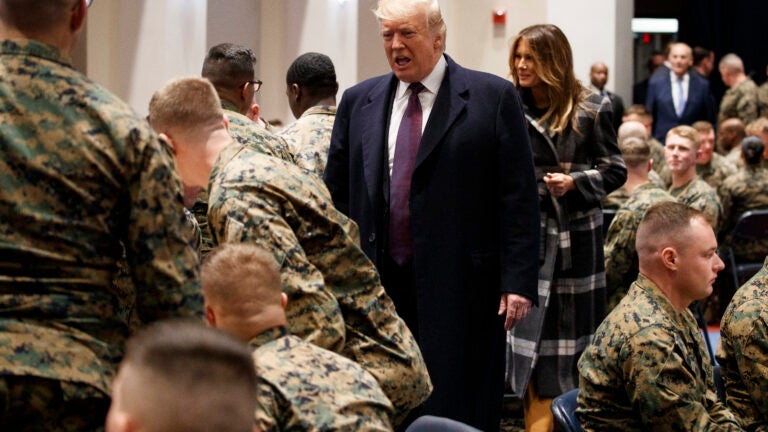 WASHINGTON (AP) — President Donald Trump visited with Marines and spoke at a White House veterans' conference Thursday amid fallout over his decision not to visit an American cemetery during his weekend trip to Paris to commemorate the end of World War I.
The president and first lady Melania Trump spent about 40 minutes at the Washington, D.C. Marine Barracks compound, where about 150 Marines had gathered in an event space at tables set with mini pumpkin pies. Trump later spoke at a conference with state and local veterans' leaders, where he applauded his administration's efforts to improve veterans' care.
"The fact is I've done a lot," Trump said of himself, drawing applause from the room.
The events came after the president was criticized for canceling a trip to an American cemetery about 60 miles (99 kilometers) northwest of Paris on Saturday after his helicopter was grounded by bad weather. Trump was in Paris for ceremonies marking the 100th anniversary of the end of World War I on Sunday, and did not attend the annual commemoration for Veterans Day at Arlington National Cemetery. He also did not visit Arlington on Monday, the federal legal holiday, after his return from France.
A White House official said the Barracks visit had been in the works for several weeks, and Stephanie Grisham, a spokesperson for the first lady, whose office organized the visit, said the president had planned to join the event "weeks ago."
The Trumps went around the room, greeting the Marines one by one, and later sat with some who had responded to a fire at a local public housing complex in September.
The fire tore through the Arthur Capper Public Housing complex for seniors. Neighbors, first responders and Marines at the barracks rushed to the scene. More than 150 people were displaced, but no one was killed.