Politics
Ethics panel rebukes lawmakers in harassment cases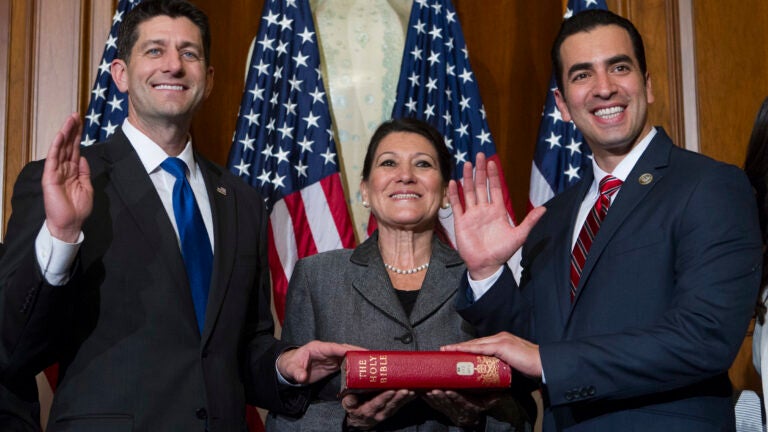 WASHINGTON (AP) — The House Ethics Committee said Friday that Democratic Rep. Ruben Kihuen of Nevada made persistent and unwanted advances toward three women who were required to interact with him as part of their job.
Kihuen is serving his first term and announced he would not seek re-election after the allegations became public in late 2017. The committee said similarities in the allegations, including touching and his comments toward the women, "bolstered the credibility of the complainants."
The committee said in its report Friday that three women testified that Kihuen made unwanted advances toward them between 2013 and 2017.
One woman was a campaign staffer, another a lobbyist and the other worked for a Washington, D.C., firm. Only the latter involved a time when Kihuen was serving in Congress.
Kihuen says he didn't violate any House rule, and noted that allegations from the campaign staffer and lobbyist occurred before he was a member of Congress. Still, he said what mattered was how the women perceived his actions, and he apologized.
"This has been a humbling experience, and the lessons learned from this will guide my conduct for the rest of my life," Kihuen said.
In a separate matter, the Ethics Committee found Rep. Mark Meadows, R-N.C., failed to take prompt and decisive action to deal with alleged sexual harassment allegations against a former chief of staff, Kenny West. The allegations surfaced in 2014. The committee sanction of Meadows also included a requirement that the congressman reimburse the U.S. Treasury for about $40,000 paid to West.
The amount covers a period of time in which Meadows paid West, though the committee found little evidence of official work that he completed during that time.
Meadows had said that he continued pay West to ensure a smooth transition and as severance. He said West also traveled to constituent meetings on his behalf.
The ethics panel found Meadows violated House rules by failing to take appropriate action to ensure his office was free from sexual discrimination. It also said that Meadows' failure to take prompt and decisive action "was troubling."
"The record shows that Representative Meadows took some immediate steps to address the allegations, but ultimately did not do enough," the ethics panel said.
Meadows serves as chairman of the influential Freedom Caucus, which contains many of the most conservative members of Congress. He plans to pay the $40,000 requested by the panel.
"Making sure my team feels safe and secure in our office is the highest priority for me and I'm truly sorry for any stress this situation caused them," Meadows said.