Politics
Here's where Ayanna Pressley stands on the question of Nancy Pelosi serving as House speaker
The Massachusetts congresswoman-elect was asked about her position on CNN.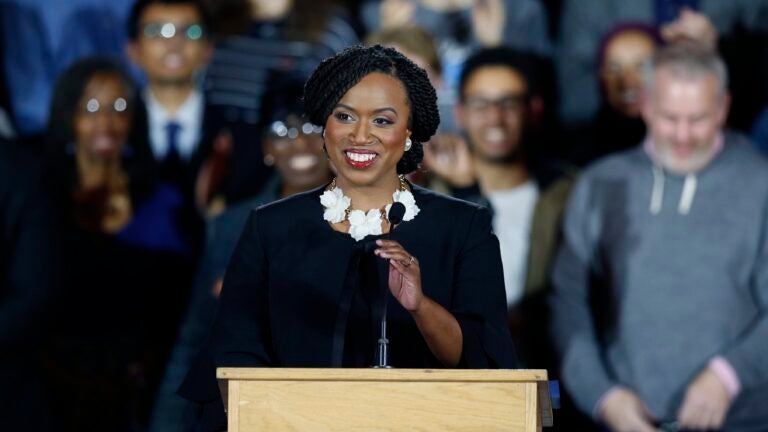 Congresswoman-elect Ayanna Pressley said on Friday morning that she hasn't yet made a decision on which of her Democratic colleagues she wants to serve as the next speaker of the House.
In an appearance on CNN, the Boston city councilor said she remains "uncommitted" on whether she'll support Rep. Nancy Pelosi's bid to return to the leadership position within the House of Representatives.
"There's no zero-sum game in any of this," Pressley said of her current position. "I have deep respect and admiration for leader Pelosi, the role that she played in our most recent election, the role that she played in the [Affordable Care Act], and I do maintain that many of the attacks against her have been sexist. I am new to this body and I am looking forward to sitting down to talk with her about her vision, and, after we've had some time to talk, I'll make a decision."
The congresswoman-elect was planning to meet with Pelosi on Friday, and she said she was "looking forward" to it.
CNN anchor Alisyn Camerota asked Pressley what Pelosi could say to gain her full support.
"I don't think it's an issue of winning over," the Democrat said. "It's just a matter of the fact that we're getting to know one another, and I want to talk about some of the priorities, the bold legislative priorities that I'm hoping to see right out of the gate."
Pressley said she would "of course" be open to voting for Pelosi, pointing out that the California congresswoman is the only "candidate who has put herself forward."
When Camerota asked whether she would back Rep. Marcia Fudge, of Ohio, who Massachusetts Congressman Seth Moulton has voiced strong support for, Pressley said she hasn't spoken with her.
"I am not aware that she is a candidate," Pressley said. "I have tremendous respect for Congresswoman Fudge. She is a woman with a strength of conviction who has represented her constituency and her district in Ohio very well."
On Twitter later, Pressley shared a video of the interview saying the topic of House speaker is the one she's been asked about "repeatedly" during her trip to the nation's capital, not gun violence and other issues being raised by her Massachusetts constituents.
At home in MA what I'm hearing about most is the need to lead on addressing gun violence, compassionate immigration reform, crippling student loan debt, the desperate need for a #greennewdeal. Here in DC I'm being asked one question repeatedly. Here's where I'm at: https://t.co/96zNyZpEpf

— Ayanna Pressley (@AyannaPressley) November 16, 2018
Moulton said this week he is "100 percent" confident that there will be enough votes to block Pelosi from taking back the role of House speaker. As of Friday, no one was running against the 78-year-old congresswoman from California.
Over the last week, Moulton and Pelosi have traded barbs over the question of who will be the leader of the Democratic Party in the House. On Thursday, in his own appearance on CNN, Moulton pushed back against the use of the #FiveWhiteGuys hashtag as a criticism of those seeking to block Pelosi from becoming speaker again. 
"This is about change for our entire party," he said.