Politics
The Latest: Trump tours wildfire-ravaged Malibu area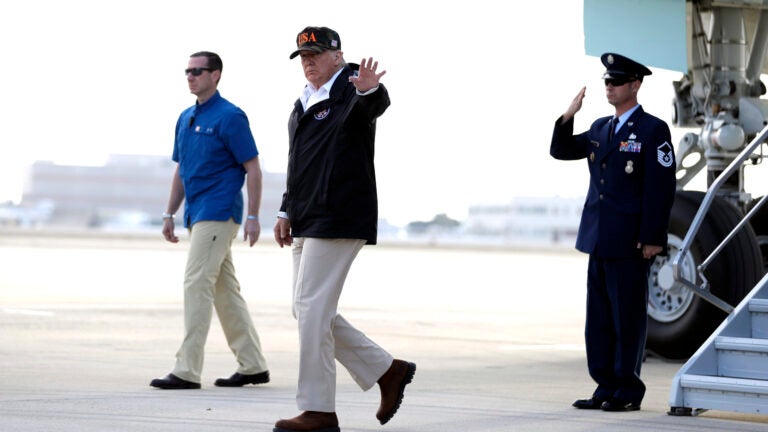 WASHINGTON (AP) — The Latest on President Donald Trump (all times local):
9:50 p.m.
During his trip to survey wildfire damage in California, President Donald Trump met briefly at an airport hangar with families and first responders touched by the shooting at the Borderline Bar & Grill in Thousand Oaks more than a week ago, which left 12 dead in what Trump called "a horrible, horrible event."
Reporters and photographers were not allowed to accompany the president to the session, which Trump later described as emotional.
"What can you say other than it's so sad to see. These are great people. Great families, torn apart," he told reporters. "We just hugged them and we kissed them — and everybody. And it was very warm."
He added: "It was tragic and yet, in one way, it was a very beautiful moment."
___
7:25 p.m.
President Donald Trump is getting a personal look at the wildfire damage in Southern California's Malibu area.
Trump arrived at the oceanside conclave Saturday afternoon after visiting Northern California to survey the damage in the town of Paradise.
In Malibu, the president visited a bluff overlooking the Pacific Ocean where houses once stood and palm trees stand scorched, signs of the intense fires.
Trump praised local officials, first responders and military assistance, and he said permits to rebuild will be expedited.
Standing alongside Trump, California Gov. Jerry Brown says officials will need to assess all the information available about wildfires in planning for the future.
The state's governor-elect, Gavin Newsom, says people have had enough and the problem needs to be dealt with head-on.
___
4:15 p.m.
President Donald Trump says he traveled to the heart of California's killer wildfire to fully grasp the scale of the desolation wrought on the landscape.
One of the places Trump visited Saturday was what remained of the Skyway Villa Mobile Home and RV Park in Paradise, California.
The president says he hopes the fire in the Paradise area will be the last because, in his words, "this was a really, really bad one."
Trump pledged that improved forest management practices will diminish future risks.
The president also toured an operation centers, met with response commanders and praised the work of firefighters, law enforcement and representatives of the Federal Emergency Management Agency.
At least 71 people have died across Northern California.
___
2:30 p.m.
President Donald Trump has arrived in Chico, California, as he surveys wildfire devastation.
He flew aboard Marine One after landing at Beale Air Force Base near Sacramento.
The presidential motorcade has driven past some scorched fields as well as destroyed homes and burned out cars.
Along the route are some bystanders who are holding Trump signs.
One man was holding a garden rake to which he taped a sign that said: "Our Fault: Really?"
That seems to be a reaction to Trump's first reaction to the fires, when he tweeted last week: "There is no reason for these massive, deadly and costly forest fires in California except that forest management is so poor. Billions of dollars are given each year, with so many lives lost, all because of gross mismanagement of the forests."
___
12:45 p.m.
The killer wildfire in Northern California and the recent country-music bar shooting hundreds of miles south have drawn President Donald Trump to the state for a one-day visit.
He's touring the scorched areas and plans to talk with state leaders and first responders.
He's also expected to visit with gunfire victims and their families in Southern California.
The president left Washington early in the morning and isn't expected to return to the White House until well past midnight.
He plans to get a firsthand look at the devastation from the fires. At least 71 people have died, and authorities are trying to locate more than 1,000 people, though not all are believed missing.