Politics
Michelle Obama's appearance in Boston is commanding 'rock star ticket prices'
The demand to see the former first lady is "nearly unparalleled" for a public speaker.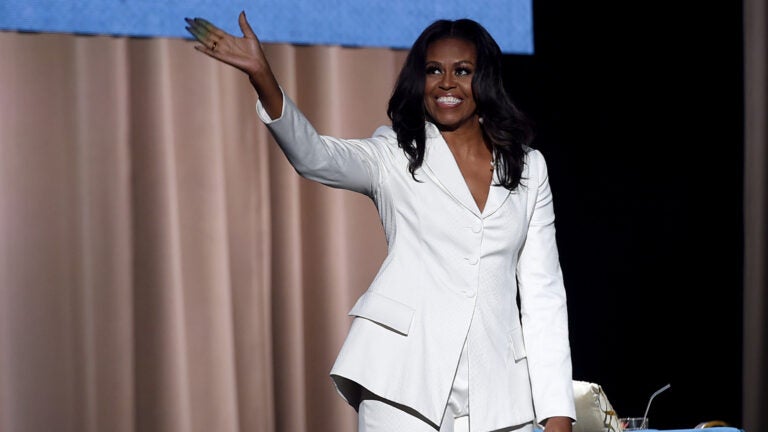 Michelle Obama is coming to Boston this weekend for an "intimate conversation," but her tickets are selling like she's a rock star.
Well, to many fans, maybe she is.
The former first lady is scheduled to sit down with former NPR host Michele Norris at TD Garden on Saturday night, as part of her cross-country book tour to promote her new memoir, "Becoming." According to Vivid Seats spokesman Stephen Spiewak, the average price of a single ticket already sold on their site for her appearance is $214.
By comparison, John Legend is set to perform at the Wang Theatre on Sunday and the tickets already sold for his concert have gone for just about two-thirds the price ($143) of Obama's appearance, even though her event is at an venue that's nearly six times larger.
"She's performing at venues that rock stars frequent and commanding rock star ticket prices," Spiewak said.
In fact, according to Vivid Seats data shared with Boston.com, the only Boston-area event in November or December that had higher average ticket-selling prices ($303) was Elton John's farewell tour concert at TD Garden earlier this month. Meanwhile, average prices for tickets sold for Josh Groban and Idina Menzel's recent TD Garden concert and rapper Travis Scott's upcoming show at the 20,000-seat arena are $174 and $161, respectively.
As of Monday, the cheapest ticket, or get-in price, on Vivid Seats for Obama's book tour stop in Boston was $183.
On rival platforms, such as SeatGeek, StubHub, and Ticketmaster, the story isn't much different, with the very cheapest listed tickets, including fees, starting in the $170s for the nosebleed seats and ranging well above $1,000 for loge and floor sections.
For a public speaker, the way her fans are driving up prices is "nearly unparalleled," Spiewak said.
Bill and Hillary Clinton are stopping by the 2,677-person Boston Opera House on their double-headliner speaking tour next April. Despite the more intimate venue, the get-in price for their dual event on Vivid Seats is less than half the cheapest "Becoming" ticket: $88.
The average ticket price on Vivid Seats was $182 when former Fox News host Bill O'Reilly and comedian Dennis Miller appeared together at the Wang in 2014. CNN anchor Anderson Cooper's appearance with talk show host Andy Cohen this past February at the Wang fetched an average selling price of $139. And, again, as Spiewak stresses, the 3,500-seat theater is a much smaller venue than the Garden.
When televangelist Joel Osteen spoke at the Garden in 2016, the average ticket sold was $44.
There have been more than a few complaints on social media about the triple-digit prices for Obama's events — both in Boston and elsewhere — being prohibitively expensive for many fans. Obama and Live Nation, the event company producing the tour, say they will donate 10 percent of every show's ticket sales to "various organizations including, but not limited to, local charities, schools, and community groups in each city the tour visits." Those unspecified groups will also receive free admission to each of her stops.
And if the charitable efforts aren't enough of a silver lining to the Boston fans dismayed by the towering prices, there's also this: It could be worse. As of Monday night, the average ticket price sold on Vivid Seats for Obama's stop in San Jose was $287.