Politics
Congressman Joe Kennedy III, once opposed, now supports legalizing marijuana federally
"This needs to change," the Democratic Congressman announced in an op-ed Tuesday, as legal marijuana sales kicked off in Massachusetts.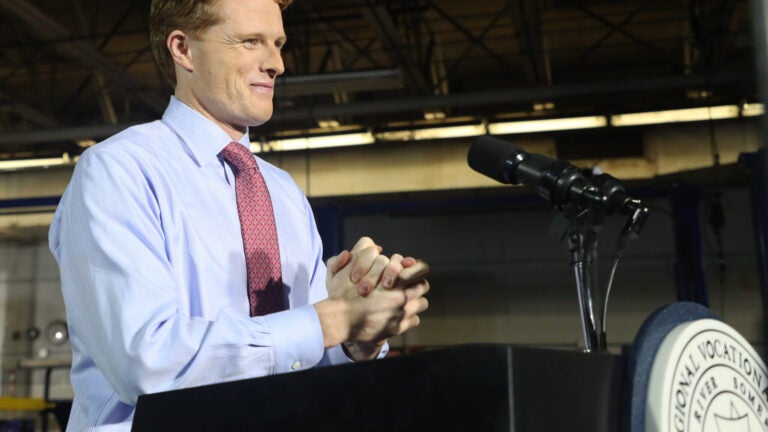 Two years after Massachusetts opted to change its stance on marijuana, Congressman Joe Kennedy III has decided to do so, too.
In an opinion piece published on STAT Tuesday, the Newton Democrat, while still airing his concerns with marijuana use, wrote that he thinks the drug should be legalized at the federal level — a move that would provide oversight and guidelines to budding industries in dozens of states.
"Our federal policy on marijuana is badly broken, benefiting neither the elderly man suffering from cancer whom marijuana may help nor the young woman prone to substance use disorder whom it may harm," Kennedy wrote. "The patchwork of inconsistent state laws compounds the dysfunction. Our federal government has ceded its responsibility — and authority — to thoughtfully regulate marijuana. This needs to change."
Kennedy's announcement came as Massachusetts officially opened the doors for recreational marijuana sales Tuesday, as customers flooded into dispensaries in Leicester and Northampton.
His words also represent a major reversal in his views in recent years. Two years ago, as his home state headed toward legalizing recreational marijuana, he told Boston he was opposed to the idea.
And earlier this year, Kennedy, a rising Democratic star, remained skeptical, emphasizing his worries over marijuana's impact on public health as well as how drivers could be tested for operating under the influence in an interview with Vox.com's Ezra Klein.
But while Kennedy's opinion piece noted "legalization is not a cure-all," the lawmaker said it would "restore the federal government's ability to regulate a powerful new industry thoroughly and thoughtfully."
"The failures of the resulting federal prohibition are stark," he wrote.
Specifically, Kennedy pointed to how marijuana's classification as a Schedule I drug — alongside substances like heroin and LSD — under the Controlled Substances Act has fueled issues in the criminal justice and health care systems, as well as growing marijuana businesses in states like Massachusetts.
"The Schedule I classification of marijuana makes clinical research difficult, if not impossible, to pursue on American soil," he wrote. "At least 15 American companies have fully moved their clinical trials to Israel, where research on marijuana is better supported."
Marijuana laws have led to unequal treatment for communities of color in the criminal justice system, Kennedy added, and the discrepancies in state and federal laws also means banks are hesitant to get involved in marijuana businesses, leaving entrepreneurs to work with cash-only transactions.
And, among other points Kennedy made, federally-funded career placement agencies can't direct prospective employees to burgeoning businesses, he said.
The current federal laws barres the government from being able to fix these problems, Kennedy wrote.
"(Legalization) would allow us to set packaging and advertising rules, so marketing can't target kids," he said. "It would help set labeling requirements and quality standards, so consumers know exactly what they're buying. It would ensure that we can dedicate funding to encourage safe use and spread awareness about the risks of impaired driving. And it would create tax revenue for research on mental health effects, safe prescription drugs, and a reliable roadside test."
The national marijuana advocacy organization, NORML, took Kennedy's announcement with open arms on Twitter.
"Welcome to the right side of history (Joe Kennedy)," the group wrote. "You'll find the waters of justice are warm."
https://twitter.com/NORML/status/1064869511797575680