Politics
Here's what Ayanna Pressley's first week in Washington looked like
"Our campaign was never just about Election Day."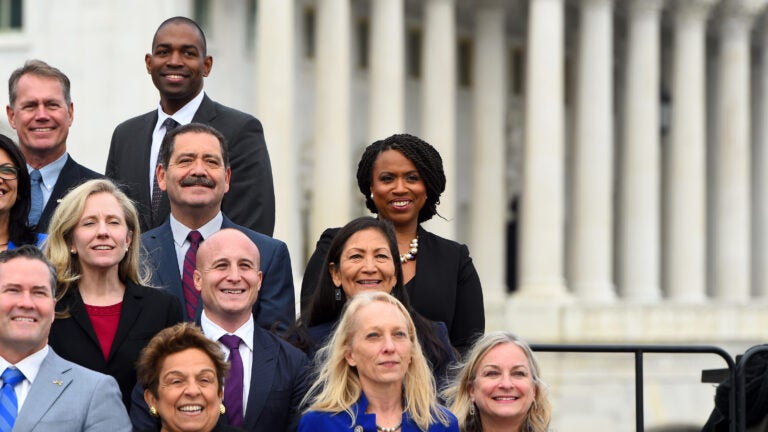 For the first time last week, a woman of color from Massachusetts visited Washington, D.C., as an elected member of Congress. In fact, Ayanna Pressley is set to be the first black person ever from the state in the House of Representatives.
Pressley will be sworn into Congress in January, but the 7th District congresswoman-elect visited the Capitol last week for a week of events colloquially known as "freshman orientation." While mostly mundane in nature, the sessions with her fellow first-time House members provided Pressley the opportunity to start making a mark on D.C.
"Our campaign was never just about Election Day," Pressley told Boston.com.
The 44-year-old Boston city councilor says she'll need the help of the same organizers, activists, and constituents who helped her unseat 10-term incumbent Rep. Mike Capuano in the Democratic primary in September to push "critical issues" in Congress, from the need for gun violence legislation to a Green New Deal.
"This week was the start of critical conversation in Washington about how my colleagues and I get to work to advance a bold, progressive agenda that will address the entrenched disparities in our home districts — and around the country — while also resisting the draconian policies coming out of this White House," she said.
Pressley says she was encouraged seeing the energy and commitment of her fellow freshman class members.
"We're clear eyed about why we're here, and we're quickly building relationships, establishing priorities, and pushing assumptions," she said.
WGBH News photographer Meredith Nierman spent the week behind-the-scenes with Pressley. A full gallery of Nieman's photos can be viewed on WGBH's website.
As Politico also reported, Pressley was also one of the young progressive members in the historically diverse class who made waves by documenting their arrival together on social media.
Mrs. Smith goes to…(scratch that Sandy Pressley's daughter, Mrs. Ayanna Soyini Pressley Harris) Washington! Off to freshman orientation.TY #ShirleyChisholm TY #MA7 #mapoli #bospoli pic.twitter.com/zYfvpRre3W

— Ayanna Pressley (@AyannaPressley) November 11, 2018
Because of her. pic.twitter.com/6QTXadxdON

— Ayanna Pressley (@AyannaPressley) November 16, 2018
Pressley's class even got a taste of New England — in the form of the surprisingly big snowstorm that hit Washington, D.C., last week.
"Being from Massachusetts was definitely helpful that day," Pressley told Boston.com. "We were giving our colleagues from sunnier places quick tips on where they could grab a winter jacket that would be warm enough in the snow."