Politics
'Mainers deserve better': Head of Mainers for Accountable Leadership on their campaign to remove Susan Collins from office
"We wanted this pile of money — this war chest — to evaporate. We wanted her to do the right thing and vote against Kavanaugh."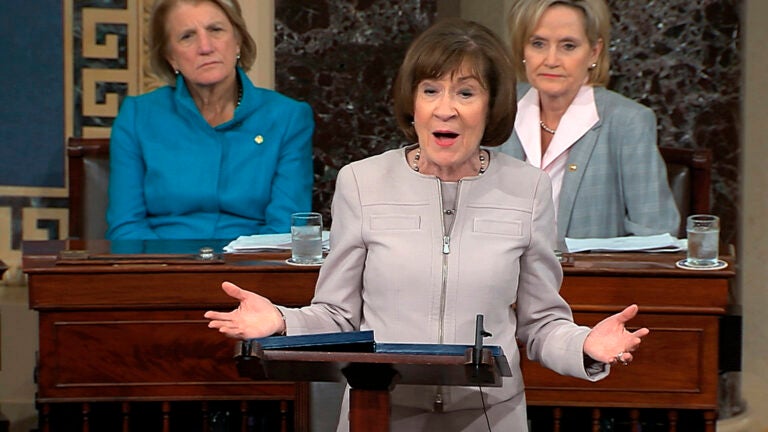 After several years of attempting to work with Sen. Susan Collins, the grassroots organization Mainers for Accountable Leadership has had enough, said executive director Marie Follayttar.
And following the Maine Republican's decision to confirm Judge Brett Kavanaugh to the Supreme Court — after he faced multiple allegations of sexual misconduct leading up to the Senate's vote — the group has nearly $4 million to show for this desire to evoke change.
The organization attracted national attention over the summer with their Crowdpac and associated campaign, "To Senator Collins, Be A Hero." The movement was aimed at persuading Collins to vote "no" on Kavanaugh by raising monetary pledges — funds that would be automatically donated to the next Democratic Senate nominee in Maine should she side with the party majority.
"For failing to stand up for the people of Maine and ignoring the voices of your constituents, and for endangering the lives of millions of Americans, we will work to elect a new senator to represent the State of Maine," MFAL wrote on the Crowdpac site.
The entirety of the funds raised — and money is still being donated to this day — will be awarded to the next Democratic nominee — even if Collins doesn't run, Follayttar said. Many of the donations amount to $20.20, a reference to the upcoming election.
Ady Barkan, leader of the "Be A Hero" team, which is aimed at fighting for the preservation of Medicare and similar programs, initially approached the group in August with the idea to join forces. And having been united under the same front in the past — fighting against the GOP tax reform bill — Follayttar said MFAL was quick to jump on board, alongside the Maine People's Alliance, another activist organization.
"We understood from a movement perspective and a campaign perspective and what it means to choose a tactic that will apply pressure on elected officials around an act … that this was a game-changer," she said.
Among a variety of reasons, the groups were primarily opposing the confirmation of Kavanaugh because of the perceived threat he posed to the Affordable Care Act and Roe v. Wade — "based upon his legal decisions and in consultation with 236 Maine attorneys," Follayttar said.  
"We believe that he is a conservative activist judge who believes in unchecked executive power and demonstrated a degree of hostility and incivility that does not belong during his interview about Dr. [Christine Blasey] Ford," she said.
Collins — long viewed as a swing vote — announced on Oct. 5, the day preceding the official tally, her support for the judge. Her choice, Follayttar said, did not come as a surprise.
In the past, the Maine politician had never voted against a Supreme Court nominee, according to The Washington Post. And Collins had voted in-line with her party just over 90 percent of the time in the 115th Congress, according to ProPublica.
During Collins's 45-minute speech on the Senate floor — in which she stated that while she believed Kavanaugh's accuser, Christine Blasey Ford, "is a survivor of sexual assault," she did not think he was the guilty party — the Crowdpac itself crashed.
People were flooding the site, rushing to make donations upon hearing her announcement of solidarity with the judge and her fellow Republicans, Follayttar said — all of whom but one, Alaska Sen. Lisa Murkowski, voted to confirm him to the nation's highest court.
In the period since "To Senator Collins, Be A Hero" was initiated, it has arguably become one of  the most formidable challenges presented to Collins thus far in her career when it comes to securing her seat in the Senate. Should she choose to run for re-election in 2020, Collins will be facing a Democratic opponent who already has a considerable amount of campaign funds.
Yet the funds MFAL raised during their campaign efforts, which Collins has equated to "a bribe, or extortion," was money that Follayttar said members never wanted to see come to fruition.
"When you think about $4 million, it's like winning a lottery of funds. There is people power, and there is money power," she said. "We wanted this pile of money — this war chest — to evaporate. We wanted her to do the right thing and vote against Kavanaugh."
First elected to the Senate in 1996, Collins has run for re-election three times — in 2002, 2008, and 2014. She hasn't had a close race financially since 2002, when about $400,000 separated her from Democrat Chellie Pingree, according to data from the Center for Responsive Politics. When Collins ran in 2014, she raised nearly $6.23 million, while Democrat Shenna Bellows only mustered approximately $2.35 million.
Follayttar said raising that $4 million — and donations have poured in from across the country — was a goal she would have never imagined possible previously.
MFAL, she said, all started with a Facebook group originally called, "Nasty Women and Bad Hombres," in December of 2016, following the presidential election. The page was led by herself and two other women, Dini Merz and April Humphrey.
The group, which steadily grew in number, had three meetings where they voiced their concerns and raised proposals — the first two with staff for Collins and the last with the Maine senator herself, Follayttar said.
In the first, Follayttar said she recalled repeatedly asking the staffer how the organization could help give cover to the senator so that she could make "courageous decisions."
"And courageous decisions being defined as decisions that go against the grain of her party," she said.
They never received a response to that initial ask, according to Follayttar.
By the second meeting, MFAL was outlining expectations for elected officials, and, at the third, members were meeting with Collins in a live Facebook group, allowing for all Maine residents to "participate on some level," Follayttar said.
"I think the difference is that with Sen. Collins as the target, folks had a lot more hope then — that she would listen and therefore be persuadable on an issue given the concerns of her constituents," she said. "And certainly now, that is not how we see Sen. Collins."
So in August, when given the opportunity by Barkan to bolster the voice of their group, MFAL hit the ground running, Follayttar said.
"In terms of when we first started, there was $500,000 in budget," she said. "And then we set our next goal to match Sen. Collins's on-hand contributions, and a couple of us from Mainers for Accountable Leadership were sitting around and we were like, 'We'll never do that — no we won't.' Then within a week, it was matched."
During the campaign period, MFAL was writing letters, dropping in to Collins's office, holding rallies, organizing attorneys, and working with faith leaders — essentially trying every available avenue to raise attention to their cause, Follayttar said.
"Finding that this tactic, this Crowdpac, was not just a way to say, 'Vote no,' not just a way to pledge money for the future, but a way to build hope — in a way that Mainers and people around the country could say, 'Hey, if you don't do this, we will replace you. And we will have the money and the people power to do it,'" she said.
By the time members of the organization gathered in Collins's office to listen to her voice her reasoning for supporting Kavanaugh, the group had raised about $3 million — and were mainly there out of a sense of obligation — they needed to hear her "wade through every single one of her points until she actually said it," Follayttar said.
"I think when I heard her words, and I heard her message about dark money, and I heard her dismiss all of the activism that I had been a part of, or witnessed, or had seen friends participate in, as quote 'special interest groups,' I felt so angry and so sad that a U.S. senator would dismiss a pro-democratic behavior as a special interest group," she said.
It was at that point, where the money MFAL never wanted to use, became a "war chest," Follayttar said.
"And it became a part of the mission for many people until 2020 — until she is defeated," she said. "Mainers deserve better."
Although the official campaign to stop the confirmation is over, Follayttar said the group will continue to rally and mobilize around issues like immigration and the Supplemental Nutrition Assistance Program, as well as organize and train more Maine residents.
"There's a lot to be done," she said.