Politics
Charlie Baker says Newton judge should be removed amid investigation into whether she helped man evade ICE
"Look, judges are not supposed to be in the business of obstructing justice."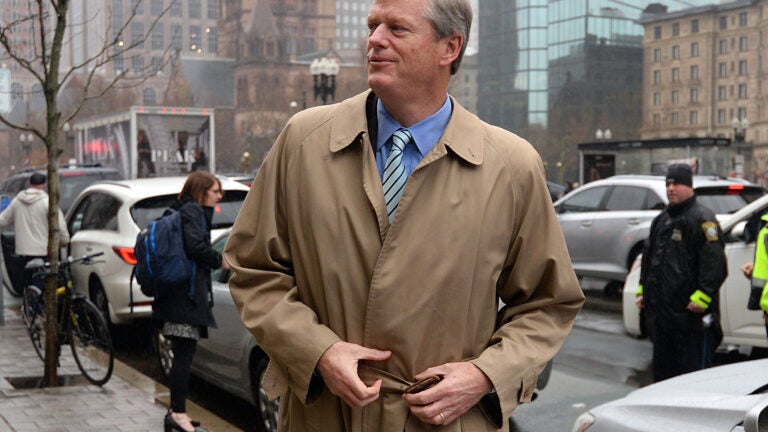 Gov. Charlie Baker says he thinks a Newton judge should be removed from the bench amid a reported investigation into whether she helped an undocumented immigrant escape federal immigration officials.
The Boston Globe reported Sunday that a federal grand jury has been convened to investigate whether District Judge Shelley M. Joseph and other courtroom personnel helped Jose Medina-Perez, a Dominican man arrested on drug charges, evade an Immigration and Customs Enforcement official during a hearing in Newton this past April.
Baker told reporters Monday that he found the story "extremely troubling."
"Look, judges are not supposed to be in the business of obstructing justice," said the Massachusetts governor. "And as far as I can tell, based on the facts as they were presented, she clearly violated the court's own policies with respect to the way they're supposed to handle detainers."
Baker appointed Joseph to her current seat just last year, but said he didn't regret the decision and wanted to see the federal investigation run its course. Speaking to a scrum of reporters at the State House, the Republican governor said the decision whether or not to bench Joseph in the meantime would be up to the court system.
"There is precedent, they've done that before," Baker said.
The governor also said he planned to make his opinion known to court officials later Monday.
In an courtroom recording obtained by the Globe, Joseph can be heard deliberating with lawyers about what to do with the Medina-Perez, given the fact that an ICE official was in the courthouse with a detainer request to hold him for potential deportation.
"ICE is going to get him," Joseph says, shortly before the audio recording was turned off for 58 seconds.
When the recording resumes, the state prosecutor at the hearing asks a separate charge — a fugitive warrant for drunken driving in Pennsylvania — be dropped, since they did not believe Medina-Perez matched the mug shot, allowing him to be released since neither of the drug charges required him to be held in custody. According to sources who spoke to the Globe, Medina-Perez was then allowed to leave out a back door, scaled a fence, and left the ICE official behind in the courthouse.
The Massachusetts Supreme Court ruled last year that court officials could not hold individuals on an ICE detainer alone, and Newton is one of a number of so-called sanctuary cities in the state that limit cooperation with federal immigration officials. However, if anyone directly helped Medina-Perez evade ICE, it could be considered a violation of court policies or federal law.
Read the Globe's original report here.