Politics
'Keep fighting for something that you believe in': Meet the 19-year-old who is headed to the New Hampshire State House
Cassandra Levesque first gained attention nationally for her push to end child marriage in New Hampshire.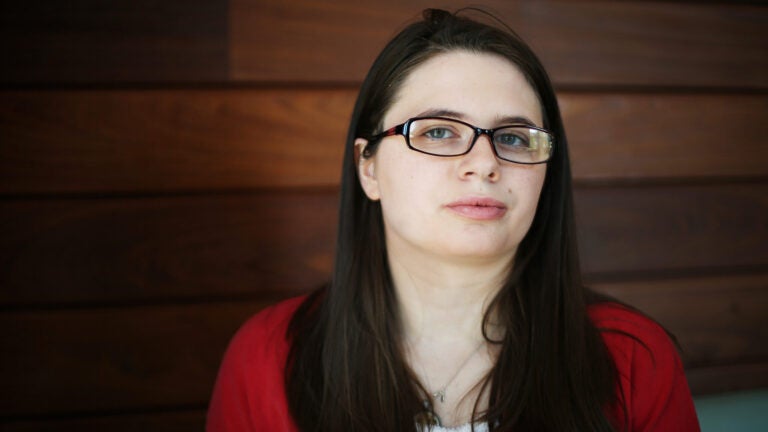 When it was first mentioned to Cassandra Levesque early this year that she should consider running for a seat in the New Hampshire House of Representatives, she didn't think much about it.
In recent years, the 19-year-old, who grew up in Barrington, New Hampshire, and attended Dover High School, has achieved national recognition for her efforts to end child marriage in the state and for the attention she brought to the issue. She'd learned about child marriage at a Girl Scouts' conference in 2015, and a year later she enlisted the help of local representatives to sponsor a bill to change the minimum age for marriage in New Hampshire to 18.
The bill failed in the legislature in 2017, but Levesque continued to lobby for a change. In June, she was present when Gov. Chris Sununu signed into law a bipartisan bill that raised the marriage age in New Hampshire to 16 — increasing the minimum age from 13 for girls and 14 for boys.
"I just thought after the [child] marriage bill I would try again, but this time raising it to 18, and then continue with my college career," Levesque told Boston.com of her feeling when she was initially approached about running.
A couple weeks went by, and she was asked again if she would seek a seat in Concord to represent District 4 in Strafford County, this time by her town's Democratic committee.
"They said no one else had signed up to run, and I still was a little iffy," the 19-year-old said. "By then I had created a pros and cons list."
She took her list to state Rep. Ellen Read, who she'd worked with on raising the minimum age for marriage, and they talked through it, she said.
Levesque said she made her decision to run just before the deadline to register with the clerk's office.
"I decided to run right there, and I just had so much fun campaigning," she said.
She won, becoming one of the youngest women ever to serve in the state's House of Representatives.
She'll be sworn in on Wednesday, and Levesque said she's excited to start working with her new colleagues.
"I just want to make a difference and help people and make it a better place for New Hampshire," she said.  
The freshman at Southern New Hampshire University is preparing to start her new job, which she'll balance with her college studies. She's taking online classes, which she said allows her more flexibility with her work as a legislator and as a leader of a Girl Scout troop.
Her plan is to tackle her college work at the end of the day, after her new day job in Concord. She doesn't have a driver's license — she'll be relying on rides to the state capital and back home to Barrington, where she lives with her parents and grandmother, from fellow state representatives and other offers.
"I am very glad that people have stepped up, and I'm very thankful for that," she said.  
Levesque said she believes her age and her accomplishments as a young citizen in the Granite State resonated with voters.
While she encountered people on the campaign trail who were "shocked" that she was 19, Levesque said she hasn't ever been told by anyone that she's too young to hold public office.
"It's just they are very shocked to see someone my age so interested in politics because they think of the 19-year-olds in college and what they were doing at 19," she said. "I think that with the changing times and how fast things are growing that a lot of people are very happy that I was running."
In Concord, Levesque said she plans to continue pushing to raise the age of marriage in the state to 18 and will focus on women's and children's issues, among other matters.
"I am looking forward to bringing the youth back to New Hampshire and figuring out ways we can do that," she said. "Finding out how we can make it affordable and accessible for kids or people my age to actually be able to go to college and get a career and stay in New Hampshire."  
According to New Hampshire Public Radio, Levesque is part of a boost of younger representatives elected to the state legislature. In the last session, 23 of the state's 400 members of the House of Representatives were under of the age of 35. In the next session, there will be 42 representatives under the age of 40.
She said she sees the recent movement of young people in politics as a "good thing."
"A lot of us, for years, we've just sat and let people silence us, and so finally we're sick of it and we're standing up," Levesque said. "We want to get our voices heard and make a difference, and I think that it's really great."
We, the future generations are no longer going to sit idly by and watch as our nation loses is humanity. We will rise up and not only demand change we will lead the charge to be the change! To our political leaders – we are watching you.

— Cassandra Levesque (@Cassandra4NH) November 30, 2018
Her hope is that other young people see the work she's done and her election as a signal that "you can do anything" and to ignore those who say otherwise.
"Keep fighting for something that you believe in," she said.